mytest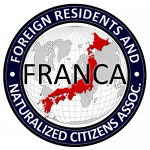 UPDATES ON TWITTER: arudoudebito
DEBITO.ORG PODCASTS now on iTunes, subscribe free
Hi Blog. For the last tangent of the new year holidays, here's Getchan with a report on his latest tribulations at the Japan Post Office, where he talks about recent measures they've taken to foil terrorism that are not all that well-thought-through. Not an issue that's necessarily "NJ-related", but for those who use the posts, here you go.  Arudou Debito in Sapporo
================================
Hi all.  The recent foiled suicide bombing attempt on a US plane from Amsterdam to the US prompted "Japan Post" to take radical measures in cooperation with domestic airlines to prevent bombs from getting aboard planes.
Here's how it's done.
"Japan Post" offers flat rate envelopes. For a flat rate of 500 Yen (approx. $5.50), snail mail users can buy a ready-to-mail cardboard envelope. Maximum weight is 20 kg!! There are no limits on distance, and anything within the framework of the law can be enclosed. Each envelope has a detachable bar code label, that the sender keeps, and another that the delivery man takes off upon delivery. The flat rate envelope can be deposited in mail boxes, and at P.O. counters for immediate dispatch (ah, well, next outbound mail truck, that is…). Contrary to 1st class mail, these envelopes are transported by air, which makes them real fast! From my place to Southern Japan, which can easily be 1,000 to 1,500 miles, it's mostly next day delivery, as can be verified by online tracking.
The parts to be filled in are: Sender's data, recipient's data, and description of contents. The latter has been mandatory since the aftermath of 9/11 for ordinary parcel post, which carries automatic insurance of up to 100,000 Yen ($1100). The flat rate envelopes cannot be insured, but my buyers prefer it over registered 1st class mail, just because the envelopes are sturdy, and delivery is a day or two faster! Fine with me, as I don't have to spend money on packing materials.. ;-).
A few days after the foiled attempt on the Detroit flight, I had to send
1) $350 worth of merchandise to a buyer near Tokyo – I never write "Stamps" on the outside of the flat rate envelopes – even though our mail system is very safe, I just don't want to push it!
2) A Bon Jovi CD as a birthday gift to a friend in Osaka.
As I deposited the items at a P.O. counter, the cute and very nice lady told me I had to note the contents outside, new rules imposed by Japan Post. I said, that one contained valuables, and one contained a birthday present, and I added that there was no way I was noting "stamps" on the outside of the first item, as I wasn't going to invite thieves, and no way I was noting "CD" on the outside of the second item, as I wasn't going to spoil the surprise for my friend. I took the items back & deposited them in a mail box outside the P.O., and everything would be fine.
WRONG!
Next day, I found a form letter in my P.O.Box, informing me that both items had been sent surface and would thus be delayed by a day or two.
I went to see the postmaster to tell him, that this was totally useless, as – except for imminent, clear and present danger – Japan Post employees are not authorized to open and check the mail for contents.
Postmaster: "These are the new rules, airlines won't accept parcels and flat rate envelopes for air transport, if the contents are not noted on the outside"
Me: "But they get X-rayed anyway"
Postmaster: "NO, they DON'T!" (now, was he supposed to tell me that???)
My conclusion – potential and active terrorists in Japan can be trusted in this country. If they wanted to mail a bomb and blow up a plane that way, they would have to mark "bomb" on the parcel, and that would thwart their efforts, would it not? Japanese authorities have everything under control and would be able to sort out any flat rate envelope marked "Bomb", while the CIA lets known suspects slip thru… 😉
And BTW, 1st class registered mail doesn't need to have the contents noted outside, but can weigh up to 2kg – terrorists don't use 1st class registered mail, as they would have to give their return address…
Wow, do I feel safe… Happy and safe New Year 😉 Getchan
ENDS