mytest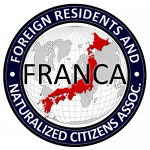 UPDATES ON TWITTER: arudoudebito
DEBITO.ORG PODCASTS now on iTunes, subscribe free
Hi Blog.  Bit of a tangent today, but not really.  I got this morning an email from somebody asking for help.  That's not unusual (I get at least one a day, two on Sundays), and I do my best to accommodate, within reason, depending on the reasonableness of the request and my depth of knowledge about the problem raised.
But this is the Internet, and things can get kinda odd at times.  The requests I've tended to ignore are the ones asking me to abet an illegal activity (some people have friends who are going down for drugs and want me somehow to assist them; sorry, TS), asking for free legal advice (when I'm no lawyer), asking questions they could easily find either with a quick Google search or in our HANDBOOK (such as how long a Japanese visa is or what kinds of visas are out there), asking me how hard is it to naturalize (usually from high schoolers who are entranced by Japanese anime and have never even been to Japan), or even those who want me to write their college term papers for them (most cryptic question:  "Is Japanese a left-leaning or right-leaning language?  Why or why not?"  Huh?)
The ones I've regretted helping are those who are nuts (such as this one, who has a case with merit but can't make his own case sound convincing; and another one whom I won't mention by name but wasted an afternoon listening to; the latter later became a cellphone stalker when I dropped his case), or those who have anger management problems and go all ungrateful, such as this one.
But then, this morning, I got the most jarring one yet:
I hope you  receive my message? And is very urgent. I could barely think straight at this point. I had a trip here in  United Kingdom  on a mission. I am presently in [XXXXXXXXX] and I am having some difficulties. I misplaced my bag on my way to the hotel where other valuable things were kept along with my passport. I feel so ashamed because i am so stranded and idle.  I will like you to help me with a loan of 1800 Pounds to pay my hotel bills and also return back home. I will refund the money to you as soon as I get back,  I have spoken to the embassy here but they are not responding to the matter effectively I currently have limited access to emails for now.
To quote Jon Stewart: "WHAT??!!"
Let's take inventory.  This guy not only wants my time, he wants money.  He wants me to pay for the privilege of helping him.  I've seen all sorts of mass-mailed scams from Nigerian princes and the like, but this is the most customized (and presumptuous) of them all — taking advantage of Debito.org's charitable use of time to ask a perfect stranger (I've never met this person) for a loan.  Sorry Charlie.  Even if I had the time, I definitely do not have the money.  Or that much of a Pollyanna outlook towards people.
I'm glad to help when I can.  But it's instances like these that make me wonder if I've been just a little too generous with my time, to the point where people think they can take this much advantage.  Overly harsh an assessment?  Arudou Debito in Sapporo