mytest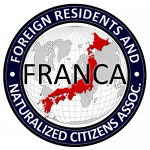 UPDATES ON TWITTER: arudoudebito
DEBITO.ORG PODCASTS now on iTunes, subscribe free
Hi Blog.  Writing to you jetlagged from Sapporo, just back from Canada.  I had a wonderful trip and if I can get my next Japan Times column (out Tuesday March 2) out in time (my topic I had been writing about got bumped with the sumo stuff I blogged about yesterday) I might write some impressions.
Meanwhile, pursuant to the discussions we've had recently on Debito.org about exclusionary hotels, here's an email I got last month regarding Comfort Hotel Nagoya's treatment of a NJ customer, and how Debito.org empowered her to stand up for herself.  Well done.  Even the management says the administrative guidance offered by the authorities, as in the law requiring ID from NJ tourists vs. the official (but erroneous) demands that all NJ show ID, is confusing them.  And since I've pointed this out several times both in print and to the authorities (and the US Government itself has also asked for clarification) to no avail, one can only conclude that the GOJ is willfully bending the law to target NJ (or people who look foreign) clients just because they think they can.  Don't let them.  Do what SM did below and carry the law with you.  And stand up for yourselves when you check into a hotel.  Arudou Debito in Sapporo
/////////////////////////////////////////
From: SM
Subject: Asked For Passport & Alien Registration – Comfort Hotel Nagoya Airport
Date: January 13, 2010
To: debito@debito.org
Hello Debito,
We met in September at the Writers Conference in Kyoto. I enjoyed your presentation, and I am a regular reader of your website.
Below is a letter I received from the management at the Comfort Hotel Chubu Airport. If you would like to use my story as well as the letter below on your site, feel free to add it. If you do decide to use it on your site, could you remove my name and email address? Thanks.
The background:
For Christmas vacation, I decided to avoid the morning rush to the airport and spend the night at the Comfort Hotel, conveniently attached to Chubu International Airport. When I checked in, I was immediately asked for my passport. I let the clerk know that I was a long-term resident of Japan, and would be giving her my home address rather than a passport. She then said that if I would not give her the passport, I would have to show her my Alien Registration card. I told her that as a resident with a permanent address, this would not be necessary. She said it was the law, and that to stay in the hotel, I would have to show her my card. I once again refused, telling her that she did not have the authority to ask for an Alien Registration card. She became quite flustered. I continued filling out the form, including my full name and address. When I passed her the form, she stood her ground and said I must show her my card. I asked to speak to a manager. She left, and I waited in the lobby for ten minutes. She returned with another woman who did not say a word to me. She told me the amount to pay, gave me my change and sent me on my way. I was too tired to pursue it, and just happy that I had a room to go to.
In the morning, I returned to the lobby and asked to speak to a manager. A man came out, and I explained the law to him and showed him the English/Japanese version of the law provided on Debito's site (I had it displayed on my iPhone). He was polite, but quite insistent that the law stipulates that all foreign residents are required to show their Alien Registration. I asked him to research it further and gave him my business card. (By the way, he was Chinese. I asked him if he was ever required to show his Alien Registration when he stayed at hotels. He answered honestly that he wasn't. He then gave me his business card which indicated that he had taken a Japanese name. When I pointed this out to him, and asked whether his name may be the reason he is never asked to show his identification, he smiled and agreed that that was probably the case.)
He did research the law, and wrote the following letter to me:
///////////////////////////////////////
From: "コンフォートホテル中部国際空港"
Subject: Thank you stay
Received: Friday, January 8, 2010, 7:48 AM
Dear SM
Thank you for having stayed at Comfort Hotel Central Intl. Airport at the end of Last year.
I am ashamed that our staff's imperfect knowledge of non-Japanese residents made you unpleasant when you registered at our hotel due to the lack of my training as the manager.
The reason was the staff had been confused the registration procedure for non-Japanese residents with the one for foreign visitors. The Hotel Business Law under the Ministry of Health, Labor and Welfare says hotel staffs must see and copy the foreign visitors' passports.
I looked over the Law concerning this case.
The Alien Registration Law under the Ministry of Justice says, in Art. 3, paragraph 1,2 and 3, non-Japanese residents cannot refuse to show their alien registration cards when government officials demand to do it. It means we, hotel staffs, don't have the right to ask non-Japanese residents for their alien registration cards as you said.
I learned from this case and gave directions to our hotel staffs. I keep on training them so that they understand the Laws concerning the registration procedure for non-Japanese guests well and provide good service.
I would like you to know the reason for this case was that the guidance by the two Ministries confused the staff and she didn't understand well.
We hope we have a chance that you stay at our hotel.
Comfort Hotel Central Int'l Airport
Manager
Eisho Hayashi
////////////////////////////////////////////
Needless to say, I was very pleased that he had followed up on the problem, and accepted responsibility for the mix-up. As I travel quite a bit, I am going to give the Comfort Hotel another chance. I'll be heading out of Nagoya in late February ~ I'll let you know how it goes at that time.
Thanks, Debito, for keeping me in the know of my rights. I'm not sure I would have had the nerve to push it as far as I did without having the knowledge that you supply on your site. SM
ENDS