mytest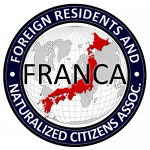 UPDATES ON TWITTER: arudoudebito
DEBITO.ORG PODCASTS now on iTunes, subscribe free
Hi Blog. Olympics are the topic du jour, so let's bring up something that relates to Debito.org.
Debito.org Reader JPS sent me a comment yesterday with some links (thanks, see below) pointing out how once again in Japan, citizenship and dual nationality are political issues, not legal ones. We have dual nationals (in the case below, the Reeds, two Japanese-Americans) skating for Team Japan.
For the record, I'm fine with that. Participate however you can in whatever team you choose as long as you're doing so properly under Olympic rules. The problem is that under Japan's rules, legally one of the Reeds should not be a dual national anymore — she had to choose one by age 22 and didn't.   But for the sake of politics and medals, we're bending the laws yet again — claiming people as ours only when it suits us.
Let's just face reality, and allow dual nationality in Japan.  Period.   Then we have fewer identity problems and conflicts of interest.
Arudou Debito in Calgary, finding that Canada is pressuring their athletes almost as much as Japan does (Team Canada has never won a Gold on home soil; oh dear, so what.)
//////////////////////////////////////////
COMMENT FROM SUBMITTER JPS:
Hi Debito,
Hope you are enjoying Canada. So I was reading the top stories on Yahoo today and found this gem.
http://sports.yahoo.com/olympics/vancouver/blog/fourth_place_medal/post/Three-American-ice-dancing-siblings-won-t-be-ska?urn=oly,218757
So Cathy Reed and her brother are dual nationals (according to the article) and will be representing Japan in the Olympics. The problem here is that Cathy is 22 years old, almost 23.
http://www.ice-dance.com/reeds/profiles.html
http://www.ice-dance.com/reeds/jp/
1987 + 22 = 2009. So the grace period for choosing a nationality has lapsed. So if this is correct, she is in violation of Japanese law, but it seems that it isn't a problem here. I wonder why? JPS
/////////////////////////////////////////
THAT YAHOO ARTICLE FOLLOWS. DEBITO.ORG MAKES NO CLAIMS FOR ACCURACY OR TONE:
Three American ice dancing siblings won't be skating for Team USA
By Trey Kerby
Yahoo Sports blog, Wed Feb 10, 2010 11:40 am EST
http://sports.yahoo.com/olympics/vancouver/blog/fourth_place_medal/post/Three-American-ice-dancing-siblings-won-t-be-ska?urn=oly,218757
A few weeks back we told you about the curious trend of ice skaters finding partners in foreign countries. That was unusual, but not too surprising. Skaters need partners, and if they can find them in other places, why not? But the story of the Reed siblings? Well, that's weird.
Born to an American father and a Japanese mother in Kalamazoo, Michigan, all three Reed siblings – Cathy, Chris, and Allison – will skate in the Vancouver Olympics. None of them are members of Team USA.
Huh?
Because of their mother's Japanese citizenship, Chris and Cathy hold dual citizenship in the United States and Japan. They'll be skating for Japan.
Allison, meanwhile, is taking advantage of the new rules to skate for Georgia's national team, home of her partner, Otar Japaridze.
Growing up, the Reeds lived in Kalamazoo, Hong Kong, Cincinnati, Australia, and, finally, New Jersey, where Cathy and Chris met up with coaches Nikolai Morozov and Shae-Lynn Bourne. As the duo trained with their new coaches, they quickly flew up the ice dancing ranks. However, due to the depth of the American team, the Reeds began skating for Japan. In a country where ice dancing is not terribly popular, they almost immediately became the team to beat.
Little sister Allison's story is even more fortuitous. She began the sport because of her siblings' success but could not find a partner due to her small stature. Then she found Japaridze in – where else? – New Jersey. In their first competition together (Allison's first international competition ever), the duo nabbed the very last Olympic spot.
Just your typical three-siblings-from-the-United-States-finding-international-success-for-other-countries story that's pretty amazing. No biggie.
ENDS
///////////////////////////////////