mytest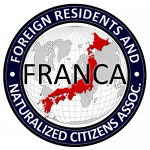 UPDATES ON TWITTER: arudoudebito
DEBITO.ORG PODCASTS now on iTunes, subscribe free
Hi Blog.  Sorry I've been a bit quiet recently (but I gave fair warning).  Spent five hours on the shinkansen yesterday getting to and from my annual guest lecture at Shiga Daigaku on Japan's internationalization etc.  Nice young folks, had a good day, and a nice cheese fondue with Belgian beer in the evening.
Anyway, today's entry is to invite you to two more speeches, one Saturday evening, one Monday evening, both in Tokyo.
The Saturday evening one will be a FRANCA meeting in the newly-refurbished International House in Roppongi.  Details as follows:
FRANCA Tokyo Meeting Saturday March 27, 2010; 6PM-9PM International House of Japan 5-11-16 Roppongi Minato-ku, Tokyo Meeting Name – FRANCA How to get there at http://www.i-house.or.jp/en/ihj/access.html

Topics: Membership, Why FRANCA?, and perhaps what to do about the recent Sumo Association rules that say that naturalized sumo wrestlers are also to be counted as the one "foreign" wrestler allowed in sumo stables. More on that here: https://www.debito.org/?p=6085

Also, we'll be asking for more input on topics discussed at the March 21, 2010 Sendai FRANCA meeting, which are outlined at https://www.debito.org/?p=6249

http://www.francajapan.org/index.php/Main_Page#Upcoming_Meetings
The Monday evening one will be me speaking for the Japan Immigration Policy Institute, headed by Sakanaka Hidenori, where I am currently interning.  I will be speaking to whomever will listen on why we need immigration to Japan.  It's a brand new speech (I'm still writing up the powerpoint), and details on that follow in Japanese.
MON MAR 29 JIPI SPEECH IN JAPANESE
■日時: 2010年3月29日(月)19時~21時(予定)

■会場: 港区勤労福祉会館 第一集会室

■講師: 有道出人 (あるどう でびと)

■テーマ: 「移民の必要性―あるべき姿」

■アクセス: 都営地下鉄A7出口より徒歩1分/JR田町駅西口(三田口)より徒歩5分

主催:一般社団法人移民政策研究所所長(JIPI)
That's from 7PM at the Minato-ku Roudou Fukushi Kaikan, five minutes from JR Tamachi Mita Guchi Station.  Don't be deterred by the fact I'll be speaking in Japanese.  Please come on by and have a listen.  There will of course be lots of visuals too with the powerpoint.
Hope to see you there!  Arudou Debito in Sapporo