mytest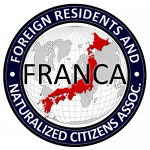 UPDATES ON TWITTER: arudoudebito
DEBITO.ORG PODCASTS now on iTunes, subscribe free
Hi Blog.  This was brought up as a blog comment a few days ago, but let's talk about it as its own blog entry.  The Asahi did an extensive poll on what people see as Japan's future in relative economic decline.  Results indicate that people are distressed about China overtaking Japan, but they apparently aren't ready to change much to change that.  Most germane to Debito.org is the question:
"On accepting immigrants to maintain economic vitality, only 26 percent supported such a move, while 65 percent opposed."

◆将来、少子化が続いて人口が減り、経済の規模を維持できなくなった場合、外国からの移民を幅広く受け入れることに賛成ですか。反対ですか。

賛成      26 反対       65
http://www.asahi.com/politics/update/0610/TKY201006100494_03.html
Meaning that people polled apparently would rather be poorer as a nation than accept immigrants.
Of course, no immigrant without citizenship was polled (if even then), so ah well.
That said, we had the good point, raised within the blog comments on this the other day, that it just might be better for organic acceptance of immigrants over time than to bring in huge numbers and force them on the populace (although I don't see events over this past decade helping matters much, including the unfettered hate speech towards NJ during the PR Suffrage debates, political leaders publicly doubting the "true Japaneseness" of naturalized Japanese or Japanese with NJ roots, and other elements of officialdom blaming NJ for social problems such as crime, terrorism, and infectious diseases).
Then again, a friend of mine also raised an even more pertinent point:  "What's the point of asking that question at all?  We still haven't had a good debate on immigration and why Japan needs it.  Nobody's explained the merits of immigration to the Japanese public all that well.  [In fact, discussion of it is even taboo.].  So no wonder people are negatively predisposed.  Why change things when we don't understand why?"
Touche.  Arudou Debito in Sapporo
//////////////////////////////////////////////
Poll: 95% fear for Japan's future
THE ASAHI SHIMBUN 2010/06/12, courtesy of John in Yokohama
http://www.asahi.com/english/TKY201006110455.html
With China poised to replace Japan as the world's No. 2 economy, Japanese are increasingly taking a more critical look at their country, once referred to as a nation of "economic animals" and known as Japan Inc.
According to an Asahi Shimbun survey, about 95 percent of Japanese are worried about Japan's future, while 62 percent say the nation is being rapidly overtaken by other countries.
And while acknowledging that Japan's economy–once the envy of much of the world–may no longer be a main source of pride, more than half of the respondents said Japan does not need to strive to become a major global power.
According to the survey, 75 percent of Japanese have pride in their country, but only 34 percent said they had pride in Japan's economy.
Sixty-five percent of the respondents said the economy was not a source of pride.
For the multiple-choice question on what aspects of Japan they are proud of, 94 percent cited the nation's technological prowess, while 92 percent pointed to its traditional culture.
Ninety percent of respondents in their 20s and 80 percent of those in their 30s said they felt pride in Japan's "soft power," or edge in creating anime and computer games.
Toshiki Sato, a University of Tokyo professor of sociology, said the survey results reflect a society that has lost its identity.
"If a nation has technological prowess, it would translate into economic strength. The fact that people express pride in technology (while holding a low evaluation of the economy) resembles the grumblings of a manager of an ailing company. It's a reflection of a lack of confidence," Sato said.
Questionnaires were sent to 3,000 randomly chosen eligible voters nationwide in late April, and 2,347 valid responses were received by the May 25 deadline.
Asked about their future vision for Japan, 51 percent said they hope to see a society that promotes economic wealth through hard work, while 43 percent said Japanese society should be one that achieves a relatively comfortable level of wealth without working too hard.
Seventy-three percent said they preferred a nation that is "not so affluent but has a smaller income disparity," against 17 percent who chose "an affluent society but with a large disparity."
Fifty-eight percent favored a large government offering full administrative services, such as social security, even at the cost of higher taxes, while 32 percent preferred a small government.
As for Japan's role in the world, 39 percent said Japan should be a major player with more clout and obligations, while 55 percent said they did not think Japan should be a global power.
On accepting immigrants to maintain economic vitality, only 26 percent supported such a move, while 65 percent opposed.
Along with 78 percent of respondents who said environmental protection should be prioritized even at the cost of stunting economic growth, the figures suggest that Japanese are clearly breaking away from the mind-set of their country being an economic giant.
Sato said the survey showed that Japanese people were taking a hard, cool-headed look at their nation.
"Since the Meiji Restoration (of the 19th century), Japanese have tended to bring about the worst consequences by developing unfounded confidence and pride, as with the defeat in World War II, rapid economic growth and massive pollution, and the economic bubble," Sato said.
"You don't want to lose too much confidence, but the ability to be humble is a virtue. The survey results should be seen in a positive light," he said.
ENDS
/////////////////////////////////////////
「日本は自信を失っている」74% 朝日新聞世論調査
2010年6月10日22時44分
http://www.asahi.com/special/08003/TKY201006100468.html
朝日新聞社が「日本のいまとこれから」をテーマに郵送方式による全国世論調査を実施したところ、「いまの日本は自信を失っている」とみる人が74%に達し、9割以上の人がこれからの日本に不安を感じていることがわかった。一方で、回復する底力があるとみる人が半数以上おり、日本の将来のあり方としては、経済的豊かさよりも「格差が小さい国」を求める意見が7割を占めた。
これからの日本への不安感を4択で尋ねると、「大いに感じる」50%、「ある程度感じる」45%で、強い不安を抱く人が多かった。「あまり感じない」は4%、「まったく感じない」は0%。
現状を「勤勉さが報われない社会」と考える人が69%、「日本人は精神的に豊かな生活を送れていると思わない」人が73%いる。「政治、経済、社会の仕組みを大幅に改革することが必要」という意見が57%で「いまの制度を維持しながら改良」の40%を上回る。自信を回復する底力があるとみる人は56%。また、全体で75%が「日本に誇りをもっている」と答えた。
日本の経済力を「誇れる」との意見は34%しかおらず、「そうは思わない」65%が大きく上回る。今後の日本の進み方については「一生懸命がんばって経済的豊かさを向上させていく」が51%、「ほどほどのがんばりで、ある程度の豊かさを得られればよい」が43%と見方が分かれた。
一方、「経済的に豊かだが格差が大きい国」と「豊かさはさほどでないが格差の小さい国」のどちらを目指すかでは「格差が小さい国」73%が「豊かな国」17%を圧倒。
調査は全国の有権者3千人を対象に4月下旬から5月下旬にかけて実施した。有効回収率は78%。(吉野園子)
Not reported in the Japanese but reported in the English version was this question:
◆将来、少子化が続いて人口が減り、経済の規模を維持できなくなった場合、外国からの移民を幅広く受け入れることに賛成ですか。反対ですか。
賛成      26 反対       65
http://www.asahi.com/politics/update/0610/TKY201006100494_03.html
/////////////////////////////////////////
FULL TEXT OF THE POLL
世論調査—質問と回答〈4・5月実施〉
http://www.asahi.com/politics/update/0610/TKY201006100494.html
2010年6月10日23時56分
(数字は%。小数点以下は四捨五入。質問文と回答は一部省略。◆は全員への質問。◇は枝分かれ質問で該当する回答者の中での比率。< >内の数字は全体に対する比率。特に断りがない限り、回答は選択肢から一つ選ぶ方式。調査期間は鳩山内閣の時期にあたる)
「日本は自信を失っている」74% 朝日新聞世論調査
◆いま、どの政党を支持していますか。
民主党21▽自民党14▽公明党4▽共産党2▽社民党1▽みんなの党7▽国民新党0▽たちあがれ日本1▽新党改革(改革クラブ)0▽新党日本0▽その他の政党1▽支持政党なし46▽答えない・わからない3
◆いまの生活にどの程度満足していますか。
大いに満足している 2
ある程度満足している 46
あまり満足していない 38
まったく満足していない 13
◆これからの日本にどの程度不安を感じていますか。
大いに不安を感じている 50
ある程度不安を感じている 45
あまり不安を感じていない 4
まったく不安を感じていない 0
◆日本に誇りをもっていますか。誇りをもっていませんか。
誇りをもっている 75
誇りをもっていない 19
◆日本の(1)「経済力」(2)「技術力」(3)「教育水準」(4)「伝統文化」(5)「アニメやゲーム」(6)「平和憲法」について、誇れることだと思いますか。そうは思いませんか。
(1) (2) (3) (4) (5) (6)
誇れることだ   34 94 33 92 68 67
そうは思わない  65 6 66 5 29 29
◆いまの日本がおかれた状況を「登山」にたとえると、次の四つのうち一番近いイメージはどれだと思いますか。
快調に登っている 1
急な坂を懸命に登っている 15
息が切れて、後続の人に追い抜かれていく 62
足を痛めて先に進めない 18
◆いまの日本は自信を失っていると思いますか。そうは思いませんか。
自信を失っている 74 そうは思わない 22
◇(自信を失っていると答えた74%の人に)自信を失っている主な理由は何だと思いますか。(選択肢から二つまで選ぶ)
経済の行き詰まり 36<26>
政治の停滞 49<36>
国の財政の悪化 44<33>
国際的地位の低下 17<13>
少子高齢化 22<16>
伝統的価値観の衰退 6<5>
◆日本は自信を回復するだけの底力があると思いますか。そうは思いませんか。
底力がある   56 そうは思わない  28
◆日本の国内総生産は昨年までアメリカに次いで世界2位ですが、今年は中国に抜かれて3位となる見込みです。日本の国内総生産が3位に下がることは、重大な問題だと思いますか。そうは思いませんか。
重大な問題だ  50 そうは思わない  46
◆(1)「勤勉である」(2)「協調性がある」(3)「礼儀正しい」(4)「器用である」(5)「自立心がある」(6)「独創性がある」(7)「国際性がある」については、いまの日本人に当てはまると思いますか。当てはまらないと思いますか。
(1) (2) (3) (4) (5) (6) (7)
当てはまる  46 45 45 77 20 35 26
当てはまらない50 51 52 20 76 61 70
◆次の中で、これからの日本人がとくに大切にしなければならないものは何だと思いますか。(選択肢から二つまで選ぶ)
勤勉さ23▽協調性21▽礼儀正しさ24▽器用さ6▽自立心36▽独創性27▽国際性46
◆日本人は、全体として、精神的に豊かな生活を送れていると思いますか。そうは思いませんか。
精神的に豊かな生活を送れている 23
そうは思わない 73
◆いまの日本は勤勉さが報われる社会だと思いますか。勤勉さが報われない社会だと思いますか。
報われる社会だ 25
報われない社会だ 69
◆仕事と個人の生活のバランスを考えた場合、これからの日本人は、仕事を優先した方がよいと思いますか。個人の生活を優先した方がよいと思いますか。
仕事を優先した方がよい 36
個人の生活を優先した方がよい 48
◆これからの日本は、一生懸命がんばって、経済的豊かさを向上させていくのがよいと思いますか。ほどほどのがんばりで、ある程度の豊かさを得られればよいと思いますか。
一生懸命がんばって、豊かさを向上 51
ほどほどのがんばりで、ある程度の豊かさ43
◆これからの日本を考えたとき、政治、経済、社会の仕組みを大幅に改革することが必要だと思いますか。いまの制度を維持しながら改良していくのがよいと思いますか。
仕組みを大幅に改革することが必要 57
いまの制度を維持しながら改良 40
◆これからの日本は、全体として経済的には豊かだが格差が大きい国と、経済的豊かさはそれほどないが格差が小さい国とでは、どちらを目指すべきだと思いますか。
豊かだが格差が大きい国 17
豊かさはそれほどないが格差が小さい国 73
◆これからの日本は、経済成長を妨げるおそれがあるとしても、環境への配慮を優先した社会を目指すべきだと思いますか。経済成長を妨げるおそれがあるなら、環境への配慮はほどほどでよいと思いますか。
経済成長を妨げるおそれがあるとしても、環境への配慮を優先した社会を目指すべきだ 78
経済成長を妨げるおそれがあるなら、環境への配慮はほどほどでよい 15
経済の主役が、ものづくりから、金融やITといった業種へと移りかわっていくことは、好ましいと思いますか。好ましくないと思いますか。
好ましい    14 好ましくない   77
◆地方を中心に、土木・建設業などから福祉産業や農業への転換の動きがあります。このような転換に期待しますか。期待しませんか。
期待する    78 期待しない    17
◆将来、少子化が続いて人口が減り、経済の規模を維持できなくなった場合、外国からの移民を幅広く受け入れることに賛成ですか。反対ですか。
賛成      26 反対       65
◆これからの日本は、次の二つのうち、どちらを目指すべきだと思いますか。税負担が重いが、社会保障などの行政サービスが手厚い「大きな政府」ですか。税負担は軽いが行政にはあまり頼れず、自己責任が求められる「小さな政府」ですか。
大きな政府   58 小さな政府    32
◆これからの日本は、アメリカとの関係を深める方がよいと思いますか。アメリカとは距離をおく方がよいと思いますか。
関係を深める方がよい 52
距離をおく方がよい 34
◆これからの日本は、中国との関係を深める方がよいと思いますか。中国とは距離をおく方がよいと思いますか。
関係を深める方がよい 48
距離をおく方がよい 42
◆いまの日本は、国際的な議論をリードする力を持った国だと思いますか。そうは思いませんか。
思う      12 思わない     85
◆これからの日本は、国際社会で発言力がある一方、責任や負担も大きい「大国」であるのがよいと思いますか。大国である必要はないと思いますか。
大国であるのがよい 39
大国である必要はない 55
◆戦後、日本は、大きな防衛力は持たず、そのかわり、アメリカの軍事力や核兵器に頼るという政策をとってきました。日本はこれまで通りアメリカの軍事力に頼るべきだと思いますか。アメリカに頼らず、独自の防衛体制を作り上げるべきだと思いますか。
アメリカの軍事力に頼るべきだ 38
独自の防衛体制を作り上げるべきだ 48
◆お金には換算できない、国民の暮らしの質や満足度を数字に表して政策の指標とする「幸福度」という考え方があります。幸福度という考え方を政策の指標として導入することに期待しますか。期待しませんか。
期待する    45 期待しない    51
◇
〈調査方法〉 全国の有権者から3千人を選び、郵送法で実施した。
対象者の選び方は、層化無作為2段抽出法。全国の縮図になるように339の投票区を選び、各投票区の選挙人名簿から平均9人を選んだ。4月20日に調査票を発送し、5月25日までに届いた返送総数は2392。無記入の多いものや対象者以外の人が回答したと明記されたものを除いた有効回答は2347で、回収率は78%。
有効回答の男女比は男46%、女54%。年代別では20代11%、30代17%、40代15%、50代18%、60代20%、70代12%、80歳以上7%。
ENDS