mytest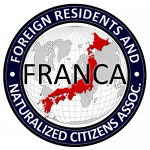 UPDATES ON TWITTER: arudoudebito
DEBITO.ORG PODCASTS now on iTunes, subscribe free
Hi Blog. As Debito.org does every election (see some past entries here and here), we offer our assessment of what happened. All information is gleaned from the newspapers (Asahi, Mainichi, Yomiuri, and Doshin) that came out the next morning, with some analysis from looking at the hard numbers. I am not a politico or insider, just somebody with a healthy interest in the democratic process in Japan, putting his undergraduate Government degree to work:
THE GOAL OF THIS ELECTION FOR THE RULING DEMOCRATIC PARTY OF JAPAN (DPJ)
The Upper House of Japan's Diet (parliament) has a total of 242 seats. Half the UH gets elected every three years, meaning 121 seats were being contested this time. Of the ones not being contested, the ruling DPJ, which has held the majority of UH seats (through a coalition with another party) since 2007, had the goal of keeping that majority.  To do that, the DPJ had to win 55 seats plus one this time (since they already had 66 seats not being contested this election). The opposition parties (there are many, see below) had the goal of gaining 66 seats plus one (since 55 of theirs were not being contested this election) to take the UH majority back. Here's how the numbers fell this morning after yesterday's election:
DPJ won 44 (while their coalition partner lost all of theirs).
Non-DPJ won 77.
Totals now come up to 106 (a loss of ten) seats for the DPJ, meaning they lost their absolute Upper House majority, thanks to a coalition partner party (Kokumin Shintou) losing all their contested seats (three).  Thus the DPJ lost control of the Upper House.
However, this does not mean that somebody else assumes power of it.  Nobody is close to forming a Upper House majority, meaning there will be some coalition work from now on. Breaking down the numbers:
Ruling DPJ won 44 (a loss of ten seats).
The former ruling Liberal Democratic Party (LDP conservative status quo) won 51 seats, a total gain of 13.

Koumeitou (KMT a "Buddhist Party", think the Mormons creating their own party in the US) won 9 seats, a loss of two.
Japan Communist Party (JCP) won three seats, a loss of one.
Shintou Kaikaku (a populist reform party made up of LDP defectors led by very popular Masuzoe Youichi) won one seat, a loss of four.
Shamintou (DSP, a left-wing party and former DPJ coalition member led by Fukushima Mizuho) won two seats, a loss of one.
Tachiagare Nippon (TAN, a fringe xenophobic right-wing party made up of LDP defectors) won one seat, breaking even.
Minna no Tou (MNT, a self-professed "entrepreneurial" party made up of LDP defectors) won ten seats, a gain of ten.
Kokumin Shintou (KMS, an erratic rightish party in the DPJ coalition) won no seats, a loss of three.

The Happiness Realization Party (a loony party founded by a religious cult) won nothing, again.
Unaffiliateds (i.e. no party affilation, independents) won no seats, a loss of one.
Source: http://www2.asahi.com/senkyo2010/
Hence somebody has to start power brokering to reach the majority of 121 plus one, since the second-strongest party, the LDP, now only has a total of 84 seats.  Even with its perennial coalition buddy, KMT, that's still only 19 more.  Methinks (and only methinks) the biggest winner in this election MNT (eleven seats total) will probably join in with the LDP and KMT, but that still only adds up to 114.  Speculation is rife but inconclusive at this time.
PULLING THE RAW NUMBERS APART
DPJ lost this election, there's no other spin to be had.  But it was not a rout like the media has been portraying (using words like taihai and haiboku — compare it with a real rout like the UH election of 2007 against the LDP, see here).  Consider this:
Number of electoral districts where DPJ came out on top where they weren't on top before (in other words, electoral gains as far as DPJ is concerned):  None.
Number of electoral districts where DPJ stayed on top or kept their seat same as last election (in other words, no change for the worse): 22
(Oita, Kochi, Okayama, Nara, Mie, Shiga, Yamanashi, Hiroshima, Hyogo, Kyoto, Osaka, Gifu, Nagano, Aichi, Shizuoka, Tokyo, Ibaraki, Niigata, Fukushima, Iwate, Miyagi, and Hokkaido).
Number of electoral districts where DPJ lost but lost there before anyway (in other words, the status quo of no electoral gains): 10
(Okinawa (the DPJ did not contest a seat there anyway, but the previous winner was Unaffiliated), Kagoshima, Yamaguchi, Shimane (although loser there was KST, a DPJ coalition partner), Ehime, Wakayama, Fukui, Toyama, Gunma, and Akita.)
Number of electoral districts where DPJ flat out won before but lost a seat this time (this is the bad news, electoral losses): 12
(Nagasaki, Saga, Kumamoto, Kagawa, Tokushima, Tottori, Ishikawa, Saitama, Tochigi, Chiba, Aomori, and Yamagata)
Conclusion:  The DPJ essentially held their own in a near-majority of contested electoral districts.  They did not gain much, but did not lose "big".  In fact, in all multiple-seat constituencies, at least one DPJ candidate won (see below).
———————————–
Here's another spin:
As I said, many districts have multiple seats, and in every one at least DPJ candidate won. But the number of electoral districts where DPJ stayed on top, same as last election: 3
(Kyoto, Niigata and Fukushima)
Where they did not: 15
(Fukuoka, Hiroshima, Hyogo, Osaka, Nagano, Gifu, Aichi, Shizuoka, Tokyo, Chiba and Kanagawa (from two seats to one in each place), Saitama, Ibaraki, Miyagi, and Hokkaido.)
Source: Hokkaido Shimbun July 12, 2010, page 20.
However, if I were a DPJ spin doctor, I would say:  Most multiple constituencies had two DPJ candidates competing against one another (against only one LDP candidate, as in Hokkaido), and since they sucked the votes from each other, generally one DPJ won and one lost.  If only one DPJ candidate had run, then he or she would probably have come out total on top ahead of the LDP candidate, and there would not be so many second-place DPJ finishes.
The unquestionably biggest DPJ loss was Kanagawa, where they not only completely lost a seat to the upstart MNT, but also unseated was Chiba Keiko, the current Justice Minister, a proponent of separate surnames after marriage (fufu bessei) and an opponent of the death penalty. This is a big loss for the left wing of the already ideologically-fractious DPJ.
THE BEST NEWS AS FAR AS DEBITO.ORG IS CONCERNED:
We have discussed here how certain parties were bashing foreigners to gain votes (it happened pretty hard in Renho's district in Tokyo).  It didn't work.  Renho won her district easily.  Moreover, the right-wing fringe parties (TAN, with racist leaders Hiranuma and Ishihara) only got one seat (and it was a celebrity — the DPJ did the same with "Yawara" Tani Ryoko) from the PR vote (if you can't get one there, you're pretty much useless as a party), meaning TAN is down one seat from before.  KMS, also a foreigner-bashing party, got no seats this time at all.  Hah.  Serves you right.
But anyway, the media is spinning this as a big loss, even though ruling parties (except the ones that have been governing for fifty years and have the power of precedent or no viable opposition party) generally lose a bit in midterm elections (because of an inevitable degree of voter alienation from, say, disappointed and defeated expectations, or from having to create winners and losers from their decisions).  This was no exception.  But the LDP once governed for years without the support of the Upper House (much weaker than the Lower House, which the DPJ still controls), so the DPJ can do the same.  I doubt the DPJ is taking LDP leader Tanigaki's calls this morning for an immediate dissolution of the Diet and a full general election at all seriously.  I'm not.  Nothing revolutionary is coming out of this election.  'Cos the results aren't that dramatic.  Despite what the media would have you believe.
All for now.  Insufficient sleep and a rotten result in the World Cup last night (what awful refereeing!), and this is the best I can come up with for now.  Additional thoughts from everyone else?  Arudou Debito in Sapporo