mytest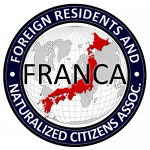 UPDATES ON TWITTER: arudoudebito
DEBITO.ORG PODCASTS now on iTunes, subscribe free
Hi Blog.  The GOJ just said it will join the Hague Convention (on Child Abductions, not child custody, as entitled below; guess that's more palatable to readers), something sorely needed in in a society which acts as a haven for international child kidnapping after divorce.  It's an important announcement, with a couple of caveats:  1) It hasn't happened yet (or it's uncertain when it will happen, so it's not quite news), and 2) it's unclear, as the article notes (and many Debito.org Readers believe, according to a recent poll here) that Japan will properly enforce it if it does ratify (as it has done in the past with, say, the Convention on Racial Discrimination) with laws guaranteeing joint custody and/or visitation rights.  Good news, kinda.  Wait and see.  More on the issue from Debito.org here.  Arudou Debito on holiday.
/////////////////////////////////////////
Japan to join The Hague convention on child custody
Kyodo News/Japan Today Sunday 15th August, 2010, courtesy of JK
http://www.japantoday.com/category/national/view/japan-to-join-the-hague-convention-on-child-custody
TOKYO — Japan has decided to become a party to a global treaty on child custody as early as next year amid growing calls abroad for the country to join it to help resolve custody problems resulting from failed international marriages, government sources said Saturday.
The government will develop domestic laws in line with the Hague Convention on the Civil Aspects of International Child Abduction, which provides a procedure for the prompt return of ''abducted'' children to their habitual country of residence and protects parental access rights, the sources said.
Complaints have been growing over cases in which a Japanese parent, often a mother, brings a child to Japan without the consent of the foreign parent, or regardless of custody determination in other countries, and denies the other parent access to the child.
Japan has come under pressure from the United States and European countries to join the 1980 treaty aimed at preventing one of the parents in a failed international marriage from taking their offspring across national borders against an existing child custody arrangement.
The government has judged it necessary to resolve the issue as soon as possible, given that leaving it unresolved for a long term would undermine Japan's international standing, the sources said.
However, the government has yet to determine when to ratify the treaty, as it is expected to take time to develop related domestic laws because of differences in the legal systems of Japan and other signatory nations.
For example, on parental rights, Japan's law gives a single parent full custody of children in a divorce, virtually allowing the custodial parent to take the children away without the consent of the noncustodial parent, while the United States and Europe allow joint custody.
Japan's Civil Code also does not mention visitation rights for noncustodial parents and many Japanese parents awarded custody are known to refuse the other parent access to the child.
Many civic groups active on the issue urge the Japanese government to amend the Civil Code to allow joint custody but the government is set to forgo such an amendment at this stage, according to the sources.
In January, ambassadors of the United States and seven other nations urged Japan to sign the Hague convention in a meeting with Japanese Foreign Minister Katsuya Okada in Tokyo.
Amid growing global concerns over the so-called child abductions, the Japanese government set up a division in the Foreign Ministry to specifically deal with the issue in December last year, while then Prime Minister Yukio Hatoyama in February suggested that he was considering Japan's accession to the treaty.
Japan and Russia are the only two countries among the Group of Eight industrialized nations that are not a party to the Hague Convention.
ENDS