mytest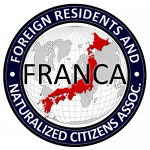 UPDATES ON TWITTER: arudoudebito
DEBITO.ORG PODCASTS on iTunes, subscribe free
Hi Blog. Have just finished giving a presentation and partaking in a PhD workshop at the University of British Columbia (getting ready for those sucked all the time out of blogging, sorry). But we have some updates to some recent posts on how Immigration (and extensions thereof) is treating people crossing borders and afterwards. Sendaiben and MB comment:
//////////////////////////////////////////////
September 29, 2010
From Sendaiben:
Just came back through Narita and gave my usual calm and friendly rant to the immigration officer (she wasn't particularly impressed -got a very curt "if you don't comply you can't come in"). Fair enough.
I then had a thought. The re-entry permit holder line anywhere I've been has been by far the shortest. I have never had to wait more than a minute or so, unlike the Japanese citizens who often have long lines (and let's not talk about the tourist lines, which are often pretty bad). I can also take my family through with me (even though they have Japanese passports) and save them time standing in line too.
If you think of the re-entry line as a VIP line that requires additional security (fingerprints), does that not make the whole thing easier to swallow? After all, it's not such a big deal, is it? It's not worth getting het up about every single time we come back into the country, is it?
Sadly, that doesn't work for me, however much I would like it to. I really dislike the policy, which seems pointless and needlessly offensive to me.
I will keep complaining, although I make sure I do so in a calm and friendly manner (the immigration officers on the desks didn't make the rules, so there is no point being hostile to them). However, as public servants, they should know how the public feels about the policies they carry out: thus it is my right to talk about it in a calm and reasonable way 😉
Ironically it is this more than anything else which is pushing me to naturalize: I don't need the grief every time I come home. What does everyone else think?
/////////////////////////////////////////////
MB adds what happens once within the pale:
/////////////////////////////////////////////
July 14, 2010
From MB:
It seems that Narita cops still practice racial profiling even after all the protests lodged at their office in Narita…this is sad because it shows we foreigners count like zero.
I frequently use Narita and to say the truth this was the first time I saw this bad practice at work. Hearsay is one thing, seeing something with your eyes is very different and I have to be honest to say that I got angry.
In the open space just before the Narita Express entrance two policemen
had stopped two people and were asking them various things.
Those two people of course were also showing their passports. They were foreigners. At that point I took one picture. I thought to myself, "Well, they will also stop Japanese….". So I purposedly waited nearby to see what the two cops would do next.
When I saw that the next people they stopped were foreigners too I began to feel angry. Welcome to Japan.
Then, after these two people the policemen stopped another couple of…. foreigners.
All of this lasted like 30 minutes and they only stopped foreigners (all white, no asians etc.).
I also walked around to see if they stopped me but they didn't. Maybe I look "mendokusai" ? One of the two cops looked at me after I was staring him for a long time but he didn't make any move. The pattern I noticed is:
Target:
– white only
– two people for two cops
– tourist looking type
– normal looking person (with this I mean
those people they stopped were not really "suspicious" looking !!)
The cops always asked for:
– passports
and, this is interesting, I also noticed that in all three cases they talked to their targets for a while, THEN, when they were about to let them go, they asked again, casually, for some last thing (which I couldn't hear). I am curious to know what it was…
The pattern was something like: "Thanks, now you may go. (then with a surprised face) Ah…I forgot to ask…."
I really do hope they also start stopping anybody not only practice dummies. This practice doesn't make me feel safer at all, instead it makes me think of all those people that just pass through Narita without any fear to be stopped by these robo-cops.
ENDS