mytest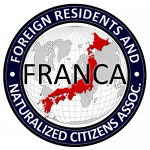 UPDATES ON TWITTER: arudoudebito
DEBITO.ORG PODCASTS on iTunes, subscribe free
Hi Blog.  I get letters like this on a daily basis (thanks everyone; can't respond to all).  This one dovetails with something Debito.org is increasingly focusing attention upon:  Japan's attempts to rebrand itself as a "cool tourist destination".  This is fine, of course, but if you're going to make it easier for NJ tourists (such as Chinese or Subcontinental Indians) to visit, you better make sure that they have a good time while here.  And I certainly see some room for improvement there.
I was waking up to NHK last Monday morning, and in line with their general cluelessness about how to treat NJ (such as acclaiming paltry 30-sen discount coupons for exchange rates), this time they were surveying airport tourists about what they'd like to see done to make Japan more attractive.  Some of the advice was decent (such as making clear on menus the contents of food, as in, what items are safe for vegetarians or diabetics).  But others were of the "whiny" variety (as in, "In America, we have menus in English"; this in a land where menus are very conveniently visual indeed).  Nice try, but if you're trying to appeal to Asian-Region tourists, why not ask more Asian tourists what THEY want, NHK?
But one thing is of course being overlooked — how tourists and NJ in general are being targeted and harassed by police for instant passport checks.  It starts at Narita Airport, where the Narita Police are essentially using gaijin for target practice.  And as Debito.org Readers keep hearing here, it keeps happening once inside as well.  Witness this letter below, redacted only in name.
Point is, if you want to make Japan a more attractive tourist destination, please heel your police dogs, GOJ.  The NPA is spoiling the party with its racial profiling and treating NJ as suspicious.  Being treated as a criminal can really spoil one's vacation.  Arudou Debito
////////////////////////////////////////////////////
November 2, 2010
Hello Debito, My name is WB and I have been following your site for 3 years by now. Let me start by saying that I was very doubtful and cynical of what you mentioned in regards to racism and discrimination in Japan as I've noticed none when I first went there for a short 2 week trip on Dec 2008 (Narita's fingerprints aside). As a matter of fact, I still have some reservations towards the way you approach things, though my opinion of you changed dramatically after I went back to Japan for a 3 month stay last summer.
I went on a tourist visa to Osaka to practice and learn martial arts. My experience in that regards was fantastic and I've have the pleasure to meet amazing people during my trip. My experiences with police checkpoints, however, we nothing but scary. During my 3 month stay, I've been stopped 5 times, once by undercover detectives simply because I was gaijin. Once I was stopped on my bike, asked for my residency card (which naturally, I didn't have because I am a tourist!) and escorted back to my home like a criminal, had my privacy intruded, handed my passport to the officers to see it being inspected to the very finest bit as if I gave them some letter full of anthrax or something. One of the officers was apologetic but the other one was rude and warned me harshly. I protested but that got things escalating so I backed down with a "hai, wakarimashita" and breathed a sigh of relief as they went away from my place.
The ensuing days had left me in fear. I quickly looked in the internet for some practical solutions and yours was what I found. I printed the Japanese laws tidbit you posted and had a copy of my passport in my pocket all the times. Carrying my passport all the time is out of the question! What if I lost it here or there? Terrible treatment awaits me if they decided to check on me when that happens! Thankfully, the next few checkpoints after this incident went smoothly, but I was always in a state of fear (for a "crime" that I didn't commit).
The passport thing also extends to hotels it seems. I went to Shikoku for a 3 day trip and I've been asked for my passport in two hotels I stayed in. Failure to do so apparently means that they have to deny me service. I didn't have my passport at that time, but I managed to convince them to accept my Canadian ID. If you think of it, they're just following "the rules", and since my Canadian ID had an name, address, and personal information on it; I was able to "get around" those rules.
Let me stress again that my experiences there were more positive than negative, and I am hopeful to return there once again. However, I can now understand what most NJ face in their daily life. I still have don't like some of the aggressiveness in your opinions, but I am glad that you're putting up the fight. Your site provided me with important information at a time of need….Thank you.
PS: I am unable to connect to your site here (Nova Scotia) for the past 2 months. I had to use an anonymous surf proxy to view it. What gives…??
Regards, WB
ENDS