mytest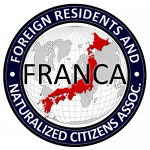 UPDATES ON TWITTER: arudoudebito
DEBITO.ORG PODCASTS on iTunes, subscribe free
Hi Blog.  In case you haven't heard, the latest APEC Summit is coming up in Yokohama this weekend.  Aside from the regular boilerplate on places like NHK about how we're gearing up to greet and communicate effectively with foreigners (with some smattering on the security measures — cops on every corner looking busy and alert etc.), we once again are hearing next to nothing (if any media is talking about this, please send source) about how security means targeting NJ as potential criminals and terrorists.
It's one thing to have Police State-style lockdowns.  It's another matter of great concern to Debito.org for those lockdowns to encourage racial profiling.  This seems to happen every time we have any major international summitry (see past articles here, here, here, and here), and as usual no media seems to question it.  An eyewitness account redacted only in name that happened last week in Gotanda, Tokyo, quite a distance from the Yokohama site, follows.  Anyone else out there getting racially profiled and zapped by the fuzz?  Make sure you mention the whens and wheres, please.  Thanks.  Arudou Debito
///////////////////////////////////////////////////////////////
November 5, 2010
Hey Debito, Just to keep you abreast of a recent NPA excuse for a 'stop and search' shambles, here's my story.
I have been living in Tokyo for around eight years now and this was the first time I have ever been stopped. I was on my way to meet a client in Gotanda in Tokyo on November 3rd and as I went through the ticket gate at approximately XXXpm [daytime] there were two regular police officers waiting on the other side. I saw one of them clock me and registered that he had decided to stop me for whatever purpose. Resigned to my fate, I watched him beeline his way towards me and gesture for me to stop. I took out my earbuds and responded to his question ("Can you speak Japanese?") with a polite, "just a little." Suprisingly, he then spoke English to me and continued to do so for the rest of the time I was delayed (I am not a fluent speaker of Japanese so I was quite happy to stay in my native tongue rather than struggle along with what little I know). First he asked if I had any I.D. such as a passport or Registration Card so I obligingly opened my bag, got out my wallet, closed my bag and handed him my I.D. I then asked him why he had stopped me and what he said was, and still is, the shocker of this whole story for me. He said that they were stopping foreigners "because of the APEC meeting being held in Yokohama." I will refrain from launching into what I think about this ridiculous statement but I'm sure you can imagine my chagrin, so to speak. When I asked him why he had chosen to stop me, he then said that they were focusing on searching foreigners bags for "dangerous goods" and asked if it wouldn't be too much trouble to have a look inside my bag. I said no, he couldn't look inside my bag. He was a bit flummoxed at this and had to gather himself in order to proceed correctly. First he called over his sidekick and asked him to fill in the relevant form with my Registration details – sidekick obviously hadn't done this before as he had a hard time guessing which bits of info to write down and had to check more than twice with the guy I was dealing with – then, he confirmed that I had just said "no" and asked me again if he could look inside my bag. We went back and forth a couple more times. Next he asked me to cooperate and that it wouldn't take much time; I said I was cooperating and asked him if he thought I wasn't cooperating. We went back and forth a couple more times. The discussion went round in circles a little longer but I must stress that at no point was he ever threatening or aggressive, and neither was I. In the end, I asked for his name and I.D., which he obligingly gave me. Once I had taken this down I opened my bag to put my notebook back and allowed him to have a look inside – by this time it was getting close to my appointment and I wanted to get on with my day. The one thing I forgot to ask him before I showed him the inside of my bag was if I could leave now, once they had taken my Registration details. It's easy to think about it in retrospect… He only gave the inside of my (fairly sizable backpack, messenger style) bag a cursory look even after the reason he gave for the search, too! – I guess he supposed I would refuse if he asked to open the other bags which were inside my bag (soft lunch bag, quality waterproof bag with spare clothes, book bag). At least, in the end, he was polite, even though he was persistent. The whole affair took about 10 minutes of my time and I can't help feeling like I was the victim of some inane body-count for administration purposes only.
Police Officer Seiya NC 217 of the Osaki Police Station looked like he was still in his 20's and had been tasked with the job of targeting foreigners for the sole purpose of satisfying his superiors that Japan was doing it's bit to 'fight' terrorism. I'm sure he believed in what he was doing and most likely still does but I'm also sure that he and many others like him have no clue that targeting foreigners and not even considering the idea that terror can be home-spun is not only hypocritical (and ironic – sarin gas, anyone?) but ultimately damaging to the good nature, honesty and humility of the vast majority of Japanese people in this country.
Isn't there something I should download from your blog that would be ideal for explaining why I refuse to have my bag searched?
Best regards, rock on and keep banging that hammer, Debito.
Anonymous