mytest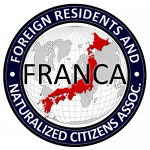 UPDATES ON TWITTER: arudoudebito
DEBITO.ORG PODCASTS on iTunes, subscribe free
Hi Blog. As we wind down the year and the decade, we'll start having more retrospectives on Debito.org. Kicking this off is a fluff piece from the Japan Times from "My Darling is a Foreigner" Tony Laszlo, and how he's put himself out to pasture from an alleged human rights activist to a cunning linguist.  A paragraph of note:
(photo courtesy Japan Times Dec 14, 2010)
////////////////////////////////////////////
WHO'S WHO
For writer, languages are his 'darling'
Multilingual author and subject of 'My Darling is a Foreigner' comic celebrates joy of words
The Japan Times, Tuesday, Dec. 14, 2010
…Apart from writing, Laszlo taught for a few years at Japanese universities, and has also set up an nongovernmental organization, Issho Kikaku, in 1992. Through this NGO, he put on theatrical shows related to multicultural issues, and later, dealt with social issues such as discrimination against foreigners.
"In those days, personally, I felt a strong desire to avoid a simple dichotomy between Japanese and non-Japanese, male and female, family and friends, handicapped and nonhandicapped," he said. Today, he said he is less passionate about the issues, and that the group's activities have become more low-key. Now it engages in research on issues concerning human diversity, language and culture.

Full article at http://search.japantimes.co.jp/cgi-bin/fl20101214ww.html
//////////////////////////////////////////////
COMMENT: Low key? I'll say. This "issho kikaku" has a one-page website which hasn't changed for years — moreover has done away with hundreds of pages of works from other NJ and Japanese activists that were a priceless archive of domestic activism from the late 1990's-early 2000's. In fact, this "issho kikaku" was never an NGO at all. Never registered as one, in fact, yet still reported as extant by a too-trusting reporter. So "low-key" is an understatement: how about "no-key" or "delete-key"?
But yeah, it must be nice to be the appendage-half of a very successful business partnership, one that became a social phenomenon (of debatable benefit) this past decade. It's produced a person who reportedly once cared about helping the downtrodden in Japanese society, yet can still make media hay in places like the Japan Times just by indulging in idle sweetmeat pursuits.  I guess for him that's better than actually losing hair being being passionate about issues that might benefit from a bit of tycoon philanthropy:   Helping people avoid that dichotomy between "Japanese and non-Japanese, male and female, family and friends, handicapped and nonhandicapped."etc.
Better to be a Darling, and lick the buttered side of the bread.