mytest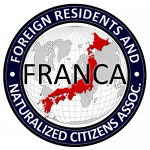 UPDATES ON TWITTER: arudoudebito
DEBITO.ORG PODCASTS on iTunes, subscribe free
Hi Blog. As part of the end-year roundup, here are a few issues I thought would be interesting for discussion. Looking back, what do you think are the most influential events that affected NJ in Japan? Here are some of ones I thought were noteworthy, in no particular order:
What do you think are the top issues in 2010 that affected NJ in Japan?
Far-rightists question credentials of DPJ reformists by claiming they have NJ roots
Suraj Case of death during deportation
Long-dead Centenarians still registered as alive (yet NJ remain unregistered)
Nursing program only passes three NJ after two years
Hunger strike at Ibaraki Prison
GOJ apologizes to Korea for prewar annexation
"My Darling is a Foreigner" becomes a movie
Sumo Association decides to count naturalized wrestlers as still foreign
UN Rapporteur Jorge Bustamante's critical Japan visit
NJ PR Suffrage Bill goes down in flames
Zaitokukai far-rightists get arrested for property damage to Zainichis
Child Abductions issue gathers steam with governments abroad, GOJ eyes Hague
The Cove engenders protests, get limited screenings anyway
Japan's Kokusei Chousa pentennial census goes multilingual
Tokyo Police spying on Muslims
Futenma issue, with USG jerking GOJ's chain
Renho becomes first multiethnic Cabinet member
Toyota's mishandling of their runaway car recall, blaming foreign components and culture
Oita court ultimately rules that NJ have no rights to J pensions
Tourist visas eased for Chinese and Indians
Health insurance requirement removed from visa renewals
and/or
(Please tell us what you think got left out in the Comments Section below)
Please vote for three (we'll get a decent average that way through the overlap) in the Polls section on the right-hand column of this blog.  Thanks.
If you're celebrating, Merry Christmas Eve and Day, Debito.org Readers!  Arudou Debito