mytest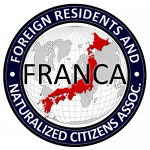 UPDATES ON TWITTER: arudoudebito
DEBITO.ORG PODCASTS on iTunes, subscribe free
Hi Blog.  Here's one that got lost in the shuffle between debates; was going to put it up around May 10.  My commentary is a bit old, but might as well put it up for the record:
In apposite to the debunkable claims of "Fly-jin" NJ, here is an article in the media with a survey of how NJ are actually by-and-large NOT being "Fly-jin".  Good.  Hope these cases have sunk in with the Japanese public by now.  Arudou Debito
////////////////////////////////
American teacher in Sendai stays in Japan to help with volunteer efforts
(Mainichi Japan) April 25, 2011
http://mdn.mainichi.jp/mdnnews/national/news/20110425p2a00m0na011000c.html
PHOTO CAPTION:  Greg Lekich, far left, and other volunteers are pictured in Tagajo, Miyagi Prefecture, on April 20. (Photo courtesy of Greg Lekich)
SENDAI — With the nuclear plant crisis and continuing aftershocks, many foreign assistant English teachers have left Japan to return to their home countries, but one assistant language teacher (ALT) here chose to stay behind and do what he could for volunteer efforts.
Greg Lekich, 31, is an American ALT who teaches English at a high school in Sendai. Together with around 10 others, he has been doing volunteer work such as shoveling mud and helping clean people's debris-filled houses. He says that he has many friends and students he has taught in Japan, and has grown used to where he lives now. He says he does not have plans to leave the country any time soon.
Lekich was born in Philadelphia. He spent a year of college learning Japanese and came to the country in 2004. After teaching English in Numazu, Shizuoka Prefecture, and other locations, he started work as an ALT at Miyagi Hirose High School and Miyagiken Technical High School from 2007.
When the earthquake struck on March 11, Lekich was in the teacher's room at Miyagi Hirose High School. It was his first experience of a large earthquake. Following the instructions of the school staff, he evacuated to the athletic field outside. After walking for three hours to return home, he used the Internet to check on the safety of his foreign friends.
As the crisis at the Fukushima No. 1 Nuclear Power Plant was added to the list of disasters, many foreigners in Japan began leaving the country. However, Lekich stayed in Sendai. His father, a former nuclear plant safety engineer, told him that under the circumstances, he didn't think his son needed to worry so much about the radiation. His mother said she was worried, but asked him to do what he thought was right.
Lekich decided to volunteer. Together with other teachers in the prefecture, he made the website "Teachers for Japan," through which he and the others have posted English videos of the disaster-hit areas and collected money for those orphaned by the quake or tsunami. He also helps with relief work such as cleaning debris in houses three or four days a week in Wakabayashi Ward in Sendai and the cities of Ishinomaki and Tagajo.
He says that on the night of the earthquake, his Japanese girlfriend and her mother brought him food and water because they were worried. He says it made him feel strongly how people should help each other out in trying times.
Class at the high schools will start again at the end of the "Golden Week" break at the start of May. Lekich says that having class as always will help people return to their normal lives. He says he hopes the fact that he, an American, stayed where he was will bring courage to his students.
However, many ALTs have not stayed behind. According to the Council of Local Authorities for International Relations (CLAIR), which every year mediates the contracts of around 4,000 ALTs at local authorities around the country, 44 ALTs quit their jobs after the earthquake. Over half of them were at schools outside of the hardest hit Iwate, Miyagi and Fukushima prefectures. At least one had been working in Kyushu.
From this spring, English will be a mandatory subject for fifth- and sixth-graders at elementary schools. Minato Ward in Tokyo, which employs ALTs at all of its schools, has been unable to secure a complete number of ALTs in April, which delayed the start of English class by a week.
At one ALT dispatching company in Tokyo, over 100 ALTs have returned to their home countries and not come back to Japan.
"We are searching for substitutes (for those teachers who left) 24 hours a day. Among teachers who have left Japan but want to come back, many seem to have been held back by family," said a company spokesperson.
ENDS
Original Japanese story
//////////////////////////
東日本大震災:仙台を離れず 米国人ALT、支援に奮闘
毎日新聞 2011年4月23日 11時01分(最終更新 4月23日 12時39分)
http://mainichi.jp/photo/news/20110423k0000e040021000c.html
外国人の仲間たちとボランティアをするレキチさん(左端)=宮城県多賀城市で、本人提供
仙台市の県立高校で英語を教える米国人ALT(外国語指導助手)のグレッグ・レキチさん(31)は、被災地で英語教師ら約10人の仲間と一緒に家の片づけや泥かきのボランティア活動を続けている。「日本にはたくさんの友達や教え子がいる。住み慣れた街を離れようとは思いません」と話す。
レキチさんはフィラデルフィアの出身。大学4年で1年間日本語を学び、04年に来日した。静岡県沼津市などで英語教師をした後、07年から仙台市の県立宮城広瀬高と県工業高で指導助手を務めている。
3月11日の地震発生時は宮城広瀬高の職員室にいた。初めて体験する大きな揺れだったが、同僚が落ち着いて誘導してくれて、校庭に避難。3時間かけて歩いて自宅アパートに帰り、インターネットで外国人仲間の安否情報を集め始めた。
福島第1原発の事故も起き、日本に住む外国人は続々と脱出。しかしレキチさんは仙台にとどまった。原発の安全対策のエンジニアだった父から「今の状況なら、放射能のことはそれほど心配しなくていいと思う」、母親からも「心配だけれど、あなたが正しいと思うことをやりなさい」と言われ、被災者の支援に乗り出した。
県内の教師仲間と一緒にインターネットサイト「ティーチャーズ・フォー・ジャパン」(http://www.teachersforjapan.org/Japanese.php)を作り、震災遺児への寄付を募ったり、動画サイト「ユーチューブ」に、被災地の様子を撮影した動画を投稿して、英語で状況を伝えている。また、週3~4日間、同市若林区や石巻市、多賀城市で被災した家の片づけなどをしている。
地震の日の夜、日本人のガールフレンドと母親が心配して食べ物と水を持ってきてくれた。「彼女たちが落ち着いていたので、私もパニックにならずに済んだ。困った時に人間は助け合うものだという思いを強くした」
5月の大型連休明けには授業が始まる。レキチさんは「いつも通り授業をすることが、日常を取り戻す手助けになるはず。アメリカ人の私がここに残ったという事実が、生徒を勇気づけられるといいと思います」と語った。【中嶋真希】
◇帰国者多いALT 対応に追われる派遣元
ALTは英語の授業などで日本人の教員をサポートする。今春から小学5、6年生で外国語活動(英語)が必修化され、ALTの必要性が高まっている。一方で原発事故や余震を恐れて帰国するALTも多く、派遣元の企業や団体は対応に追われている。
全国の自治体に年間約4000人のALTをあっせんする財団法人「自治体国際化協会」(東京都千代田区)によると、震災以降44人が学校を辞めた。半数以上は東北3県以外の学校で働いていた人だ。勤務先が九州だった人もいる。補充を急ぐよう各地の教育委員会から要請があり、この夏からの就労予定者に前倒しでの来日を交渉しているという。
すべての区立小にALTを配置している東京都港区は、4月に必要な人数を確保できなかったため、新学期の英語の授業開始が1週間遅れた。
100人以上が帰国したまま戻らなかった都内のALT派遣会社は「24時間態勢で代わりを探しているが、本人が再来日したいと思っても、家族が引き留めるケースが多いようだ」と話している。【望月麻紀】
ENDS