mytest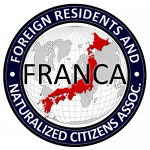 UPDATES ON TWITTER: arudoudebito
DEBITO.ORG PODCASTS on iTunes, subscribe free
Hi Blog. What follows is a report I received last night that left me feeling quite angry — at the NPA's wanton disregard for their own rules and the laws that govern them. The common solutions suggested on Debito.org — that of carrying around and showing the police copies of the laws they must obey, and of demanding legally-entitled ID to keep the police officers accountable — seem to have been ineffectual yesterday at my local airport, Chitose New International (this after years ago having the same encounter myself there and deciding to make an issue of it with outside GOJ human rights organizations, again to no avail). I have no doubt in my mind that the NPA trains its police to racially profile, moreover to assume that NJ have no civil rights during questioning, as evidenced here. It's a despicable and dangerous abuse of power, and unchecked it will only get worse. Read on. Arudou Debito
/////////////////////////////////////////////////////////
June 8, 2011
Hi Debito, I want to share my story written below with you and your readers.
I would like to share the story that happened to me today (June 8th) at New Chitose Airport.
It was 11h55am, I was sitting in the waiting area of the domestic arrival floor, JAL-B-2, waiting for my mother to arrive about 5 minutes later.
A supposed-policeman came to me, flashed a card for less than a second, and asked me to show him my passport. I initially said that if it was voluntary, I would like to be on my way instead. After asking him several times "itte mo ii desuka?" he finally said that I was not free to go or to be on my own and that he requires seeing my ID.
I asked why I was targeted for a control, as I was not doing anything, nor carrying any luggage or any object. He replied that he was checking on me because I was the only foreigner around. He didn't care about my remark that he had no way to know who is foreigner or not just by looking at people's face.
The shocking part of the story starts when I required seeing his police ID with his registration number. Even though I asked many times he always refused, pretending that only I was required to show an ID. After I refused to go to the Koban, he asked another policeman, in uniform this time, to come.
After at least ten minutes of the same dialogs again and again, I finally agreed to lead them to my car, about 200 meters away, where I kept my ARC [Gaijin Card].
I took my ARC in my hands flashing it to the policemen, but that was not enough, as they wanted to copy every information written on my ARC.
I then said that I would comply as soon as I would be shown their police ID, with their number written, so I could I least formulate a complaint afterwhile about their behaviour.
They continued to refuse to show me anything, and started to pressure me more and more to let them copy information from my ARC.
As I was carrying my mobile at all time, the non-uniform policeman then accused me of taking pictures of them and requested me to put my mobile in my pocket. I asked many times whether it is illegal to have my mobile phone in my hands, and they replied yes.
After they finished copying my ARC's info, they finally let me go to meet my mother who had arrived. However, it was not finished, as the un-uniformed policeman followed me, and then requested me (in front of my mother and other random people inside the waiting area) to show every picture from my mobile's data, as he was scared that I could have taken a picture of him. This lasted about 10 minutes, as he was checking every picture in detail, and even checked each pictures two times.
============================
I know some of you will say that I should just have obeyed and followed all their orders.
However, don't you think it is very strange that the policeman was so scared of being identified, be it by a picture or by his police card?
I mean, if they were not doing anything wrong they would not care about it.
But now this leaves me with no info on the policemen, and even no proof that the control even happened?
Of course I would like to file a formal complaint about the un-uniformed policeman (he was the leader, and also touched me physically many times to prevent me from using my mobile phone) ; but how can I do it without his ID number ??
Anybody here could advice how I could ID him from now on and how should I proceed for complaining about this situation ?
Thank you all in advance for your input. Best regards, Rpl
ENDS