mytest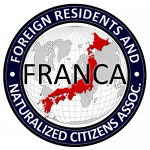 UPDATES ON TWITTER: arudoudebito
DEBITO.ORG PODCASTS on iTunes, subscribe free
Hi Blog. Let me tell today about a presentation coming up in Tokyo on June 28, talking about my latest book, "IN APPROPRIATE", at the Foreign Correspondents Club of Japan.
If you would like to attend and are not a FCCJ member, please let me know via debito@debito.org (please put "Invitation to FCCJ Book Break" in subject line) and I will add you to the guest list. (Please be absolutely sure you can attend, because I have to pay for any no-shows out of my own pocket). Thanks.  Arudou Debito
===================================
FOREIGN CORRESPONDENTS CLUB OF JAPAN (FCCJ)
Book Break
"IN APPROPRIATE: A novel of culture, kidnapping, and revenge in modern Japan"
By ARUDOU Debito
Tuesday, June 28, 2011 from 6.15 pm to 8.30 pm
FCCJ, Yurakucho, Tokyo (directions via www.fccj.or.jp)
(The speech and Q & A will be in English)
IN APPROPRIATE is the story of Gary Schmidt, a small-town American teen, who meets a Japanese girl in college and follows her to Japan to start a family. Little does he know that his wife's conservative Japanese clan has hidden agendas and secret intentions. Gary eventually realizes that he must escape their clutches – and convince his family to do the same before it's too late!
IN APPROPRIATE is a book about child abductions in Japan, where after a divorce, a non-Japanese man comes back to Japan to retrieve his children back to America. Although a work of fiction, it is an amalgam of several true stories of divorce and Left-Behind Parents in Japan.
The author adds, "IN APPROPRIATE is about more than just divorce: I wanted to describe how a person would find fascination in Japan and Japanese people, come over during Japan's Bubble Era to find Japan ripe with opportunity, and watch as Japan's economy goes sour over the past two decades. It was wonderful to recount this story as a Bubble-Era veteran — when in the late 1980's Japan looked poised to take over the world — and see how, step-by-step, Japanese society would be squeezed and squeezed, waiting for a promised recovery that would never come. IN APPROPRIATE is thus a time capsule charting Japan's descent into mediocrity and comparative international irrelevance."
ARUDOU Debito, the Just Be Cause columnist for The Japan Times, notorious human rights activist for non-Japanese residents in Japan, and coordinator of award-winning information website Debito.org, has written other non-fiction books featured as FCCJ Book Breaks: "JAPANESE ONLY: The Otaru Hot Springs Case and Racial Discrimination in Japan" (English and Japanese), and "Handbook for Newcomers, Migrants and Immigrants to Japan". Although IN APPROPRIATE is his first foray into fiction, he notes, "The only way I could do justice to the complex issue of international child abduction was to combine several non-fiction cases I have heard over the years. Everything that happens in the book is based upon a true story."
The library committee is now offering a cocktail party – "meet the author" – starting at 6:15 pm, followed by dinner at 6:45 pm. Drinks can be ordered on a pay basis from the bar in the room. Book Break charges 2,000 yen (including tax) for the event. Sign up now at the reception desk (3211-3161) or online at http://www.fccj.or.jp/node/6676. To help us plan proper seating and food preparation, please reserve in advance, preferably by noon of the day of the event. Those without reservations will be turned away once available seats are filled.
Reservations cancelled less than 24 hours in advance will be charged in full.
Library Committee, THE FOREIGN CORRESPONDENTS' CLUB OF JAPAN
ENDS