Posted by Dr. ARUDOU, Debito on December 20th, 2012
Books etc. by ARUDOU Debito (click on icon):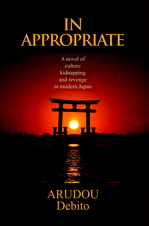 UPDATES ON TWITTER: arudoudebito
DEBITO.ORG PODCASTS on iTunes, subscribe free
Hello Blog.  As part of a long list of "Japanese Only" establishments, which started with bars and bathhouses and has since expanded to restaurants, stores, barber shops, internet cafes, hotels, apartments, and even schools denying NJ service, has now taken the next step — denying NJ medical treatment.  Read on.  Comment and confirmation from me follows.  Forwarding with permission.
/////////////////////////////////////////////////
December 17, 2012
Re: Advice regarding discrimination at a hospital
Dear Sir, My name is Hilary. I am originally from Canada and I've been employed by the Town of Shikaoi in Tokachi, Hokkaido as an Assistant Language Teacher for the past four years.
Today, I was experiencing a problem with my foot; I thought I broke a toe over the weekend. I spoke with a Japanese Teacher of English with whom I work with and she offered to call a clinic in neighbouring Shintoku and accompany me to the clinic after school for treatment. She made the telephone call in Japanese and was advised of their location and hours of business and took down their information. Once we arrived there, she spoke with reception and a man (presumably a doctor) motioned to me, making the "batsu" gesture and said (in Japanese) that the clinic's system doesn't allow for the treatment of foreigners because of our inability to understand Japanese. I looked at my colleague for confirmation on what I heard and she looked completely dumbstruck.
She turned to me and asked if I understood what they said. I said yes and repeated what the man said back to her in English. Her mouth just hung open and she said "I've never heard of such a policy". The man leaned into my colleague and asked her if I understood Japanese, to which I replied, yes I do. He then said that he would check with the attending physician but doubted that I could receive treatment.
As he went to talk with the attending physician, a receptionist said to my colleague that she (the receptionist) explained the clinic's policy to my colleague over the phone. My colleague started to tear up as the man returned and said that I could not receive treatment from this clinic due to the reasons he already stated. At that time, the receptionist told the man that she did explain that to my colleague over the phone. My colleague asked the man what we should do and he gave us the telephone number of another hospital in a different town and advised us to go there. I gripped my colleague by the arm and simply said "let's go". As we walked out of the clinic, my colleague was very distraught and she said to me "they never told me that on the phone". I said to her "of course they didn't. The receptionist was lying".
We returned to our hometown and went to our local hospital. I received very good care from an English speaking doctor who told us not to worry about the other hospital. However, I was advised by an independent friend that you would be the best person to contact over such a situation.
If needed, this is the clinic's information:
Keira Orthopaedic Surgery (Seikei Geka Iin)
けいら整形外科医院
13 Jominami 5 Chome
Shintoku, Kamikawa District
Hokkaido Prefecture, Japan
0156-69-5151
If you could advise me as to what, if anything, I should do, I would appreciate that very much. Best regards, Hilary
Hospital details (courtesy http://www.hokuto7.or.jp/medical/gbnet/shintoku/keira.php)
けいら整形外科医院
院長 計良 基治
診療科 整形外科
病床数 無し
所在地 〒081-0013 北海道上川郡新得町3条南5丁目
電話 0156-69-5151
FAX 0156-69-5152
URL 無し
診療時間
月、金曜日:8時から12時、13時30分から18時30分
火、水、土曜日:8時から12時
休診日
火、水、土曜日午後・木曜日・日曜日・祝祭日・年末年始
/////////////////////////////////////////////////
COMMENT FROM DEBITO:  I called Keira Seikei Geika Iin first thing in the morning JST on December 18, 2012, and talked to a man who did not give his name.  He apologetically confirmed that his institution does not take foreigners.  The reason given was a language barrier, and that it might cause "inconvenience" (meiwaku).  When asked if this did not constitute discrimination, the answer given was a mere repeat of the meiwaku excuse and apology.  When asked about having an interpreter along to resolve any alleged language barrier, the answer became a mantra.  I thanked him for his time and that was the end of the conversation.
Feel free to telephone them yourself if you wish further confirmation.  I think Hokkaido Shinbun should be notified.  For if even Japanese hospitals can get away with defying the Hippocratic Oath to treat their fellow human beings, what's next?  I have said for at least a decade that unchecked discrimination leads to copycatting and expansion to other business sectors.  Now it's hospitals.  What's next?  Supermarkets?  And it's not even the first time I've heard of this happening — click here to see the case of a NJ woman in child labor in 2006 being rejected by 5 hospitals seven times; it only made the news because it happened to pregnant Japanese women a year later.
Postscript:  Hillary fortunately did not have a broken toe.  It was chilblains.  Wishing her a speedy recovery.  Arudou Debito
Postpostscript:  The information site for this clinic has links to a METI-sponsored organization for international medical tourism, through a banner saying, "We support foreign patients who wish to receive medical treatments in Japan."  Click here for more info.