Posted by Dr. ARUDOU, Debito on February 11th, 2013
Books etc. by ARUDOU Debito (click on icon):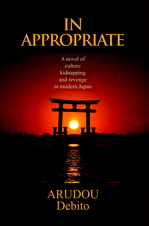 UPDATES ON TWITTER: arudoudebito
DEBITO.ORG PODCASTS on iTunes, subscribe free
Hi Blog.  Sometimes I wish the Star Trek Universal Translators were already here.  But we're getting closer.  Here's a Google Translate version of an article that came out in Die Zeit newspaper a couple of months ago that cites me and others about Japan's political problems with creating an immigration policy.  Not a lot here that frequent readers of Debito.org don't already know (except for the give-and-take access to export markets for the bilateral nursing agreements between Indonesia and The Philippines), but here's a German media take on the issue.  There are some bits that are a bit clumsily translated, so corrections welcome.  Arudou Debito
////////////////////////////////////////
JAPAN
Old and xenophobic
Japan on the day of elections: the economy is running out of workers. Immigrants may bridge the gap, but locals reject strangers.
DIE ZEIT, December 6, 2012, by Felix Lill
Courtesy of author Felix Lill, OM, and Google Translate (cleaned up a bit, corrections welcome)
Original German at
http://www.zeit.de/2012/50/Japan-Wirtschaft-Arbeitskraefte-Einwanderer
To Ezekiel Ramat would be the Japanese economy actually tear. [??]  The 24 year old geriatric nurse is young, well educated and unmarried. Moreover, the man hails from the Philippines, who for almost two years in Japan, lives for two-thirds of the salary of his Japanese colleagues. But instead of being welcomed with open arms, Ramat needs after-hours cramming. After four years, he must either pass the Japanese nurse exam – or leave the country.
The contents Ramat knows that from his training at home. But the three Japanese alphabets in which the questions are asked, make it almost impossible for foreigners to pass the test. Only one in ten may remain at the end.
"I'm learning every day," says Ramat. "Maybe I have a 50-50 chance." He says he's even hopeful about the December 16th Japanese parliamentary elections: A new government , which will most likely represent to current polls business-oriented Liberal Democratic Party (LDP), must be on the future of Japan. "Japan's economy still needs foreigners working. It would be unwise to kick us again."  So gives Ramat courage.
An immigration campaign would be political suicide
For decades, Japan has been in a shaky position. The once-booming industrial nation barely registered economic growth. The national debt – in terms of economic power – is higher than that of Greece.
Even today, every fourth Japanese is over 65 years old . The birth rate is so low that the population will decline by 2050 from 127 million today to below 90 million. Several governments have tried to counter by more kindergartens, child care allowance and the like, but little has borne fruit. In 100 years, there might be only 40 million Japanese.
Now there is a lack of skilled labor, falling tax revenues, and no one knows who is going to pay in the future the growing pension claims. According to calculations by the United Nations, by 2050 only 17 million workers will be found to fund the pensions.
But there is a solution: Immigrants like Ezekiel Ramat. Japan's foreign population is currently 1.3 percent, extremely low for a highly developed country: Germany has at about 8.5 percent foreigners. In Japan, the number of immigrants in recent years even went down. But strange: no one in politics seems to care about immigration policy. Neither the ruling Democratic Party of Japan (DPJ) nor the main opposition parties mention the subject at all in their campaigns. When asked, all assert that they want to promote more immigration. But they make no specific proposals.
"In Japan, it would be political suicide to run an immigration campaign," says Arudou Debito. The author of US-Japanese origin has long been involved with Japan's foreign policy, and has also just written his doctoral thesis. "Most Japanese can not imagine having to share their country with foreigners." Opinion polls recorded in recent years paint a foreigner-skeptical picture.
Only half of the Japanese supported the idea of ​​granting foreigners the same fundamental rights as Japanese. A third of the population was against further immigration. Three-quarters think that in ten million immigrants would exceed the limit of what is acceptable.
"Which party is under such circumstances to make active immigration policy?" Asks Debito. He even a few years ago made headlines when he sued a Japanese hot spring, which had denied his two American-looking daughters entry. [Sic:  it was one of my daughters, not both.]  To date, Japan has no law to protect foreigners against [racial] discrimination.
Japan has tried to compensate for an aging society through immigrants. As the dangers of shrinking population became known in the eighties, Japan courted Japanese-born Brazilians for simple tasks. By 2004 this had risen to almost 300,000. But since there was a lack of integration programs, a lot of Brazilians in Japan never felt at home.
In addition, policy making and media sentiment against the newcomers blamed the increasing proportion of foreigners for a rise in crime. With the start of the financial crisis, it was finally opportune to send back the foreigners out of the country. From 2009, each Brazilian has been offered a one-way ticket to South America, on condition they never seek work in Japan [sic: on the same visa status].
In June 2008, the Liberal Democrat Cabinet of Prime Minister Yasuo Fukuda announced a plan by which within 50 years about ten million immigrants should be admitted. The number of foreign students should rise by 2025 to one million per year. But both Fukuda and his predecessor, Junichiro Koizumi, who ruled Japan from 2001 to 2006, saw the acceptance by the Japanese the biggest obstacle. At the end of his administration, Koizumi said, "If the number of foreign workers exceeds a certain level, there will be conflict.  It should be prevented. "
To not rely on the consent of the electorate, Japanese bureaucrats concluded their last bilateral contracts through the back door. Agreements with the Philippines and Indonesia that were hardly discussed publicly allowed Japanese companies market access and in turn allowed the posting of caregivers for sick and elderly to Japan.
A sign for a better immigration policy was not there. "The main objective of these agreements was to support our export economy," says Takahiro Wakabayashi, who is in Japan's Ministry of Foreign Affairs in charge of business with Southeast Asia. Wakabayashi does not deny the need for more immigration itself, but on the question of why this insight occasions little action, he gives an answer that is heard again and again: The topic of immigration is controversial. "We should have the economic capacity to take in more people. But the unions fear in such a case falling wages."
Young foreigners be exploited – and then sent away
The author Debito believed that the current provisions for foreign workers are therefore less restrictive, so they do not remain in the country in the long term. "The examination system at the nurses is intended to take advantage of some of the best years of young foreigners and then return them home. The system works: Theoretically, everyone has the chance to make it to a status of unlimited right of residence [sic:  I did not say anything about Permanent Residency], but almost no one gets it. "
If there are alternatives to more immigration to Japan? One might raise the retirement age, which is 65 years. But that would be very expensive for the company. In Japan, namely, the principle that with increasing seniority and higher salaries are paid. In addition, today many Japanese retirees take new jobs, because their pension is not enough. Women, of which less than two-thirds have a job complain that there was not enough childcare.
In the eyes of the scientist Naohiro Ogawa, it is a matter of time before Japan's "demographic time bomb" explodes. "Until Japan is willing to open the door to more immigrants, the countries that would like to send today, workers have long since been in the situation of labor shortage. Worldwide, the population growth back already. " [??]
And the patience of Japanese contractors is limited. For example, Clifford Paragua of the Philippine Embassy in Tokyo. He says: "We could do a lot more than the current 600 workers send to Japan. Japan could use a lot more. "In the Middle East 800,000 Filipinos are working in hospitals, their education will also be recognized, and they came through with English mostly. Why," asks Paragua, should "young Filipinos choose Japan?"
No matter who wins: Even after the election will probably not change much in the integration policy. Many of the few foreigners who make it to Japan, such as geriatric nurses Ezekiel Ramat, will send half of their income to the family back home – and then leave after a few years the country again.
"We're shooting ourselves in the foot," says Naohiro Ogawa. Because immigrants would not just do the work and pay the pensions, they would not buy the products of Japanese manufacturers and with their own children compensate the lack of Japanese youth." Ogawa says that his people would only think about it once properly. "Economic understanding would suffice."
ENDS