Posted by Dr. ARUDOU, Debito on January 14th, 2013
Books etc. by ARUDOU Debito (click on icon):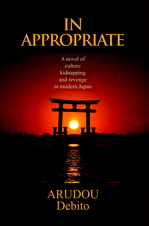 UPDATES ON TWITTER: arudoudebito
DEBITO.ORG PODCASTS on iTunes, subscribe free
"LIKE" US on Facebook at http://www.facebook.com/debitoorg
http://www.facebook.com/handbookimmigrants
Hi Blog. Debito.org has reported in the past on how media fearmongering against foreigners (by the Yomiuri, natch) has caused people in the boonies to get paranoid about NJ purchasing land for apparently nefarious purposes (for who knows what they'll do to the water table beneath them!).  Well, the Asahi below has surveyed this paranoia and exposed it for the bunkum it is.
It's especially ironic when the New York Times does a story two days later (in their "Great Homes and Destinations" column, a promo piece on the buyer's market for real estate in Japan) and buys hook line and sinker the assertion by vested interests that "Foreign buyers face no restrictions in Japan."  Not anymore, and not for a little while now (Debito.org's earliest story on this is from 2010!).  More under-researched bunkum posing as news.  Especially in this time of politically-motivated NJ Witch Hunts in Japan's property market. Arudou Debito
////////////////////////////////////
Local governments swallow scare stories over 'foreigners' buying strategic land
Asahi Shimbun December 25, 2012, courtesy of Yokohama John
http://ajw.asahi.com/article/behind_news/social_affairs/AJ201212250046
By KOSUKE TAUCHI/ Staff Writer
A flap over "foreigners" buying Japan's upland forests and potentially controlling the nation's water resources has caused some local authorities to push the panic button and introduce heightened oversight of some land sales.
Four prefectural governments have written new rules and nine others are considering similar measures, which they say are intended to help protect the national nature of Japan's water resources.
But The Asahi Shimbun has found limited evidence of foreigners buying Japan's forests—and not a single confirmed case of them doing so with the aim of securing control of water.
Fears that foreign nations—notably, China—might buy up forest and deplete subterranean water caused a storm in political circles and the news media three years ago. At that time, China's economic power was increasingly being viewed as a threat, amid acquisitions of Japanese enterprises and real estate by Chinese capital.
News reports fueled the scare. One suggested that China was looking to acquire headwaters areas in Japan. Another said investors from Hong Kong had purchased a forest in Hokkaido.
The Forestry Agency said in 2010 it had about 30 confirmed cases of forests being bought with foreign capital.
In March of this year, Hokkaido became the first prefectural government to approve an ordinance to counter such acquisitions. Saitama, Gunma and Ibaraki prefectures followed suit.
All four prefectures now require sellers and buyers of land in headwaters areas, both Japanese and foreign nationals, to notify the authorities in advance. Corporations and individuals who fail to do so, or ignore subsequent government recommendations, risk being publicly named.
"It will help curb foreign acquisitions," said Kiyoshi Ueda, governor of Saitama Prefecture.
Seven other prefectures—Yamagata, Yamanashi, Nagano, Fukui, Gifu, Tokushima and Kochi—said they are considering similar moves. Two others—Toyama and Ishikawa prefectures—initially said they had no such plans when The Asahi Shimbun first contacted them in August, but their respective prefectural governors later said they would consider following suit.
In a survey of all 47 prefectural governments across Japan, The Asahi Shimbun found that foreign capital had purchased a total 1,234 hectares of forest. The sales were in eight prefectures. More than 80 percent of the forest concerned was in Hokkaido.
Source:  Asahi Shinbun 12/25/12
Acquisitions by Chinese capital accounted for 408 hectares, and most of those purchases were made with capital from Hong Kong.
Most purchasers gave their motivation as asset ownership or speculation in land prices ahead of likely resale. There was no confirmed case of a purchaser aiming to "secure water resources."
In nine of the 13 prefectures that have either tightened rules or are considering doing so, there were no records—ever—of foreign purchasers buying forests.
The story appears to be a case of politicians exploiting sensitivity over Japan's "homeland" and "territories"—and running one step ahead of reality."
ENDS
////////////////////////////////////////////////
INTERNATIONAL REAL ESTATE
House Hunting in … Japan
THE NEW YORK TIMES, Great Homes and Destinations column,
By NINA ROBERTS
Published: December 26, 2012 (excerpt)
http://www.nytimes.com/2012/12/27/greathomesanddestinations/real-estate-in-japan.html
[…] MARKET OVERVIEW
Japan is a buyers' market, said Erik Oskamp, the owner of Akasaka Real Estate in Tokyo. "Owning property in Tokyo is probably half or a third of the monthly price than if you rent," he said, "and still people are not buying; that's how depressed the market is. You always have to explain to people, 'We're still here, Japan still exists.' "
The housing stagnation dates to 1991, the year that diminished expectations about Japan's economy sent property values into a nosedive.
"During the 1980s, Japan became the financial center of the Asian region," said Jiro Yoshida, an assistant professor of business at Penn State. "People had a really rosy expectation about the future of the Japanese economy." With lowered expectations came "a huge drop in property prices," Mr. Yoshida added, recalling that property prices fell by about 50 percent over the next decade.
The free fall abated in the early 2000s, and a gradual ascent began by 2006 and 2007, Mr. Oskamp said. Still, according to Mr. Yoshida, residential values remain about half what they were in 1991, and even 70 percent less in some areas. In resort areas like Minikami and Chiba, Mr. Oskamp said, values are down by as much as 90 percent.
That said, however, the global economic downturn did not have a huge impact on Japan because its banks had not expanded globally, Mr. Yoshida said.
WHO BUYS IN JAPAN
Almost no foreigners are buying primary residences in Japan, according to Mr. Oskamp. Some are buying as an investment or for use as a second home, but the number is minuscule. "Less than 1 percent of all real estate transactions in Japan involves a foreigner," he said.
Compounded as it was by the 2011 earthquake and the resulting fear of radiation contamination, the financial crisis pushed many foreigners — especially the banking professionals who typically buy property — to choose Singapore or Hong Kong instead.
What few foreign buyers there are tend to be from China or Taiwan, said Yukiko Takano, the Japan Sotheby's International Realty agent who has this listing.
BUYING BASICS
Foreign buyers face no restrictions in Japan. Hiring a lawyer for residential real estate transactions is not standard practice; instead, real estate agents typically handle the legal work, with the seller's agent drafting the contracts. A judicial scrivener, or notary public, investigates the property's history of ownership and registers its change.
Employed foreigners are generally able to obtain mortgages from Japanese banks. If a borrower defaults on a mortgage, the bank has the right to go after personal assets.
WEB SITES
Japan Tourism: jnto.go.jp/
Tokyo Travel Guide: gotokyo.org/en/
Mount Fuji tourism: yamanashi-kankou.jp/
EXCERPT ENDS