Posted by Dr. ARUDOU, Debito on January 20th, 2013
Books etc. by ARUDOU Debito (click on icon):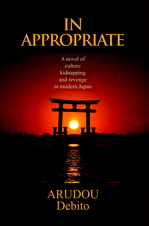 UPDATES ON TWITTER: arudoudebito
DEBITO.ORG PODCASTS on iTunes, subscribe free
"LIKE" US on Facebook at http://www.facebook.com/debitoorg
http://www.facebook.com/handbookimmigrants
BOOK REVIEW
"At Home Abroad: The Contemporary Western Experience in Japan", by Adam Komisarof. Reitaku University Press, 2012. 251 pages, ISBN: 978-4-892025-616-1
(Publisher's note:  On sale in Japan through Amazon Japan, in North America through Kinokuniya USA)
Review exclusive to Debito.org, January 20, 2013
By ARUDOU DEBITO (updated version with errata corrected and Robin Sakamoto's photo added)
"At Home Abroad" is an important, ambitious academic work that offers a survey, both from academics in the field and from people with expertise on living in Japan, of theories on how people can assimilate into foreign culture both on their own terms and through acquisition of local knowledge. Dr. Komisarof, a professor at Reitaku University with a doctorate in public administration from International Christian University in Tokyo, has published extensively in this field before, his previous book being "On the Front Lines of Forging a Global Society: Japanese and American Coworkers in Japan" (Reitaku University Press 2011). However, this book can be read by both the lay reader as well as the academic in order to get some insights on how NJ can integrate and be integrated into Japan.
The book's goal, according to its Preface, is to "address a pressing question: As the Japanese population dwindles and the number of foreign workers allowed in the country increases to compensate for the existing labor shortage, how can we improve the acceptance of foreign people into Japanese society?" (p. 1) To answer this, Komisarof goes beyond academic theory and devotes two-thirds of the book to fieldwork interviews of eleven people, each with extensive Japan experience and influence, who can offer insights on how Westerners perceive and have been perceived in Japan.
The interviewees are Japan literary scholar Donald Keene, Japan TV comedian Patrick "Pakkun" Harlan, columnist about life in rural Japan Karen Hill Anton, university professor Robin Sakamoto, activist and author Arudou Debito, Japan TV personality Daniel Kahl, corporate managing director of a Tokyo IT company Michael Bondy, Dean of Waseda's School of International Liberal Studies Paul Snowden, Tokyo University professor and clinical psychologist Stephen Murphy-Shigematsu, politico and business executive Glen Fukushima, Keio University professor Tomoko Yoshida, and Japan scholar Donald Richie (photos below).
As Komisarof acknowledges in his section on caveats (pp. 11-2), these people have a "Western cultural heritage" (as nine are from the US) and are mostly Caucasian; he notes that he confines his analysis to "Westerners", and does not "presume to address the experiences of Korean permanent residents of Japan or people from developing countries," as "both deserve to have entire books written about their experiences, which are in many ways quantitatively different from non-Japanese who have moved here by their own volition from affluent nations" (ibid). To counter this, Komisarof taps into "other types of diversity among the interviewees in terms of ethnicity, profession, and gender" (ibid) (e.g., Anton is African-American, Murphy-Shigematsu and Fukushima are of Japanese descent, and Yoshida is a Japanese raised abroad; three — Sakamoto, Arudou, and Murphy-Shigematsu — were naturalized Japanese at the time of their interview).
Being self-aware of these caveats salvages the science, but the interviews (despite good questions from Komisarof) are uneven and do not always speak to the point. Donald Keene comes off as patrician and supercilious about his position in Japan (not to mention out of touch with the way that most NJ live in Japan) when he says: 
There is still a hard core of resistance to Japanese culture among foreigners living in, say, Minato-ku. […] All of their friends are non-Japanese — with the exception of a few Japanese friends who speak English fluently. They live in houses that are completely Western in every detail. They read the English newspaper, The Japan Times, and they know who danced with whom the night before. They are still living in a colony. But I think that colony has grown smaller than ever before and has been penetrated by new people who want to learn about Japan. If you read about Yokohama in 1910, it would have been a very strange family that thought it was a good idea to let their son or daughter to go to a Japanese school and learn anything about Japan. They would never think in terms of living here indefinitely. They would think, "When we finish our exile here, we will go to a decent place." (23)
No doubt, this may have been true in Yokohama back in 1910. But that is over a century ago and people thought even interracial marriage was very strange; nowadays it's not, especially in Japan, and I doubt many NJ residents see Japan as a form of "exile". Keene remains in character by depicting himself as a Lawrence of Arabia type escaping his colony brethren to get his hands dirty with the natives (somehow unlike all the other people interviewed for this book; I wonder if they all met at a party how Keene would reconcile them with his world view).
Patrick Harlan also comes off as shallow in his interview, mentioning his Harvard credentials more than once (as wearers of the Crimson tend to), and claims that he is sacrificing his putative entertainer career income in America by "several decimal places" for "a good gig here".  Despite his linguistic fluency to be a stand-up manzai comic, he makes claims in broad strokes such as "Ethnic jokes don't even exist [in Japan]. People are treated with respect." (36)  He also talks about using his White privilege in ways that benefit his career in comedy (such as it is; full disclosure: this author does not find Pakkun funny), but makes assertions that are not always insightful re the points of assimilation/integration that this book is trying to address. Clearly, Dave Spector would have been the better interview for this research (although interviewing him might be as difficult as interviewing Johnny Carson, as both have the tendency to deflect personal questions with jokes).

(L-R) Karen Hill Anton, courtesy of her Linkedin Page; Robin Sakamoto, courtesy of Robin Sakamoto; Paul Snowden, courtesy of the Yomiuri Shinbun;Glen Fukushima, courtesy of discovernikkei.org.
Other interviews are more revealing about the interviewee than about the questions being broached by the book.  Both Karen Hill Anton and Robin Sakamoto, despite some good advice about life in Japan, come off as rather isolated in their rural hamlets, as does a very diplomatic Paul Snowden rather ensconced in his Ivory Tower. Glen Fukushima, although very politically articulate, and highly knowledgable about code-switching communication strategies to his advantage in negotiations, also sounds overly self-serving and self-promoting.
Daniel Kahl's interview is the worst of the book, as it combines a degree of overgeneralizing shallowness with an acidulous nastiness towards fellow NJ.  For example:
I can read a newspaper and my [TV] scripts… I know about 2000 kanji, so I'm totally functional, and I think that's a prerequisite for being accepted.  I hate to say it, but there are a lot of foreigners who complain, "I'm not accepted in society!"  That's because you can't read the sign that explains how to put out your garbage.  And people get mad at you for mixing cans with bottles.  Simple as it may seem, those are the little things that get the neighbors angry. (206)

Poster of Daniel Kahl courtesy of Ministry of Justice Bureau of Human Rights, caption courtesy of Japan Probe back in the day.
Especially when Kahl says:
I think that a foreigner who comes here and makes the effort can definitely be accepted. If you feel that you are not, then you've already got a chip on yours shoulder to begin with. […] For example, do you remember the incident in Hokkaido when the Japanese public bath owners had a "No Foreigners" sign up in front of their buildings? I guess two or three foreign folks got really upset about that, and they sued the place. Why would you sue them? Why don't you go talk to those people? Tell the, "Look, I'm a foreigner. But I'm not going to tear your place up. Could you take down that sign?" Then the Japanese might have explained that they weren't doing it to keep out all foreigners, but to keep out the drunk Russian sailors who were causing all the trouble in the first place. I don't know all of the details, but these foreigners thought that they were making a political and legal statement. It could have been made very effectively, though, without embarrassing that city or the public bath owners. The foreigners were trying to change the law, but it was a pretty confrontational way to do so. I can almost guarantee that those foreigners are going to have a hard time being accepted by the Japanese in general. (100)
Kahl is exactly right when he says, "I don't know all of the details," since just about everything else he says above about the Otaru Onsens Case is incorrect. For example, it was more than "two or three foreign folk" getting upset (Japanese were also being refused entry, and there was a huge groundswell of support from the local community); one of the plaintiffs in the lawsuit mentioned is not foreign. Moreover, as Arudou mentions in his interview, they did "go talk to those people": they spent more than fifteen months talking one-on-one with all parties to this dispute, until there was no other option but to go to court (which millions of Japanese themselves do every year).  Moreover, at least one of the plaintiffs, Dr. Olaf Karthaus, is very well assimilated into his community, having graduated two children (with a third in junior high) through Japan's secondary schooling, becoming Director at the Department of Bio- and Material Photonics at the Chitose Institute of Science and Technology, and participating daily in his Sapporo church groups.  In any case, Kahl's lack of research is inexcusable, since he could have easily read up by now on this case he cites as a cautionary tale:  There are whole books written in English, Japanese, or even free online in two languages as an exhaustive archive available for over a decade as a cure for the ignorant. There's even, as of 2013, an updated Tenth Anniversary Edition eBook downloadable for Amazon Kindle and Barnes&Noble NOOK, moreover for a very reasonable price of $9.99 or yen equivalent.  One can safely conclude that Kahl chooses to be ignorant in order to preserve his world view.

(L-R) Michael Bondy courtesy of his Linkedin Page; Tomoko Yoshida courtesy of Keio University; Stephen Murphy-Shigematsu courtesy of Stanford University.
The best interviews come from Bondy (who offers much practical advice about getting along in a Japanese-hybrid workplace), Yoshida and Murphy-Shigematsu (both of whom have some academic rigor behind their views of the world, and express their measured views with balance, deep thought and intuition). But the best of the best comes last with Donald Richie, who shows that old people do not necessarily become as curmudgeonly as Keene. Just selecting one nugget of insight from his excellent interview:
If I could take away the things that I don't like about Japan, then it wouldn't be Japan anymore. So I've always made an attempt to swallow Japan whole — not to discriminate so much between what I like or don't. This is not as important as, "Does this work or not?" or "Does this serve a wider purpose or not?" These are more important questions than whether I like them or not. I've never paid too much attention to what I don't like and conversely what I do like about Japan. […] But what I do like is the sense of interconnectiveness. […] When workmen used to try to make a wall and a tree would get in the way, they would make a hole in the wall to accommodate the tree instead of the other way around. This used to be seen on a regular basis. Alas, it is no more. A lot of the things which I like about Japan have disappeared. If this symbiotic relationship was ever here, it is not here anymore. The Japanese have down terrible things physically to their country. That would be something which I do not like about Japan. But if I dice it into likes and dislikes, and I have difficulty doing that, there wmust be a better way to see differences. Indeed, in my wriitng, I try not to rely on like and dislike dichotomies. I rely more on what works and doesn't work. (172)

Donald Richie still courtesy of his film anthology
That said, Richie does careen into Keene territory when he carelessly compares NJ in Japan with autistic children in a kindergarten:
If an autistic child goes to a kindergarten, he becomes a legal member of that class, but he's still an autistic child.  So he has double citizenship.  That is very much me — like any foreigner here.  He is put in a special class for autism, but at the same time,  he is given all of the honors and securities of belonging to this particular class.  He gets a double dose.  And if he is smart, then he recognizes this. (224)
This is not a good comparison, as it likens extranationality to a mental handicap.  And it also ignores the racialized issues of how somebody "looks" in Japan (as in "looks foreign") with how somebody is treated (as a "foreigner"), when autism is not a matter of physical appearance.  It also assumes that people can never recover from or overcome a birth-based "autism of national origin" (this author's paraphrase), becoming acculturated enough to "become a Japanese" (whereas autism is, as far as I know, a lifelong handicap).  This clearly obviates many of the acculturation strategies this book seeks to promote.  Richie may stand by this comparison as his own personal opinion, of course, but this author will not, as it buys into to the notion of surrendering to a racialized class (in both senses of the word) system as being "smart".
In the last third of the book, Kamisarof takes these interviews and incorporates them into the following questions, answered with balanced input from all participants:
When do Westerners feel most comfortable with Japanese people?
How does Westerners' treatment in Japan compare to that of immigrants and long-term sojourners in their home countries?
Is there discrimination against Westerners in Japan?
How does discrimination in Japan compare to that in Western countries?
Is it right to play the Gaijin Card?
Are Westerners accepted more by Japanese people if they naturalize to Japan?
Can Westerners be accepted in Japan, and if so, what do they need to do to belong?
Can popular public ideas about who belongs in Japanese society move beyond nationality?
How are Japanese perceptions of Westerners changing?
After this remix of and focus upon individual strategies, Komisarof devotes his final chapter to bringing in academic discussions about general "acculturation strategies", based upon attitudes and behaviors (both on the part of the immigrant and the native), putting them into a classic four-category strategy rubric of "Integration" (i.e., the "multicultural salad"), "Assimilation" (i.e., the "melting pot"), "Separation" (i.e., segregation into non-mixing self-maintaining communities), and "Marginalization" (i.e., segregation from mainstream society with self-maintenance of the non-mainstream community discouraged). In an attempt to choose the "best" acculturation strategy, Korisamof then builds upon this rubric into a sixteen-category "Interactive Acculturation Model" that may lose most non-academic readers. He concludes, sensibly:
"Merely increasing the non-native population in Japan without improving acculturation strategy fits is insufficient and may cause further problems. Instead, it is critical that a sense of BELONGING and PARTICIPATION, rather than mere coexistence, be shared between Japanese and the foreign-born residents in their midst… " (237, emphases in original). "The underlying message of this book for all nations wrestling with unprecedented domestic diversity is that the inclusion of everyone is essential, but only through mutual efforts of the cultural majority and minorities can such inclusion become a reality. Creating living spaces where people can feel a sense of belonging and share in the benefits of group membership is an urgent ned worldwide, and it is happening, slowly, but surely, here in Japan. (239)
This has been a perpetual blind spot in GOJ policy hearings on "co-existence" (kyousei) with "foreigners", and this book needs a translation into Japanese for the mandarins' edification.
If one could point to a major flaw in the book, it would not be with the methodology.  It would be with the fieldwork:  As mentioned above, the interviews do not ask systematically the same questions to each interviewee, and thus the answers do not always speak to the questions about assimilation strategies Komisarof later asks and answers.  For example, Arudou's typically rabble-rousing interview style offers little insight into how he personally deals with the daily challenges of life in Japan.  (For the record, that information can be found here.)  As is quite typical for people in Japan being asked what Japan is all about and how they "like" it, the interviewees answer in individually-suited ways that show myopic views of Japan, redolent of the fable about the Blind Men and the Elephant.  Not one of the respondents (except for, in places, Arudou) talks about the necessity for a sense of community building within NJ groups themselves, i.e., unionizing, creating anti-discrimination or anti-defamation leagues, or fostering the organizational trappings of the cultural self-maintenance that may be essential or is taken as a given within other non-Westerner transplant communities (although disputed by Ishi, 2008).  Instead, all we hear about (due to the lines of questioning within the fieldwork) are how atomistic people create their own psychological armor for "dealing with Japan".
Another important issue remains fundamentally unaddressed by Komisarof:  How one must assume "good faith" and "reciprocity" on the part of Japanese society bringing in NJ to work, and how these assimilation strategies being offered must one day bear fruit (as the interviewee proponents claim they will.  Harlan:  "True acceptance comes when you are contributing to society as fully as anyone else." (200)).  But what if your full contributions to Japan are not being fully recognized, with long-term friendships, promotions, equal access to social welfare, and even senpai status over Japanese?  As the links to each of these topics attest, this is not always the case.  Under Komisarof's assimilation strategies, what do you do then?  Give, give, and give for many years and then just hope society gives something back?  What guarantees should there be for reciprocity?  There is only so much a mentally-healthy individual can contribute, sacrifice, and offer to "assimilate" and "integrate" into a society before feeling used and used up.
That said, if you want an insightful, thoughtful book that will introduce you to the global academic debate on transnational migration, assimilation, and integration, moreover tailored to the peculiar milieu of Japan, Komisarof's "At Home Abroad" is it.
=============================
SOURCE:  Ishi, Angelo Akimitsu (2008), in David Blake Willis and Stephen Murphy-Shigematsu, Eds., "Transcultural Japan:  At the borderlands of race, gender, and identity."  New York:  Routledge, pp. 122-5.
Copyright ARUDOU Debito 2013.  All rights reserved.