Posted by Dr. ARUDOU, Debito on February 17th, 2013
Books etc. by ARUDOU Debito (click on icon):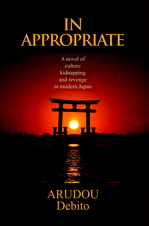 UPDATES ON TWITTER: arudoudebito
DEBITO.ORG PODCASTS on iTunes, subscribe free
"LIKE" US on Facebook at http://www.facebook.com/debitoorg
http://www.facebook.com/handbookimmigrants
Hi Blog.  A couple of weeks ago I received this:
///////////////////////////////////////
January 30, 2013
Dear writers,
Thank you very much for contributing your articles to The Japan Times.
We would like to inform you that the special reconstruction income tax, introduced by the government to secure financial resources for reconstruction after the Great East Japan Earthquake of March 2011, took effect on January 1, 2013. This tax is imposed on individuals and corporations – both Japanese and foreign – at a rate of 2.1 percent over a 25-year period through 2037.
As a result, the total withholding tax rate deducted from the manuscript fee will rise from 10 percent to 10.21 percent for residents in Japan, and from 20 percent to 20.42 percent for overseas residents, starting with the February payment for articles carried in The Japan Times in January.
Thank you for your understanding and cooperation.
Sincerely,
The Japan Times
///////////////////////////////////////
This post is not to criticize The Japan Times (who clearly have no control over this circumstance whatsoever).  But have others also received word of yet another tax on income to go towards "reconstruction"?
We've already seen where money earmarked for "disaster relief" has been going — to fund corrupt bureaucratic practices within the GOJ (e.g., "road building in distant Okinawa; prison vocational training in other parts of Japan; subsidies for a contact lens factory in central Japan; renovations of government offices in Tokyo; aircraft and fighter pilot training, research and production of rare earths minerals, a semiconductor research project and even funding to support whaling").  I've also heard of pay cut after pay cut in the academic communities for "reconstruction", with little to no accountability over the funds afterwards (one case I've heard of is where the gakuchou of a major national university has been sequestering monies into an account to earn interest for his own purposes).
What say other readers of Debito.org?  We've already discussed extensively how the Post-Fukushima Debacles have laid bare just how irredeemably broken Japan's system is (see related articles here, here (item #2), here, here, here, here, here, here, here, and here).  Are you also seeing more skimming, both GOJ and non-GOJ related, from your paychecks for "reconstruction"?  Just how bad do things have to get before people say "enough"?  Arudou Debito