Posted by Dr. ARUDOU, Debito on March 2nd, 2013
Books etc. by ARUDOU Debito (click on icon):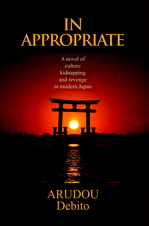 UPDATES ON TWITTER: arudoudebito
DEBITO.ORG PODCASTS on iTunes, subscribe free
"LIKE" US on Facebook at http://www.facebook.com/debitoorg
http://www.facebook.com/handbookimmigrants
Hi Blog.  This has already been discussed better elsewhere, but it would be remiss of Debito.org to not give a bit of space to this amazing Cabinet survey:
From the Japan Times/Kyodo:
//////////////////////////////////
Poll: 81% welcome foreigners of Japanese descent
KYODO MAR 2, 2013
http://www.japantimes.co.jp/news/2013/03/02/national/80-of-japanese-welcome-foreigners-of-japanese-descent/
More than 80 percent of respondents in a new poll said they are open to foreign nationals of Japanese descent living in the nation, the Cabinet Office reported.
The office's first survey of its kind, released Thursday, found 80.9 percent of respondents expressed openness to living alongside those with Japanese ancestry, including Brazilian and Peruvian descendents of Japanese immigrants. Only 12.9 percent opposed the idea.
Of the 3,000 citizens canvassed in January for the poll, 59.7 percent were also in favor of the central government and municipalities assisting non-Japanese residents to a greater extent, for instance by providing Japanese-language classes for unemployed young people and recruiting interpreters at Hello Work job-placement offices.
"With more opportunities to interact with foreigners, (Japanese people) are eventually no longer rejecting" the idea of accepting non-Japanese nationals in society, a Cabinet Office official remarked.
As of the end of 2011, there were fewer than 300,000 foreigners of Japanese descent living in the country, of whom 210,000 were Brazilians and another 50,000 Peruvians, the Cabinet Office said.
ENDS
//////////////////////////////////
Now just sit back in your chair and let that sink in for a moment. We have the highest level of government in Japan conducting a slanted survey (available in Japanese here) asking not about public acceptance of NJ, but rather a breed of NJ, specifically "Nikkei Teijuu Gaikokujin" (non-citizen residents of Japan who are of Japanese lineage). Why would that be the question asked? What policy is retroactively being sought to be justified? And why is this angle newsworthy?
Apropos of a few answers, here are some comments garnered from Debito.org and elsewhere:
==============================
AS: "Blood = Japanese v.2?"
JDG: "It's a brilliantly pointless piece of reporting, for the sake of massaging the egos of the Japanese readers, and assuring them that Japan is a 'modern' country… J-public are finally willing to accept foreigners… as long as they are 'Japanese' foreigners… I feel like I have gone back in time 5 years. The same politicians are back, the same old economic policies are back, and now Japan wants all those Nikkeijin they paid to go home, to come back too?"
Puddintain: "Imagine a similar poll in a country mostly populated with folks of white European descent that found that 80% percent of them were willing to live with immigrants of white European descent! Wouldn't that be something amazing?"
==============================
Robert Moorehead's JAPANsociology blog offers a more in-depth analysis of the Cabinet survey itself, so I won't repeat. The most poignant parts of it for me was:
==============================
Moorehead: The survey asked respondents if they knew that there were Nikkei living in Japan, and how they knew this. Nearly 53 percent the respondents either knew that Nikkei were living in Japan, or had heard about it. 46 percent answered that they did not know that this group was living in Japan… [!!!]
On the one hand, I'm encouraged by the support for Nikkei in Japan. It's certainly better than if they had said the opposite. But … I'm skeptical. South Americans in Japan, Nikkei and non-Nikkei alike, have told me very clearly that they do not feel included in Japanese society. Instead, borrowing some phrases from Eli Anderson's The Cosmopolitan Canopy, they're perpetually 'on probation.' In this provisional status, any misstep can be used against you as a sign of the fact that you'll never fit in…
Hopefully government officials will use this survey to promote further initiatives to empower the Nikkei (and hopefully other non-Japanese) in Japan. Publicly conducting the survey, posting it on the Cabinet Office website, and releasing it to the press, may indicate that the government is testing public support for such initiatives.
http://japansociology.com/2013/03/02/80-of-japanese-welcome-foreigners-of-japanese-descent/
==============================
COMMENT: Bingo! As has been noted before on Debito.org, the Cabinet, in its sessions last summer on how to "accept" NJ into Japanese society for future economic vitality, only showed interest in the treatment of Nikkei. Nikkei, you see, are somehow part of "us" (due to Wajin blood conceits), and it looks like Japan's policymakers are going to give the old failed Nikkei worker importation strategy another try, and cite this "shooting fish in a barrel" survey to support it.
Anyway, if the Cabinet is so keen on taking surveys, how about its perpetually embarrassing (and, as I've reported in the Japan Times, very flawed) Cabinet Survey on Human Rights that it conducts every four years? I just found the 2012 version here, a year late, clearly made public with significantly less fanfare (I searched for it as late as last October).  Perhaps because the results in the past were far more revealing about Japan's cognitive dissonance regarding human rights (over the past decade or so, only a bit more than half of respondents answered affirmatively to the survey question, "Should foreigners have the same human rights protections as Japanese?"), meaning a large proportion don't support granting equal human rights to foreign humans!  You see, human rights for NJ, by the very nature of having to ask this kind of question, are optional in Japan.  Less so, it would seem based upon this new Cabinet survey, for the "foreigners" with the right bloodline.  Which is the conceit that this new Cabinet survey is pandering to.
Ultimately, I believe the GOJ will once again fall into the same old shortsightedness (like so many other societies) of wanting "workers" only to discover later they brought in "people".  And then, as before, society will seek to denigrate if not get rid of them as soon as they actually have needs (such as health care to provide, children to educate, lifestyles that reflect their backgrounds, retirement pensions to pay, political power to cede) that run counter to the original national plans…  Arudou Debito
=======================
PS:  I will talk about the new 2012 Human Rights Survey shortly, (for the record, it's archived at https://web.archive.org/web/20130210112833/http://www8.cao.go.jp/survey/h24/h24-jinken/index.html) after my next Japan Times JBC column comes out next Tuesday JST.  Seems like the surveyers read my 2007 JT column criticizing it, and changed the survey questions regarding NJ discrimination this time.
For the record:
〔参考1〕 外国人の人権擁護についての考え方,,,,,
,該当者数,日本国籍を持たない人でも、日本人と同じように人権は守るべきだ,日本国籍を持たない人は日本人と同じような権利を持っていなくても仕方がない,どちらともいえない,わからない
,人,%,%,%,%
平成19年6月調査(注1),"1,766″,59.3,25.1,10.8,4.8
平成15年2月調査(注1),"2,059″,54,21.8,15.7,8.5
平成9年7月調査(注1),"2,148″,65.5,18.5,11.5,4.5
平成5年7月調査(注1),"2,274″,68.3,20.4,8,3.2
昭和63年7月調査(注2),"2,320″,61.8,16.7,12.3,9.2
(注1)平成5年7月調査から平成19年6月調査までは、「日本に居住している外国人は、生活上のいろいろな面で差別されてい,,,,,
ると言われていますが、外国人の人権擁護について、あなたの意見は次のどちらに近いですか。」と聞いている。,,,,,
(注2)昭和63年7月調査では、「生活上のいろいろな面で、外国人は差別されていると言われていますが、外国人の人権擁護に,,,,,
ついてあなたの意見は次のどちらに近いですか。」と聞いている。,,,,,
https://web.archive.org/web/20130220074813/http://www8.cao.go.jp/survey/h24/h24-jinken/zh/h14san1.csv