Posted by Dr. ARUDOU, Debito on March 5th, 2013
Books etc. by ARUDOU Debito (click on icon):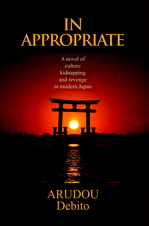 UPDATES ON TWITTER: arudoudebito
DEBITO.ORG PODCASTS on iTunes, subscribe free
"LIKE" US on Facebook at http://www.facebook.com/debitoorg
http://www.facebook.com/handbookimmigrants
Hi Blog.  I received this two days ago and am reposting (as is) with permission.  The International Olympic Committee is currently in Japan considering Tokyo as a venue for the 2020 Summer Games.  In light of recent events that point to clear examples of discrimination and advocacy of violence towards, for example, Koreans (see below), human rights groups in Japan are advocating that the IOC understand that these actions violate the Olympic Charter and choose their venue accordingly.  Articles, photos, and letters follow from the Japan Federation of Bar Associations (Nichibenren), Tanaka Hiroshi in the Mainichi Shinbun, and sources demonstrating that, for example, all GOJ educational subsidies for Korean ethnic schools have been eliminated as of 2013 from government budgets.
Academic Tessa Morris-Suzuki might agree with the assessment of rising discrimination, as she documents on academic website Japan Focus the protection of xenophobic Rightists and the police harassment of their liberal opponents.  Her conclusion: "But there is no rule of law if the instigators of violence are left to peddle hatred with impunity, while those who pursue historical justice and responsibility are subject to police harassment. There is no respect for human rights where those in power use cyber bullying in an attempt to silence their opponents. And democracy is left impoverished when freedom of hate speech is protected more zealously than freedom of reasoned political debate."  Have a look.
SITYS.  This is yet but another example of Japan's clear and dangerous swing to the Right under PM Abe.  And granting an Olympics to this regime despite all of this merely legitimize these tendencies, demonstrating that Japan will be held to a different standard regarding discrimination.  Wake up, IOC.  Arudou Debito
REPORT BEGINS:
////////////////////////////////////////////

Date: 2013/3/3Dear Sir/Madam,
I am … an activist against racism. I hope you to know about
racism against resident Koreans, especially  emergent crisis of Korean
ethnic schools by the central and local governments' oppression in
Japan, even though the governments would invite the Olympic Games 2020
to Tokyo.
I've attached a letter to you below.
The International Olympic Committee's evaluation commission arrived in
Tokyo on last Friday and it is going to inspect Tokyo from 4th to 7th
March.
It would be great honour if you handle this issue.
All the best, [redacted]
Japan Network for the Institutionalization of Schools for
Non-Japanese Nationals and Ethnic Minorities
Email: sangosyo@gmail.com
//////////////////////////////////////
Tokyo – a city which discriminates against Korean children
January 2013
We hope to inform you that Tokyo is not an appropriate city for the
Olympic Games based on the Fundamental Principals of the Olympics,
especially that of anti-discrimination.
The main reason for this is that the central and Tokyo governments
officially discriminate against Korean children who attend Korean
schools, which are key to maintaining the Korean communities in Japan.
Koreans in Japan are an ethnic minority who were forced to come to
Japan under the Japanese colonial rule of Korea and settle there even
after WWII. Throughout their enforced stay here they have faced
various difficulties. After the liberation from the Japanese colonial
rule, Koreans in Japan established their own ethnic schools in various
places in Japan in order to maintain their own language and culture
that had been deprived from them under the Japanese colonial rule.
Although the Japanese government has not recognized Korean schools as
regular and official schools and has been imposing institutional
discrimination upon them such as exclusion from a financial support
scheme of the central government, the Korean community has been
sustaining their schools on their own for more than 60 years. The
total number of Korean schools in Japan is approximately 70, including
kindergarten, primary to high schools, and university. Nearly 10,000
Korean children whose nationality is South Korean, North Korean and
Japan are learning in those schools today, even though 80-90 % of
Korean children attend Japanese schools.
The new Democratic Party administration proposed the plan of a
so-called "Free High School Tuition" system in October 2009 as soon as
it was established. The then plan intended not to collect tuition fees
from students of public high schools in Japan and to supply students
of private schools and minority schools authorized by local
governments as "vocational school" including Korean schools with a
subsidy of the amount equivalent to the tuition fee of public high
schools.
In March 2010, the United Nations Committee on the Elimination of
Racial Discrimination expressed concern about the approach of some
politicians who had suggested the exclusion of Korean schools from the
bill of "Free High School Tuition" due to the diplomatic issues
between Japan and the Democratic People's Republic of Korea. The
reason for this concern was the discriminatory effects of such a
policy. However, the policy was instigated in April 2010 and since
then the central government has been discriminating against Korean
school students. They have been excluded from this system for nearly
three years, although students of 37 minority high schools including
International schools, Chinese schools and Brazilian schools have been
supplied with subsidies through this system.
On the other hand, all 27 prefectural governments where Korean schools
are located accepted them as "vocational schools" and have been
providing subsidies to Korean schools for decades, even though the
central government requested prefectural governments to not accept
them as any kind of schools in 1965.
However, the decision of the central government to exclude Korean
schools from "Free High School Tuition" has led to the new
discriminative situation in which five prefectural governments
including Tokyo have stopped their subsidies to Korean schools. Tokyo
had supplied financial aid to Korean schools for at least over 15
years. In 2009, it provided about 27,000,000Yen (190,000 Pound);
however, Tokyo has stopped its subsidies to Korean schools since 2010
without providing a clear rationale.
In addition, the then Tokyo Governor Ishihara Shintaro officially said
that he would reconsider the accreditation of Korean schools in Tokyo
as "vocational schools" in March 2012. If the accreditation of
"vocational school" is revoked, it will cause extensive damages to
Korean schools. For instance, Korean schools will become completely
exempt from the "Free High School Tuition" system and there will be no
possibility to receive any financial support from local governments.
Furthermore, Korean schools will be forced to pay consumption tax for
tuition fee.
In December 2012, as soon as the Liberal Democratic Party won the
General Election and established its new government, it declared it
would revise an ordinance in order to exclude Korean schools due to
political tensions between Japan and North Korea, primarily the
abduction of Japanese citizens by North Korea.
In January 2013, Korean schools and school children in Osaka and Aichi
prefecture brought a lawsuit before the court, and Korean school
children in Tokyo are preparing lawsuit concerning these
discrimination.
Racism in Japan is generally increasing, encouraged by the racial
discrimination by the central government. The number of demonstrations
repeating hate speech against Non Japanese nationals, especially
Korean, communities has been increasing in Japan (Annex1). The police
are just gazing at the demos without restricting them because there is
no anti-discrimination law nor hate speech legislation in Japan so
that the demos has been unchecked.
ENDS
///////////////////////////////////////////
REFERENCE MATERIALS:
List of Annexs
1, The images of demonstration by anti-Korean racists in Korean Town of Tokyo
2, The Statement of President of the Japan Federation of Bar Associations objecting to exclusion of Korean Schools from applying Free High School tuition policy
3, The Article of The Mainichi Shimbun (23 February, 2013)
4, The situation of the cut of the subsidies to Korean schools from local governments in Japan
///////////////////////////////////////////
Annex 1: The Images of Demonstration by Anti-Korean Racists
(February 2013, in Korean Town of Tokyo)
Video URL: http://matome.naver.jp/odai/2136038266418742101
///////////////////////////////////////////
Annex2: Statement of President of the Japan Federation of Bar Associations objecting to exclusion of Korean Schools from applying Free High School tuition policy
The Ministry of Education, Culture, Sports, Science and Technology (MEXT) announced a proposed amendment to ministerial ordinance on December 28th, 2012, which amends a part of enforcement regulations regarding free tuition for public high schools and subsidies for private high schools. As for the high schools where foreign students are enrolled such as international schools and ethnic schools, the current enforcement regulations define the subject for the policy as either high schools that are confirmed through its embassy to have curriculum equivalent to that of high schools in its native state, or high schools that are certified by international evaluation body, while the rest of the schools that are evaluated as having curriculum equivalent to that of Japanese high schools can be the recipient of the subsidies, whether or not Japan has diplomatic relations with its native state, after the minister of the MEXT designates each school individually. The proposed amendment is to delete the grounds for the individual designation.
Regarding the purpose of this revision, the minister of MEXT, Hakubun Shimomura, stated at the press conference on December 28th, 2012, that the proposed amendment is aimed at deleting the grounds for designating Korean schools because there is no progress to resolve the Democratic People's Republic of Korea's (DPRK) abduction of Japanese citizens, which makes it clear that this proposed amendment is aimed at excluding Korean Schools from applying the Free High School tuition policy.
As we stated in the "Statement on Subject High Schools of the Free Tuition Bill" on March 5th, 2010, the main purpose of this bill is "to contribute to the creation of equal educational opportunities by alleviating the financial burdens of high school education", which is also demanded by Article 28 of Convention on the Rights of the Child. Considering the fact that Convention on the Rights of the Child as well as International Bill of Human Rights (International Covenant on Civil and Political Rights) guarantee the right to receive education with ethnic identity being maintained, the current ministerial ordinance which would include international schools and ethnic schools is in a right direction. Furthermore, it is revealed through the process of the deliberation on the bill that, as the Government's collective view, the designation of high schools for foreign students should not be judged by diplomatic concern but should be judged objectively through educational perspective.
On contrary to that, this proposed amendment is to refuse to provide subsidies based on the grounds that there being no diplomatic relations between Japan and DPRK or no progress to resolve the DPRK's abduction issue, either of which has nothing to do with the right of the child to receive education. It is a discriminative treatment which is prohibited by Article 14 of the Constitution of Japan.
Korean Schools in Japan completed applying for the designation based on the current bill legitimately by the end of November, 2011, this upcoming amendment is to extinguish the regulations considered as the grounds for applying and refuse the Korean Schools' application retroactively after more than two years from the application, which poses serious doubt on its procedure.
The Japan Federation of Bar Associations strongly urges that the proposed amendment be withdrawn whilst the review of the application from Korean schools be concluded promptly based on the current law and screening standard.
February 1st, 2013
Kenji Yamagishi, President
Japan Federation of Bar Associations
///////////////////////////////////////////
Annex3: The Article of The Mainichi Shimbun
Discrimination against Korean Schools need be reconsidered
Hiroshi Tanaka
Honorary Professor at Hitotsubashi University
24 February, 2013 
Since the host city for the 2020 Olympics and Paralympics games will be determined in September, the Governor of Tokyo Metropolitan, Naoki Inose, has started Bids for Olympics in earnest. Under such circumstances, would it be right for the Tokyo Metropolitan Government and the Japanese Government to continue discriminating Korean Schools in Japan?
At the time of Nagoya bid for the 1988 Summer Olympics, Nagoya City had "Nationality Clause" for the employment of teachers at public school which has been open to foreigners in Tokyo or Osaka, thus preventing foreigners from applying. A nongovernment human right committee in Nagoya sent an English letter to the International Olympics Committee (IOC), urging IOC to consider the serious issue on human rights of Nagoya City and to be sufficiently concerned about the improvement of moral qualification in the Olympic Movement to determine the host city. It was Seoul that was chosen as the host city in September, 1981. Though it is uncertain whether or not the letter had anything to do with the decision, it must be remembered that discrimination is unforgivable matter in the international community.
The Tokyo Metropolitan Government had previously been providing subsidies worth of 15,000 yen per a student to each of 27 schools for foreign students. However, the Metropolitan Government has stopped providing subsidies to Korean Schools alone since 2010 and not on the budget next year either. There has been no illegal act on the Korean Schools side. The education of the child should not be confounded with international affair.
So called "Free High School tuition law" was implemented in the same year 2010, which was applied not only to Japanese high schools but to vocational schools and high schools for foreign students as well. Students from each of 39 high schools, such as Brazilian Schools, Chinese Schools, (South) Korean Schools and International Schools were provided with subsidies equivalent to the tuition for the public high school.
Nevertheless, the decision over whether or not (North) Korean Schools would be applicable to the policy still remains unmade and students at Korean Schools have already graduated without ever receiving subsidies over the last two years.
Following the birth of Abe Cabinet, the Minster of the Ministry of Education, Culture, sports, Science and Technology (MEXT), Hakubun Shimomura (aka Hirohumi Shimomura) amended the enforcement regulations of Free High School tuition law with the purpose of excluding Korean Schools alone from the policy because there is no progress to resolve Democratic Peoples Republic of Korea's abduction of Japanese citizens. The law's main purpose is "alleviating the financial burdens of high school education" and "to contribute to the creation of equal education opportunities". Doesn't this amendment to the enforcement regulations go beyond the limitation of a delegated order?
UN Committee on the Elimination of Racial Discrimination (CERD)  expressed its concern about the exclusion of Korean Schools from Free High School tuition policy in the Concluding Observation in March, 2010, after reviewing the report submitted by Japanese Government and recommended Japan to consider acceding to the UNESCO Convention against Discrimination in Education (adopted in 1960, 100 signatories). The concern of CERD became realized by Abe Cabinet.
The report from Japanese Government to the UN Committee on Economics, Social and Cultural Rights is to be reviewed in coming April. List of Issues from the Committee says "Please provide information on the impact of the measures taken to address the persistent discrimination against children belonging to ethnic minorities and migrant families, in particular children of Korean origin". Female students at Korean Schools used to go to school wearing chima jeogori, the traditional Korean form of dress. It's been a long time since it became unseen in order to avoid harassment and assaults by heartless Japanese citizens.
Olympic Charter states "Any form of discrimination with regard to a country or a person on grounds of race, religion, politics, gender or otherwise is incompatible with belonging to the Olympic Movement." Discrimination against Korean School is incompatible with Olympics.
Discrimination against Korean Schools need be reconsidered.
/////////////////////////////////////////
Annex4: The situation of the cut of the subsidies to Korean schools from local governments in Japan ( 2009 – 2013 )
2009

2010

2011

2012

2013

Prefecture

(start date of subsidy)

Total amount of subsidy

Total amount of subsidy

Total amount of subsidy

Total amount of subsidy

Total amount of subsidy

Tokyo

(1995)

23.5 million

0

0

0

Cut from the budget

Saitama

(1982)

9 million

0

0

0

Cut from the budget

Osaka

(1988)

185 million

87 million

0

0

Cut from the budget

Miyagi

(1992)

1.5 million

1.5 million

0

0

Cut from the budget

Chiba

(1985)

5.6 million

5.6 million

0

0

Cut from the budget

Hiroshima

(1992)

13.8

million

10.1

million

9.6

million

0

Cut from the budget

Kanagawa

(1977)

72.5

million

63

million

63

million

63

million

Cut from the budget

Yamaguchi

(1992)

2.4

million

2.4

million

2.3

million

2.2

million

Cut from the budget
Based on a survey by The Association of Korean Human Rights in Japan
All the currency unit is Japanese yen ( 1 euro≒123 yen, 1 dollar≒93 yen [as of 22 Feb 2013] )
ENDS