Posted by Dr. ARUDOU, Debito on March 12th, 2013
Books etc. by ARUDOU Debito (click on icon):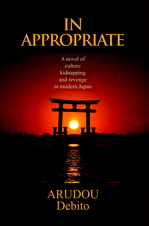 UPDATES ON TWITTER: arudoudebito
DEBITO.ORG PODCASTS on iTunes, subscribe free
"LIKE" US on Facebook at http://www.facebook.com/debitoorg
http://www.facebook.com/handbookimmigrants
Hi Blog. Something I came across during my readings. Thought you might find it interesting.
Over the years I have gotten from many corners (particularly from people who have not researched things too deeply) how "jus sanguinis" (law of blood) requirements for Japanese citizenship are not all that far from the international norm, and how Japan's Nationality Law (which requires blood ties to a Japanese citizen for conferral of Japanese nationality) is but one example of many in the community of nations that confer nationality/citizenship by blood.
Well, I knew both from experience and in my gut that there was something wrong with that. I felt that Japan's method of conferring nationality/citizenship was quite specially exclusive (for example, we've had half a million Zainichi former citizens of Empire excluded from full "Denizenship" (see below) in Japanese society for three Postwar generations now, and only a tiny number of people becoming naturalized Japanese citizens every year).  This exclusion (which every nation does when deciding national membership, but…) has been done in ways unbecoming of a country with the reputation of being a legitimate, competent, advanced Western democracy — one Japan has had since its emergence as a "rich society" in the 1980s — and thus expected to take on a greater role in international cooperation (such as acceptance of refugees) by accepting international legal norms (such as signing and enforcing international treaties).
Now I've found something in writing from someone who HAS researched things deeply, and she too finds that Japan's policies towards the outside world are outside the international norm.
These are excerpts from Kashiwazaki Chikako (Associate Professor of Sociology at Keio University). 2000. "Citizenship in Japan: Legal Practice and Contemporary Development." In T. Alexander Aleinikoff, and Douglas Klusmeyer, eds., From Migrants to Citizens: Membership in a Changing World. Washington DC: Carnegie Endowment for International Peace, pp. 434-74.
Regarding trends in immigration policies for Japan's developed-country brethren:
Comparative research suggests that citizenship policies might be effectively employed for the integration of immigrants in a democratic society.  Citizenship policies in a broad sense include rules for not only the attribution of full, formal citizenship but also the admission of legal migrants and the extension of "partial" citizenship for resident aliens.  The Japanese case is similar to other advanced industrial countries in that recent labor migration represents south-north migration or migration from developing countries to developed countries.  Experiences of Western European countries in particular provide useful points of comparison when studying the case of Japan, because Japan in its modern national state form was constructed by an indigenous majority group rather than by immigrants, as in the United States, Canada, and Australia.

Contemporary debates about citizenship policies in Western European countries have their roots in immigration in the post-WWII era.  In response to sharp increases in the immigrant population, governments of these countries restricted admission and encouraged return migration in the 1970s.  The result was the settlement of former "temporary" workers and an increase in family reunification.  As immigrants were becoming a permanent feature of the society, host countries in Western Europe turned increasingly toward incorporation.  Over time, foreign workers and their families obtained a greater scope of citizenship rights.  Referred to as "denizens", resident aliens with permanent status enjoy extensive civil and social citizenship rights, if not electoral rights on the national level. 

Denizens, however, do not possess full citizenship, notably full political rights.  For fuller integration of immigrants into a democratic political community, it becomes important to give them the opportunity for them to obtain full citizenship, not just denizenship." (435-6)
Regarding the claim that Japan is "not an outlier" in terms of conferring nationality by blood ties, and the frequent defense that "other rich countries, such as Germany, also do it", consider this:

"In the 1980s and 1990s, laws regulating nationality and citizenship were revised in immigrant-receiving countries such as Germany, the Netherlands, Sweden, and Switzerland, where nationality transmission was mainly based on jus sanguinis (by parentage). These revisions eased criteria for acquiring nationality by first-generation, long-term resident aliens as well as by the second and subsequent generations. Major types of legal administrative changes include introduction or expansion of the as-of-right acquisition of citizenship [Japan has no "as-of-right acquisition" system; i.e., anyone who was not attributed Japanese citizenship by birth must go through the process of naturalization]; double jus soli, by which the third generation obtains citizenship automatically; and toleration for dual nationality… [On the other hand], there is no unified, coherent policy that could be called the Japanese citizenship policy." (436-7)
Regarding the GOJ's intolerance of dual nationality:
"The current international trend in coordinating nationalities is to have a greater degree of tolerance for the incidence of multiple nationality than for statelessness. The principle of "one nationality for everyone" is therefore increasingly understood to mean at least one nationality, rather than "only one," for each person. Furthermore, migrant-sending countries have tended to support dual nationality, which would allow their nationals to retain close relationships with their country of origin while enjoying full rights and protection in the host country. Outside Europe, Mexico's recent move to allow dual nationality for those who became naturalized U.S citizens is another example. Insisting on the desirability of "only one" nationality, the official stance of the Japanese government, therefore deviates from the current international norm." (451)
Regarding official policy for migration and integration:
"The system of naturalization is not designed to transform foreign nationals promptly into Japanese nationals. Restriction on naturalization corresponds to the government's stance on border control, namely that Japan does not admit immigration for the purpose of permanent settlement." (443)
The justifications, when proffered by the Ministry of Justice all the way back in 1959, still resonate today as current:
"Since Japan is one of the most densely populated countries in the world, policies of controlling both population growth and immigration are strongly called for. It should therefore be a government policy to severely restrict the entry of foreigners into Japan. This is all the more so because there are undesirable foreigners who would threaten the lives of Japanese nationals by criminal activity and immoral conduct." (MOJ Shutsunyuukoku Kanri, 1959, pg. 3) (441).
So there you have it, from another researcher. It has never been policy in Japan, despite all the promises we heard in the "Kokusaika" 1980s about "getting in, making the effort to work hard in Japanese companies, learning the language and culture, and ultimately becoming Japanese like everyone else", to let immigrants stay or make it easier for them to stay.  So it's not going to happen (no matter what recent flawed GOJ Cabinet opinion polls claim about the public's "no longer rejecting" NJ), because of official government policy not to let people settle, and because policymakers don't trust foreigners to ever be "Japanese".
In any case, it's not a matter of being "socially accepted" by our peers — friendships on the individual level can happen.  The problem is more a matter of allowing NJ to take our place in the hierarchy — allowing for NJ and former NJ to have some transference of power and rights to them (such as letting them become sempai) in Japan beyond alien status, beyond mere "partial citizenship" and "Denizenship" through increasingly-tougher Permanent Residency, but into granting full citizenship with extensive civil and social citizenship rights while allowing them to keep their ethnic identity.  But no.  NJ are not to be trusted, because they might, unlike Japanese, commit crime or engage in immoral conduct.  As Kashiwazaki indicates above, those systematic and persistent exclusionary attitudes are outliers amongst Japan's developed-country brethren.  Arudou Debito
UPDATE:  Okay, one more researcher weighs in, pithily.  From the same book, Part Four Introduction, pp. 383-5, by Aristide R. Zolberg, who writes in comparative perspective:
"Japan and Israel surely stand out as the 'odd couple' of the comparative citizenship project, each of them being an outlier in which one element of citizenship policy has been extrapolated into a dominant feature.  In short, Japan comes closer than any other economically advanced constitutional democracy to retaining a fundamentalist version of jus sanguinis, and the 'blood' involved is the immediate and concrete one of family or lineage, rather than merely the usual 'imagined' national community." (385)
ends