Posted by Dr. ARUDOU, Debito on March 21st, 2013
Books etc. by ARUDOU Debito (click on icon):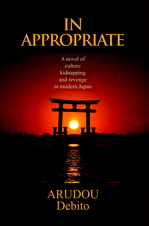 UPDATES ON TWITTER: arudoudebito
DEBITO.ORG PODCASTS on iTunes, subscribe free
"LIKE" US on Facebook at http://www.facebook.com/debitoorg
http://www.facebook.com/handbookimmigrants
Hi Blog.  Making national news whenever statistics come out is how Japan deals with (i.e., mostly rejects) refugees. I was always curious about why refugee numbers have always been considered newsworthy (when there are many other significant NJ-related statistics that merit more fanfare but don't, such as the number of "Newcomers" with Permanent Residency overtaking the "Oldcomer" Zainichis with Special Permanent Residency in 2007, representing a sea change in the composition of permanent immigrant NJs in Japan).  But then I found something in an academic writing that put things in perspective:  Acceptance of refugees are one bellwether of Japan's acceptance of international norms, as part of its "greater role in international cooperation" and an attempt "to increase its legitimacy as a competent, advanced Western democracy".  First the most recent news article, then the academic article to put it in perspective:
//////////////////////////////////////////
NATIONAL
2012 saw record-high 2,545 people apply for refugee status in Japan
The Japan Times/KYODO
MAR 20, 2013, courtesy of JK
http://www.japantimes.co.jp/news/2013/03/20/national/2012-saw-record-high-2545-people-apply-for-refugee-status-in-japan
A record 2,545 foreigners applied for refugee status in Japan in 2012, the Justice Ministry's Immigration Bureau said Tuesday.
While the figure marked an increase of 678 compared with the previous year, there was a drop in the number of those who were actually granted refugee status, the bureau said.
In 2011, there were 21 foreigners recognized as refugees, but for 2012, the number fell to 18.
Among those who applied, Turkish nationals constituted the largest group, with 423, followed by 368 from Myanmar, 320 from Nepal and 298 from Pakistan, the bureau said.
A bureau official could not provide the exact reason behind the rise in refugee applications.
Meanwhile, the number of foreigners who were denied refugee status but were allowed to stay in Japan on humanitarian grounds totaled 112, the bureau said.
Since Japan began its refugee recognition system in 1982, there have been 14,299 people who applied and 616 who were recognized as refugees.
ENDS
//////////////////////////////////////////
Now read this excerpt from Kashiwazaki Chikako (Associate Professor of Sociology at Keio University). 2000. "Citizenship in Japan: Legal Practice and Contemporary Development." In T. Alexander Aleinikoff, and Douglas Klusmeyer, eds., From Migrants to Citizens: Membership in a Changing World. Washington DC: Carnegie Endowment for International Peace, pp. 448-50.  I retype in all paragraphs preceding the section on refugees to Japan, to give you the geopolitical context under which bureaucrats created refugee policy.
============================
INTERNATIONAL LEGAL NORMS AND CHANGES IN INTERNATIONAL CONTEXT
Since the mid-1970s, Japan has come into prominence in the international arena as a major player in the world economy.  Internationalization became a slogan for the new direction of the country, with demands from both within and abroad to open, to take a leadership role, and to assume international responsibility.  For the Japanese government, successful economic development provided the opportunity to assume a greater role in international cooperation and to increase its legitimacy as a competent, advanced Western democracy.  To do so would require accepting an emerging set of international legal norms, including those in the area of citizenship.
Among international legal norms, the most relevant to the recent development of citizenship are the UN conventions on human rights and the rights of migrant workers and noncitizen residents.  In Western Europe, international conventions on human rights have provided legal and normative underpinnings to the extension of partial citizenship rights to noncitizen residents.  The goal of economic integration through free movement of people within the common market has also facilitated legislation regarding the legal rights and protection of migrants.
Another major impetus for changing laws regarding citizenship and nationality is the principle of gender equality.  The 1979 Convention on the Elimination of All Forms of Discrimination against Women required that signatory countries accord the same rights to women as they do to men in regard to their children's nationality.  Consequently, a number of countries that had a patrilineal jus sanguinis system shifted to the bilineal system where children obtain both their father's and mother's nationality.
In the absence of an equivalence in European integration, the role and the extent of international coordination are expected to be different for the Japanese case.  Nevertheless, Japan has also been under the constraints of international legal norms.  Admission of Indochinese refugees and the adoption of bilineal jus sanguinis [in 1984] are two examples that show the impact of international factors on nationality and citizenship regulations.
The end of the Vietnam War in 1975 generated refugees from Indochina.  In the same year, the G7 Summit meeting was established. As the only Asian country admitted to membership in the G7 Summit, Japan was obliged to take some steps to accommodate refugees.  In 1978, the Japanese government permitted the settlement of refugees within the set limit of the ceiling.  The initial quota was only 500 refugees, although it was gradually expanded to 10,000 by 1985.  At the end of 1997, 10,241 Indochina refugees had been accepted for settlement [Shutsunyuukoku Kanri 1998].
Although the number of refugees settled in Japan was small, their arrival had a strong impact on the social rights of resident aliens.  With the acceptance of refugees, the Japanese government was compelled to join relevant international conventions.  Japan acceded to the International Covenant on Civil and Political Rights as well as the International Covenant on Economic, Social, and Cultural, Rights in 1979, and then ratified the Convention relating to the Status of Refugees in 1981.  Provisions in these conventions required that resident aliens be treated equally with the citizens of the country in the areas of social security and welfare.  Consequently, several legal changes removed eligibility restrictions based on nationality in such areas as national pension and public housing.  Furthermore, the creation of a new residential status for refugees in 1981 contributed to improvement in the legal status of preexisting long-term resident aliens.
EXCERPT ENDS
//////////////////////////////////////////
COMMENT:  So you see, Japan basically only acceded to these international norms and agreements as a vanity project — a matter of "not looking like an outlier" in the international community.  Not because policymakers had any good-faith interest in helping NJ or outsiders in need come to Japan and settle.  That's why we see honne hiccoughs from time to time (like the one in 2010 when a 78-year-old Zainichi granny was denied social welfare by Oita Prefectural Government — where a court ruled that "Welfare payments to non-citizens would be a form of charity".  So much for those international treaties guaranteeing equal treatment being respected by Japan's judiciary!).  We've also seen how Japan simply will not pass a law against racial discrimination (despite signing another international agreement, the UN CERD, in 1995) — and will in fact counteract anyone who does.  So in this context, Kyodo's reporting that "since Japan began its refugee recognition system in 1982, there have been 14,299 people who applied and 616 who were recognized as refugees," should come as no surprise.  The GOJ has no intention of keeping its international treaty promises.  They are merely national self-esteem boosters, not real guidelines or goals.  Arudou Debito