Posted by Dr. ARUDOU, Debito on April 18th, 2013
eBooks, Books, and more from ARUDOU Debito (click on icon):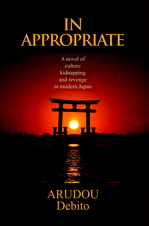 UPDATES ON TWITTER: arudoudebito
DEBITO.ORG PODCASTS on iTunes, subscribe free
"LIKE" US on Facebook at http://www.facebook.com/debitoorg
http://www.facebook.com/handbookimmigrants
https://www.facebook.com/JapaneseOnlyTheBook
https://www.facebook.com/BookInAppropriate
Hi Blog. We have some more harbingers of Japan's retreat into itself. International marriages are way down, and so are Japanese students studying abroad.
First, check out this significant stat about international marriage:  At last measurement, international marriage figures (in blue) have dropped by about 25% since their peak in 2006! (International divorce figures, in yellow, have crept up too.)
(Courtesy the Foreign Affairs Ministry http://www.mofa.go.jp/mofaj/press/pr/wakaru/topics/vol82/index.html. (I'll talk a little more about the contents of this page shortly, as the focus is on international divorce and the probable consequences of Japan's signing the Hague Convention on Child Abductions.)
I call it significant because it removes one of the fundamental means to Japan's increased diversity.  If Japan's perennially low birthrate means fewer children, having fewer international marriages means probably fewer international Japanese children.  And this will quite possibly lead to further marginalization of the "half" population as a temporary "blip" in international coupling (last seen as a "social problem" with the Postwar konketsuji mixed-blood children, publicly stigmatized for being "bastard children of prostitutes"; see Fish, Robert A.  2009.  "'Mixed-blood' Japanese:  A Reconsideration of Race and Purity in Japan."  Pp. 40-58 in Weiner, ed., Japan's Minorities: The Illusion of Homogeneity.  2nd ed.  Sheffield:  Routledge.)
As a tangent, note the normalized racialization of the GOJ's illustration above, where the "foreigner" is male and blue-eyed.  Even though the majority of Japanese-foreign marriages are not "Western male" either in terms of marriages in general or even foreign husbands in specific, perpetually!  So says MHLW:
Courtesy http://www.mhlw.go.jp/toukei/saikin/hw/jinkou/suii09/marr2.html
=============================
Next up, consider how Japanese students are not going overseas much (according to the Japan Times, they are being significantly outdistanced by, for example, the South Koreans and Chinese):
Courtesy of http://www.japantimes.co.jp/news/2013/04/19/national/high-schoolers-dream-of-ivy-league/ and JJS.
That said, I'm a bit skeptical about whether this trend means a great deal, as I don't think people who study abroad necessarily become more broad-minded or open to outside ideas (and Japanese society has structural mechanisms for marginalizing students who leave the system anyway).  Moreover, the domestic discourse nowadays is finding ways to rationalize away the need, for example, to study a foreign language at all.  Nevertheless, I would argue that these trends are not particularly good for Japan, as they are not only harbingers of insularity, but also encouraging even further insularity in addition to recent trends I have written about before.  Arudou Debito