Posted by Dr. ARUDOU, Debito on May 18th, 2013
eBooks, Books, and more from ARUDOU Debito (click on icon):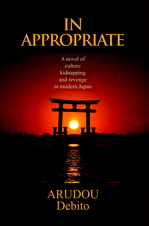 UPDATES ON TWITTER: arudoudebito
DEBITO.ORG PODCASTS on iTunes, subscribe free
"LIKE" US on Facebook at http://www.facebook.com/debitoorg
http://www.facebook.com/handbookimmigrants
https://www.facebook.com/JapaneseOnlyTheBook
https://www.facebook.com/BookInAppropriate
Hello Blog. This post comes to you as a query. Are any Debito.org Readers noticing that the Japanese police are keeping closer tabs on people by going door-to-door to survey occupants (junkai renraku), asking them to fill out Junkai Renraku Cards?
(To see what information is required for the Junkai Renraku, especially for NJ residents, here's one translated into English by the NPA).

We've talked about this before on Debito.org, where we have seen the police doing door-to-door surveys of residents, with a special emphasis on how that involves Gaijin Carding for people living in Gaijin Houses.  Some people have said that this has never happened to them (for example, it never happened to me despite living in various places in Hokkaido over the course of 25 years), others it has (they think it's cop SOP).
But the interesting thing is that at a prefectural level, Aichi, for example, is making public announcements to their residents that they will be making the rounds to households (katei).  (If this was all that normal a SOP, why the need for a public service announcement?)  This will be in order to:
Give advice on how not to become victims of crime,
Take measures for people who have been victims of crime,
Contact neighborhoods that have recently been victims of crime (such as sneak thievery and car break-ins) and advise them how to take measures against crime in the future,
Prevent youth crime (shounen no hankou boushi),
Have lists of occupants (renraku hyou) on hand and phone numbers in case of disasters,
and more. See http://www.pref.aichi.jp/police/safety/houmon/
We are seeing these PSAs in other prefectures, such as Kanagawa (http://www.police.pref.kanagawa.jp/mes/mesg1001.htm), and door to door checks apparently elsewhere.
A couple of funny things going on here. First, information about neighborhood occupancy should be available through the juuminhyou system in the first place.  Much of this information is also surveyed by the National Census (kokusei chousa), where, I might add, providing any information is optional (note how the optionality of providing personal information is not mentioned in the Aichi Police website). Why do the police feel the need to compile their own data set?
Well, because police are control freaks, and given the degree of power the Japanese police have in Japan, privacy issues are of less importance than maintaining order.  And you just know that if they catch a NJ at his or her home, there's going to be much more intrusive questioning than just phone numbers and occupants — they will demand to see your Gaijin Card and ascertain that your visa is current, all on your front doorstep.  Have a nice day.  It's not just on the street at random anymore, meaning they'll intrude upon where you live.  Moreover I doubt that for NJ targeted, answering questions will be optional (plead the Fifth (mokuhiken) and arouse suspicion — something that leads to more thorough investigations downtown).
Of course, the Aichi Police offer themselves and their questioning as all sweetness, with benign photos of the police at work in their communities:
Subtext:  "Like you, even [female] cops have maternal instincts…"
"Now now, you needn't be afraid of this man in uniform who has approached us for some unknown reason during our very traditional daily constitutional.  Especially since he's even gotten down on his knees for you…"
"This is how we will approach you to demand personal information" (outside a place that is clearly not a household).  We can only hope that our boys in blue will be so smiley and unaggressive.
Here's the best one:
"OMG!  I'm so glad to see a cop knocking at my door.  I just love a man in uniform!  Come inside!"
Now, you might think I'm making too much of this.  But naturally I would argue not.  Especially since we have had cases of police agencies doing one thing (like putting out racist anti-NJ flyers) while offering sweetness and light on their official English website.  There's a lot of tatemae here, and you only have to be a minority in Japan before you understand just how much intent and enforcement differ from the sloganeering.
My advice:  If you get an unexpected knock one day and see (through the peep sight) a cop at your front door, don't answer.  Because if they visually identify you in any way as NJ, you are automatically suspicious and you'll get the Third Degree.
Anyone else noticing their local police becoming more intrusive these days?  Arudou Debito