mytest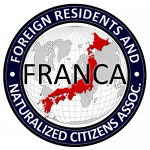 UPDATES ON TWITTER: arudoudebito
DEBITO.ORG PODCASTS now on iTunes, subscribe free
Hi Blog. For a nice bite-size Sunday post, dovetailing with yesterday's post on the NPA's whipping up fear of foreign crime gangs, here we have the Kanagawa Police offering us a poster with racist caricatures of NJ, and more minced language to enlist the public in its Gaijin Hunt. Check this out:


(Click on image to expand in browser.)
From http://www.police.pref.kanagawa.jp/ps/32ps/32pic/32004_47.pdf, courtesy lots of people.
Now let's analyze this booger. In the same style of fearmongering and racist police posters in the past (see for example here, here, here, and here), we have the standard NJ conks and wily faces. Along with a crime gang stealing from a jewelry store (nothing like getting one's hands dirty, unlike all the white-collar homegrown yakuza crime we see fewer posters about).
The poster opens with employers being told to check Status of Residences of all the NJ they employ. Of course, employers who employ NJ usually sponsor them for a visa, so this warning shouldn't be necessary. I guess it's nicer than warning the employer that if they do employ overstayers, the employer should also be punished. But again, we hear little about that. It's the NJ who is the wily party, after all.
Then we get the odd warning about overstayers (they say these are lots of "rainichi gaikokujin", which is not made clear except in fine print elsewhere that they don't mean the garden-variety NJ) and their links to "international crime groups" (although I haven't seen convincing statistics on how they are linked). Then they hedge their language by saying "omowaremasu" (it is thought that…), meaning they don't need statistics at all. It's obviously a common perception that it's "recently getting worse" (kin'nen shinkoku ka).
Next paragraph offers the standard "threat to Japanese social order" (chi'an) presented by visa overstayers and illegal workers (even though overstayers have gone down steadily since 1993), and asks for the public's assistance.
Then it brings in the heroic Kanagawa Police, and how they will be strengthening their controls over these big-hootered shifty-eyed NJ from now on, and asks for anyone with information about illegal NJ to drop by any cop shop or police box (even though police boxes I've reported unlawful activities to have told me to take my crimes elsewhere; I guess NJ criminality is a higher priority).
Finally, we have the places to contact within the Kanagawa Police Department. We now have a special "international crime" head (kokusai han kakari), a "economic security" head (keizai hoan kakari), and a "gaiji kakari", whatever that is shortened for (surely not "gaikokujin hanzai jiken", or "foreign crime incidents"). Such proactiveness on the part of the NPA. I hope they sponsor a "sumo-yakuza tobaku kakari" soon.
Anyone else getting the feeling that the NPA is a law unto itself, doing whatever it likes in the purported pursuit of criminals, even if that means racial profiling, social othering of taxpayers and random enforcement of laws based upon nationality (even a death in police custody with impunity), and manufacturing consent to link crime with nationality?
Arudou Debito in Sapporo
UPDATE:  Compare and contrast with the English version of PR for the same police department, courtesy of crustpunker:
http://www.police.pref.kanagawa.jp/eng/eng_idx.htm
Not only is it a disingenuous lie, its contents are utterly banal.  And since I can't find the gaiji kakari under "Section Information" in English, so I doubt the overall accuracy as well.
This is linked from this even nastier Kanagawa Police site regarding NJ:
http://www.police.pref.kanagawa.jp/mes/mese2001.htm

我が国に向けられる諸外国からの有害活動は、様々な形で活発に展開されています。平成17年と18年には、在日ロシア情報機関員が民間企業の技術者をターゲットとして先端科学技術を違法に入手していた事件を摘発しています。また、平成20年には、国際原子力機関(IAEA)が、北朝鮮の核処理施設における視察をした際、日本製の真空排気装置を発見したことを端緒に捜査を開始し、台湾経由による北朝鮮向け真空ポンプ等の不正輸出事件を摘発しました。

ここでは、これら対日有害活動の一部を紹介し、我が国の国益を害する不法行為に関する 情報提供をお願いしています。
rest at above website
ENDS