Posted by Dr. ARUDOU, Debito on July 19th, 2013
eBooks, Books, and more from ARUDOU Debito (click on icon):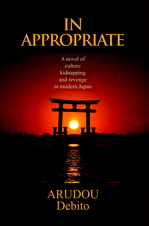 UPDATES ON TWITTER: arudoudebito
DEBITO.ORG PODCASTS on iTunes, subscribe free
"LIKE" US on Facebook at http://www.facebook.com/debitoorg
http://www.facebook.com/handbookimmigrants
https://www.facebook.com/JapaneseOnlyTheBook
https://www.facebook.com/BookInAppropriate
On the eve of an election that will only further empower this man, Scholar Tessa Morris-Suzuki talks about the media machines to rebrand him as "not a nationalist".  Hah.  And double hah after reading some actual scholarship on this man.  Read on and grit your teeth as election results come in.  Arudou Debito
The Asia-Pacific Journal, Volume 11, Issue 28, No. 1, July 15, 2013.
The Re-Branding of Abe Nationalism: Global Perspectives
Tessa Morris-Suzuki
In 2010, the Australian Broadcasting Company (ABC) launched a highly successful TV show called The Gruen Transfer. The title refers to the disorienting psychological effects produced on consumers by the architecture of shopping malls, whose dazzle and noise are deliberately designed to mesmerize: on entering, "our eyes glaze over, our jaws slacken… we forget what we came for and become impulse buyers".1 The ABC's Gruen Transfer explored the weird, wonderful and disorienting effects produced by the advertising industry. Its most popular element was a segment called "The Pitch", in which representatives of two advertising agencies competed to sell the unsellable to the show's audience – creating gloriously sleek videos to market bottled air, promote the virtues of banning religion, or advocate generous pay raises for politicians.
I have been reminded of The Gruen Transfer in recent months, as sections of the media in Japan, and even internationally, have gone into overdrive to sell an equally challenging message: the message that Japanese Prime Minister Abe Shinzo is not a nationalist.2 This particular pitch has been running for some time. It began with the inception of Abe's first short-lived prime ministership in 2006, when Japanese Foreign Affairs Deputy Press Secretary Taniguchi Tomohiko devoted considerable energy to persuading a US audience that Abe was "almost the polar opposite" of a nationalist.3 The right-of-centre Sankei Newspaper took up the challenge with enthusiasm: its Washington correspondent, Komori Yoshihisa, published numerous articles, including an opinion piece in the New York Times, which aimed to refute the "nationalist" tag. Far from being a hawkish nationalist, Komori argued, Abe had "merely been shaped by democracy", and his real aim was to bring Japan back from the "post-war extreme towards the center".4 But these pronouncements had only limited impact on international opinion, and by early 2007 one prominent Japanese marketing consultant was lamenting, in the pages of the Yomiuri newspaper, that the government needed a far more effective foreign media strategy to rescue Abe from the "hawk" and "nationalist" labels.5
The issue has resurfaced with renewed vigor since the advent of the second Abe regime in December 2012. In May 2013, a US Congressional Research Service paper describing Abe as a "strong nationalist" evoked a surprisingly querulous response from pro-government media in Japan, and even from Prime Minister Abe himself. Abe hit back with a statement in parliament, expressing his unhappiness that "the ideas of our country" were being misunderstood by foreigners. He went on to call for measures to "actively collect and spread information so that we will be correctly understood".6
[…]
Abe's core goal, inherited from Kishi, clearly set out in Towards a Beautiful Country, and echoed in the manifestos of groups like the Shinto Association of Spiritual Leadership, is to "escape from the postwar regime": that is, to reverse the political reforms introduced to Japan during the allied occupation. In his view, these reforms undermine Japan's traditions, which are centred on the figure of the Emperor. What Abe's nationalist vision means in practice is best understood by examining his party's far-reaching proposals to rewrite the postwar Japanese constitution. The proposed changes include removing the reference to "respect for the individual" and making it constitutionally impossible for foreign permanent residents to be given national or local voting rights. Freedom of expression and freedom of association would not be protected where these "have the purpose of harming the public interest or public order". The same formula would be used to limit the right of citizens to "life, liberty and the pursuit of happiness". The revised constitution prepared by the Liberal Democratic Party contains no guidelines as to how, and by whom, "public interest" and "public order" would be defined, leaving an alarmingly large loophole for the repression of civic freedoms by the state. A new article would also be added to the constitution to give the state sweeping powers to declare prolonged states of emergency, during which constitutional rights could be suspended.22 With the prospect of an LDP super-majority in parliament for the next two to three years, there is a strong likelihood that the ruling party will push forward with an attempt to carry out these changes: changes so profound that they should probably be described, not as plans for constitutional revision, but rather as plans for a new constitution.
This artwork appeared in an exhibition entitled "the Constitution and Peace" which opened in a public art space in Fukui Prefecture in May. The work consists of several sections of the current constitution written out in attractive calligraphy and coloured ink on Japanese paper. Soon after the exhibition opened, it was removed on the orders of the company which manages the art space for the local government on the grounds that "its political content might offend the feelings of some viewers".
The current popularity of the Abe administration in no way reflects public enthusiasm for these grand political designs. It is, instead, a response to the government's economic stimulus package, and to Abe's skill in making optimistic statements, which convey a sense of leadership to a population weary of political uncertainty and economic malaise. In the end, the Abe government's performance should and will be judged, not on any political labels, but on the impact that it has on Japanese society and on Japan's relations with its region and the world. It is possible that Abe may yet choose to focus on the vital tasks of creating a basis for a strong Japanese economic future and improving relations with Japan's neighbours, rather than pursuing the ideological agendas of anti-liberalism and "escape from the postwar regime".
In the meanwhile, though, those who care about the future of Japanese society should not allow the dazzle of verbal juggling to induce a political version of the Gruen Transfer. The prime minister's ideology may be re-branded for the global market, but the old adage remains: buyer beware.
– See full article at: http://japanfocus.org/-Tessa-Morris_Suzuki/3966
Tessa Morris-Suzuki is Professor of Japanese History in the Division of Pacific and Asian History, College of Asia and the Pacific, Australian National University, and a Japan Focus associate. Her most recent books are Exodus to North Korea: Shadows from Japan's Cold War, Borderline Japan: Foreigners and Frontier Controls in the Postwar Era and To the Diamond Mountains: A Hundred-Year Journey Through China and Korea.
ENDS