Posted by Dr. ARUDOU, Debito on October 23rd, 2013
eBooks, Books, and more from ARUDOU Debito (click on icon):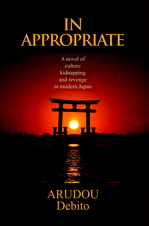 UPDATES ON TWITTER: arudoudebito
DEBITO.ORG PODCASTS on iTunes, subscribe free
"LIKE" US on Facebook at http://www.facebook.com/debitoorg
http://www.facebook.com/handbookimmigrants
https://www.facebook.com/JapaneseOnlyTheBook
https://www.facebook.com/BookInAppropriate
Hi Blog.  Saw this interesting poster in, of all places, an elevator in Narita Airport last September:
Yes, that's our Donald Keene, currently aged 91, whose center last September 21 was opened up in Kashiwazaki (for those who unfamiliar with that part of Niigata Prefecture, K-town is in between Nagaoka and Joetsu; nice beach) in order to transmit "the excellence of Japanese literature" (watashi wa ninon bungaku no subarashisa o tsutaetai).
This is an important event, as it counts as an established NJ legacy on the scale of Edwin Dun and of course Lafcadio Hearn/Koizumi Yakumo (both of whom have their lives immortalized in building form).
Now, where Debito.org has taken issue with Keene is with not with his scholarship or contributions to the field of Japanese studies (indeed admirable), but with his naturalization while publicly denigrating NJ.  As chronicled here and in the Japan Times, he himself made a big fuss about how he was becoming a Japanese citizen for selfless reasons, e.g., to "become one of them", to show "solidarity with the Japanese people" in their time of great need, so that he might help victims of the Tohoku Disasters in some way.
Fine.  But he also threw in all sorts of irrelevancies and nastiness, such as making himself out to be morally superior to other NJ residents (contrasting himself with those allegedly fleeing Japan like the mythical "Flyjin", mentioning how he wasn't committing crimes like they were — despite actual NJ crime trends).  It was a poor show of social science by a trained researcher.
If he's going to be mean, then he's going to have his record scrutinized like everyone else.  So, despite his promises to "contribute to areas affected by the [Tohoku] disaster", by now what has he done?  Put his Donald Keene Center in Tohoku to attract tourists?  Sorry, Kashiwazaki is quite far away from the disaster areas, and the Donald Keene Center website doesn't even mention the events in Tohoku as any form of motivation.  Visited Tohoku like other NJ to help out with relief efforts?  Well, according to his English Wikipedia entry, he gave a speech in Sendai; thanks, but…  Or opening up his library for free to the public?  No, sorry, that's not how business is done:
Not sure where profits are going.  Again, no mention of contribution to disaster relief on the Center's website.
And of course, there is one very big contribution to Japan he could still yet make.  One very big open secret about douseiaisha in Japan is that even if they can't get officially married (due to Japan's koseki system), they can still adopt one another and establish inheritance rights.  That's precisely what Keene did by naturalizing, getting his own koseki, and then adding his partner to it.  So in this worldwide wave of tolerance/reactionary intolerance towards gay marriage, gay rights is another issue Keene could use his influence to raise awareness about (and before you say he's too old to do so, consider George Takei).  But no.
Again, these are all a person's life choices, and I will respect Keene's.  Except for the fact that he doesn't respect others' life choices (he should read "Yes I Can" by Sammy Davis Jr., and learn something about not denigrating other minorities in his position to advance himself, and then pulling up ladders of opportunity behind him). He doesn't seem to be keeping his public promises.  His pandering to stereotypes about NJ, plus public gestures of self-hugging while making a show of his apparent self-sacrifices, are disingenuous upon closer inspection.
I'm not in the habit of paraphrasing Depeche Mode (I'm famously a proud fan of Duran Duran), but maybe it's time to start.  A stanza of "Everything Counts" applies here:
"All for himself, after all."
That is not the best legacy for immigrants and former NJ to leave behind.  Arudou Debito