mytest
Books, eBooks, and more from Dr. Debito Arudou (click on icon):



UPDATES ON TWITTER: arudoudebito
DEBITO.ORG PODCASTS on iTunes, subscribe free
"LIKE" US on Facebook at http://www.facebook.com/debitoorg
https://www.facebook.com/embeddedrcsmJapan
http://www.facebook.com/handbookimmigrants
https://www.facebook.com/JapaneseOnlyTheBook
https://www.facebook.com/BookInAppropriate
If you like what you read and discuss on Debito.org, please consider helping us stop hackers and defray maintenance costs with a little donation via my webhoster:


All donations go towards website costs only. Thanks for your support!
Hi Blog.  I thought it prudent to archive here on Debito.org another case of how other societies deal with discrimination.  We keep on hearing that, "Well, people discriminate all over the world, and it's just as bad in [insert country, usually the US] as it is in Japan.  So do something about racism in your own country before you lecture Japan."  Okay, but here's yet another example of what American society, for example, often does when somebody says something racist.  There are social repercussions that deter both the current and future racists.  In the case mentioned below, the racist got fired.  Not ignored, defended (including being defended by foreign media in Japan), given a venue (or his own political party; see here too) to spout and normalize even more racism, or even further elected to office, as can happen in Japan.
For your consideration, and for the record.  Dr. Debito Arudou
//////////////////////////////////////////
Denver Post columnist fired after 'disrespectful' tweet about Japanese driver's Indianapolis 500 victory
By Scott Allen and Cindy Boren
Washington Post, May 30, 2017
https://www.washingtonpost.com/news/early-lead/wp/2017/05/29/denver-post-sportswriter-issues-apology-after-facing-backlash-for-indy-500-tweet/
Terry Frei, a columnist who has been named Colorado's sportswriter of the year four times, is out of a job after tweeting that he was "very uncomfortable" with Japanese driver Takuma Sato winning the Indianapolis 500 on the day before Memorial Day.
Denver Post publisher Mac Tully and editor Lee Ann Colacioppo apologized Monday for a "disrespectful and unacceptable tweet" as they announced that Frei is no longer an employee of the newspaper because of the social media comment that sparked intense backlash.
"We apologize for the disrespectful and unacceptable tweet that was sent by one of our reporters," the statement reads. "Terry Frei is no longer an employee of The Denver Post. It's our policy not to comment further on personnel issues. The tweet doesn't represent what we believe nor what we stand for. We hope you will accept our profound apologies."
The Denver Post's statement on Terry Frei https://t.co/HPYG08FpCJ pic.twitter.com/PnN0tXO2oL
— The Denver Post (@denverpost) May 29, 2017
Frei apologized for the tweet he put up shortly after Sato's historic win. He later deleted it.
"Nothing specifically personal, but I am very uncomfortable with a Japanese driver winning the Indianapolis 500 during Memorial Day weekend," Frei tweeted after Sato became the first Japanese driver to win the prestigious race.
"I apologize," Frei tweeted hours later. The Denver Post tweeted an immediate apology Sunday night and indicated that Frei's tweet "does not reflect the standards and values of our organization."
I apologize.
— Terry Frei (@TFrei) May 29, 2017
Frei later tweeted a lengthier apology, which he deleted and replaced with a slightly revised version to remove the title of one of his books. "I made a stupid reference, during an emotional weekend," wrote Frei, who said his father was a World War II veteran.
Frei also apologized to Sato, who has had no public reaction to Frei's comment.
Here's the full text of Frei's apology:
I fouled up. I'm sorry. I shouldn't have said what I said when I said it. I should have known better and I regret it. I in no way meant to represent my employer and I apologized to The Denver Post.

On Sunday, I was going down to Fort Logan National Cemetery to place flowers on the grave of and to salute my father, Jerry Frei, who spent the four-year gap between his sophomore and junior seasons at Wisconsin flying the F-5 unarmed version of the one-man P-38 fighter plane in the 26th Photo Squadron. (And I did make that visit.) He flew alone, or with a partner in a second plane, over Japanese targets in advance of the bombing runs. When Blake Olson of Channel 9 asked him about being unarmed, he laughed and said, 'I had a pistol.' He flew 67 missions, crossing the 300 combat hours threshold, and earned the World War II Air Medal three times. I have written much other material about American athletes in World War II. I researched and wrote quite graphically about the deaths of my father's teammates, Dave Schreiner and Bob Baumann, in the Battle of Okinawa. I have the picture wallet containing photos of his family and girlfriend that Schreiner was carrying when he was killed. That is part of my perspective.

I am sorry, I made a mistake, and I understand 72 years have passed since the end of World War II and I do regret people with whom I probably am very closely aligned with politically and philosophically have been so offended. To those people, I apologize. (In fact, the assumptions about my political leanings have been quite inaccurate.) I apologize to Takuma Sato. I made a stupid reference, during an emotional weekend, to one of the nations that we fought in World War II — and, in this case, the specific one my father fought against. Again, I will say I'm sorry, I know better, and I'm angry at myself because there was no constructive purpose in saying it and I should not have said it, especially because The Denver Post has been dragged into this.
ENDS
//////////////////////////////////////////////////
Contrast this reaction with the kind of treatment Japanese media gave a Japanese high school baseball player Okoye Rui nearly two years ago.  Okoye, who just happens to have Japanese-Nigerian roots, brought forth reactions from the Japanese press that portrayed him as an "animal" with "wild instincts" on the "savannah", and more.  Yes, there were criticisms, as noted in Huffpost Japan, but nobody was fired or in any way clearly sanctioned for saying this about a schoolboy!  Where's the deterrent? — DDA.
///////////////////////////////////////////////
Properly formatted article at http://www.huffingtonpost.jp/2015/08/14/okoe-rui-hochi-report_n_7986326.html
夏の全国高校野球選手権大会に出場している関東第一高校(東東京代表)のオコエ瑠偉選手。ナイジェリア出身の父を持つオコエ選手を、アフリカの動物にたとえたような表現で伝えたスポーツ新聞の記事に批判が相次いでいる。
問題となったのは、8月12日付「スポーツ報知」の記事。11日の高岡商戦で3安打4打点、49年ぶりとなる1イニング2三塁打の活躍を、アフリカの動物にたとえた表現が複数箇所に見られた。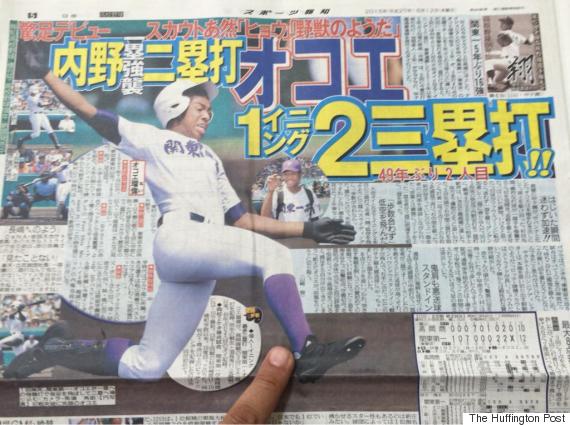 巨人の今秋ドラフト上位候補に浮上した、ナイジェリア人の父を持つ関東第一のオコエ瑠偉外野手(3年)が、野性味を全開させた。初回に一塁強襲安打を俊足で二塁打にすると、3回には49年ぶり2人目の大会タイとなる1イニング2三塁打。4打数3安打4打点に、守っては悪送球で"サク越え"。規格外の身体能力で聖地を沸かせ、チームを5年ぶりの16強入りに導いた。
味方まで獲物のように追いかけた。3回先頭で右中間三塁打を放つと、打者一巡。5点リードのなお2死満塁で再び、右中間を破った。「前が詰まっていたので、(一塁走者の)阿部を確認しながら行った」。言葉とは裏腹に、リードをとった一塁走者が三塁に到達する前に、二塁を蹴った。
真夏の甲子園が、サバンナと化した。オコエは本能をむき出しにして、黒土を駆け回った。初回先頭。痛烈な打球が一塁手を強襲すると、目を見開き、走路を膨らませた。
ヤクルト・小川シニアディレクターは「本能を思い切り出す野獣のようだ」。ロッテ・諸積スカウトは「ストライドが長い。ヒョウみたい」。スカウト陣からは野性的な賛辞が続出した。
「ここで高得点をつけると、満足する自分が出てきてしまう」。飢えたオコエが、浜風をワイルドに切り裂く。
この記事に、Twitterのユーザーから批判が相次いだ。
ハフポスト日本版は、8月14日午前、報知新聞東京本社に取材を申し入れた。同社は申し入れ後にインターネット上の記事を削除した。14日午後3時時点でまだ同社からの回答は得られていない。
【UPDATE】2015/08/14 16:03
報知新聞社企画本部は、ハフポスト日本版の取材に対し「記事へのご批判があった事実を真摯に受け止め、今後の報道に生かしたいと考えます」とコメントした。
===================================
Do you like what you read on Debito.org?  Want to help keep the archive active and support Debito.org's activities?  Please consider donating a little something.  More details here. Or even click on an ad below.