mytest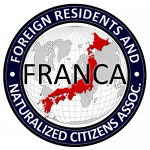 Hi Blog. Good news if this actually comes to fruition: The ludicrous system of registering NJ separately from J in residency certificates (juuminhyou) may be coming to an end. According a Kyodo article (that is too deficient in detail — Japan Times, do another article in depth, please!), we'll start seeing NJ registered with their families in three years. And hopefully as real, bonafide residents too (even though this is still not clear thanks to Kyodo blurbing). At least we'll see the end of the ridiculous gaikokujin touroku zumi shoumeisho and the invisible NJ husbands and wives. More on why the current registry situation is problematic here, including NJ being left out for tax-rebates, and not being included in official local government tallies of population. Arudou Debito in Sapporo
============================
The Japan Times, Friday, Dec. 19, 2008
http://search.japantimes.co.jp/cgi-bin/nn20081219a4.html
New registry rules for foreigners proposed
Kyodo News, courtesy of AW and Sendaiben
A government panel Thursday recommended creating a new system by 2012 to register foreign residents on a household basis, replacing the current individual-basis system, to better oversee their living conditions.
Japanese nationals are registered on a household basis.
In a report, the panel of experts under the Ministry of Internal Affairs
and Communications also recommended scrapping the current two-tier system in which the Justice Ministry
handles immigration and stay permits, while local governments handle registrations of foreign residents, and called for a unified control system.
Based on the recommendation report, the internal affairs ministry will submit a bill for the envisaged foreigner registry system to an ordinary Diet session next year, ministry officials said.
The proposed steps are expected to help improve the welfare, education and other public services for foreign residents, but critics warn it could lead to increased surveillance.
The number of non-Japanese residents has topped 2 million, more than doubling in the past 20 years.
Under the current system, non-Japanese residents are registered with local governments on an individual basis. The new system is designed to register them on a household basis and the information will be shared by local governments across Japan.
An advisory panel to the justice minister recommended in March that local governments abolish the issuance of foreign registration certificates.
ENDS