mytest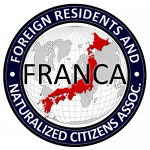 UPDATES ON TWITTER: arudoudebito
Hi Blog.  Just sent this out this evening to McDonald's USA's "Contact Us" section on their website (since McDonald's Japan is certainly giving the "Mr James" issue short shrift).  FYI.  Debito
Hello McDonald's USA:

You might be interested to read my column in the Japan Times talking about what's wrong with McDonald's Japan's "Mr James" Campaign:
http://search.japantimes.co.jp/cgi-bin/fl20090901ad.html

It has received similar attention in the San Francisco Chronicle:
http://www.sfgate.com/cgi-bin/article.cgi?f=/g/a/2009/09/02/apop090209.DTL

TIME Magazine:
http://www.time.com/time/world/article/0,8599,1918246,00.html

South China Morning Post (Hong Kong):
https://www.debito.org/?p=4176

and McDonald's Japan CR Director Kawaminami's rather embarrassing letter defending "Mr James":
https://www.debito.org/?p=4243

Not to mention Facebook's "I Hate Mr James" page (now at 223 members): http://www.facebook.com/group.php?gid=136293508102

Perhaps it's time to consider pulling the plug on this campaign before it embarrasses your organization any further?

Thanks for your attention.
http://www.mcdonalds.com/contact/contact_us.html
ENDS
=================================
UPDATE:  Note how Subway Sandwiches handles NJ shills.  Courtesy of and commentary by Erich:
I spotted this the other day when buying lunch!  The two foreign characters in this ad by Subway are treated fairly!
The girl on the left speaks in katakana, but it is a logical necessity since she is just naming food and saying "set", which is normally written in katakana anyway.  The man on the right speaks in proper japanese, using kanji instead of katakana for the word "vegetable". I think the McDonald's advertising agency should see this as an example of the right thing to do…

http://www.subway.co.jp/campaign/index.html
http://www.subway.co.jp/campaign/image/main1.jpg
ENDS