mytest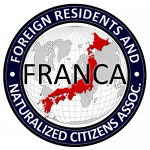 UPDATES ON TWITTER: arudoudebito
DEBITO.ORG PODCASTS now on iTunes, subscribe free
Hi Blog.  Some good news worth bringing up here for discussion.  The upcoming Immigration guideline changes that would have required enrollment in Japan social insurance for visa renewals has been dropped, or at least deleted from their checklist of requirements.
On balance, this is a good thing.  I have heard plenty of complaints from NJ saying how they would have to stump up full back payments for insurance that their employer should have paid half of (but utilized the cut-off starting point of 30 hours/week for "full-time" mandatory employer insurance contributions by employing their NJ staff contractually for 29.5 hours), or be denied a visa renewal.  Of course, Japan's (pretty weak) labor law enforcement bodies should have gone after these exploitative employers, but Immigration instead did the quick and dirty (and, yes, sensible) step you see below of just snipping out the guideline.  It's still a good thing, in that pressure for flexibility in the system for NJ who may have otherwise been shafted both ways by the system did win out.
First a Japan Times article excerpt, then a rebuttal from Debito.org Reader TA sent to the editor of the Japan Times, regarding the conflict of interest the advocate Free Choice Foundation (which does have an excellent summary of the issues here) has in this issue, et al.  Arudou Debito in Sapporo
/////////////////////////////////////////////
The Japan Times Tuesday, Feb. 2, 2010
New visa rule on insurance to be deleted
Aim is to ease foreigners' concerns (excerpt)
By MINORU MATSUTANI Staff writer
http://search.japantimes.co.jp/cgi-bin/nn20100202a1.html
The Immigration Bureau is planning to change a new guideline for foreign residents to ease concerns that those without social insurance will be forced to choose between losing their visa and entering the insurance system, a bureau official said Monday.
But some foreigners warn the move won't be enough to entirely free them of the risk of being forced to enter the insurance system.
The wording of the guideline, which is to be enforced April 1, currently stipulates that foreign residents must present their health insurance card when reporting changes to or renewing their residential status. It is the last of the guideline's eight items.
"The bureau will delete item No. 8 by the end of March, and 'lightly mention' the need to present a health insurance card in the introductory passage of the guideline," Immigration Bureau spokesman Yoshikazu Iimura told The Japan Times. "The wording will be in a manner to eliminate foreign residents' concerns that their visas won't be renewed if they don't have insurance."
The bureau will try to persuade foreigners who don't have the card to enter the social insurance system by giving out brochures, but not having the insurance won't affect the bureau's decision whether to grant a visa, he said.
Rest of the article at:
http://search.japantimes.co.jp/cgi-bin/nn20100202a1.html
/////////////////////////////////////////
Response from TA:
Letter to the Editor, Japan Times:
Regarding the Immigration Bureau's decision to rescind its earlier ruling requiring proof of social insurance enrollment for visa renewal: While this may appear to be "good news" in that foreign residents who aren't currently enrolled will still save some money by not being forced to pay into the social insurance system, it's wider implication for foreign workers, and what it says about the quality of reporting in "the Japan Times," is disturbing.
The article states that the reasons foreigners aren't in the national social insurance system are that they either prefer the services of foreign-oriented clinics that don't take national health insurance, or that they simply don't want to pay the social insurance premiums. However, this is disingenuous in that it leaves out other major reasons foreign workers aren't in the social welfare system; either their employers break the law by not enrolling them at all, or they keep workers hours just below full time, at 29.5 hours. Indeed, it is actually companies who depend on foreign workers that would likely most oppose their enrollment since it would mean employers would have to fulfill their legal obligation to pay half of their health insurance and pension.
There is no doubt that the current social insurance system leaves much to be desired for foreign residents, especially since those enrolled in the government pension system can only get a lump sum of three years of pension payments when they leave, no matter how long they've paid in. However, since pension payments are now portable for citizens of the United States, Germany, and other countries that have bilateral pension treaties with Japan, this problem is on its way to being solved.
The problem of underemploying almost-full time workers to escape enrolling them in the social insurance system is more difficult to deal with under the current scheme. However, if there were one national insurance system that all people working in Japan were enrolled in, and into which their employers paid in proportion to hours worked, this problem could be solved as well. Having one national health insurance for all would also solve the Japanese government's larger problem of getting cash and care for its own citizens, many of whom work part-time, and thus lack employer social insurance contributions.
In the future, here's hoping the JT will do a better job of reporting the wider issue and its implications, rather than looking just at apparent short-term benefits.
ENDS