mytest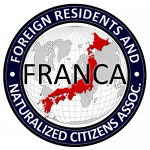 UPDATES ON TWITTER: arudoudebito
DEBITO.ORG PODCASTS now on iTunes, subscribe free
Hi Blog. I will be on the road interning at the JAPAN IMMIGRATION POLICY INSTITUTE (JIPI — Sakanaka-san's group), hosting/helping with NGO FRANCA (Foreign Residents and Naturalized Citizens Association) meetings, and doing speeches here and there. If you are in the area and have time, do stop by or get in touch (debito@debito.org) for some beers etc.  Still open for speeches (I'm doing all this at my own expense) if something can be thrown together at short notice.
Basic schedule as follows:
========================
MARCH-APRIL 2010 SCHEDULE
FRI MAR 19 MORIOKA
SAT MAR 20 MORIOKA
SUN MAR 21 SENDAI FRANCA MEETING 1PM
MON MAR 22 TOKYO
TUES MAR 23 TOKYO INTERNING JPN IMMIG POLICY INSTITUTE
WED MAR 24 INTERNING JIPI, MEETING 7PM
THURS MAR 25 SHIGA UNIVERSITY SPEECH 1:30PM-5PM
FRI MAR 26 INTERNING JIPI
SAT MAR 27 TOKYO FRANCA MEETING 6PM-9PM
SUN MAR 28 free day as yet
MON MAR 29 INTERNING JIPI, JIPI SPEECH 7PM-9:30 PM
TUES MAR 30 INTERNING JIPI
WEDS MAR 31 INTERNING JIPI
THURS APR 1 INTERNING JIPI
FRI APR 2 INTERNING JIPI last day
SAT APR 3 return to Sapporo
========================
This schedule may change, and I will update it here, so check back from time to time.  The UN Special Rapporteur Jorge Bustamante will be in town (dates TBD), so I may be making our case to him as well.
NOTES ON EVENTS:
SUNDAY MAR 21

Sendai FRANCA Third Meeting
Location: AER Building El Solar 28F Meeting Room 1
Sunday, 21 March 10 @ 13:30 Ends 16:30

Come along to our third meeting and talk about issues relevant to Sendai FRANCA. We will be looking at recent events and planning for the future, including the possibility of a lawsuit against the Sumo Association for its new rule counting naturalized citizens as "foreign wrestlers" for their stable limitations. Cost: FREE (suggested donation 200 yen)
SATURDAY MAR 27

FRANCA Tokyo Meeting Saturday March 27, 2010; 6PM-9PM International House of Japan 5-11-16 Roppongi Minato-ku, Tokyo Meeting Name – FRANCA.  How to get there at http://www.i-house.or.jp/en/ihj/access.html

Topics: Membership, Why FRANCA?, and perhaps what to do about the recent Sumo Association rules that say that naturalized sumo wrestlers are also to be counted as the one "foreign" wrestler allowed in sumo stables. More on that here:https://www.debito.org/?p=6085
THURS MAR 25 is my annual guest lecture at Shiga University on issues of discrimination and assimilation.  Starts 1PM.  More details Dr Robert Aspinall at aspinall_robert AT hotmail DOT com.
MON MAR 29 JIPI SPEECH IN JAPANESE

■日時: 2010年3月29日(月)19時~21時(予定)

■会場: 港区勤労福祉会館 第一集会室

■講師: 有道出人 (あるどう でびと)

■テーマ: 「移民の必要性―あるべき姿」

■アクセス: 都営地下鉄A7出口より徒歩1分/JR田町駅西口(三田口)より徒歩5分

主催:一般社団法人移民政策研究所所長(JIPI)
Again, I'm happy to give more speeches (I'm doing this entire trip on my own dime), so let me know (debito@debito.org) if there is anyone else out there who wants to hear what I have to say.  Thanks.  Arudou Debito in Sapporo