mytest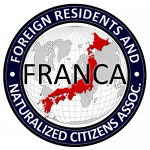 UPDATES ON TWITTER: arudoudebito
DEBITO.ORG PODCASTS now on iTunes, subscribe free
Hi Blog.  I'm currently at work at JIPI on my presentation for next Monday evening on why Japan needs immigration, and what Japan must do to bring it about.
I've made a list of the Merits and Demerits of Immigration, and will deal with each one in turn in my powerpoint.  Plus I will talk about the issue in terms of a "give and take", as in what the GOJ must give to Immigrants, and what Immigrants must be willing to give back to Japanese society in return.
I have plenty of ideas, of course.  But let me ask Debito.org Readers for feedback on the above issues:
What are the merits of immigration?
What are the demerits of immigration?
What should the GOJ give to make Japan more attractive for immigrants?
What should immigrants do to make themselves part of Japan?
It's a very open question I'm asking, of course.  I just don't want to think about this all alone and miss something important that we all should have said.  Fire away.  Arudou Debito in Tokyo