mytest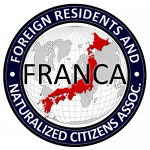 UPDATES ON TWITTER: arudoudebito
DEBITO.ORG PODCASTS now on iTunes, subscribe free
Hi Blog.  Friend Curzon alerted me to this odd little article yesterday on CNNGo.com:
/////////////////////////////////////////////////////////////
Japan invites tourists — but there may be no room at the inn for foreigners
Controversial activist claims dodgy non-Japanese policies blight Japan's hotel industry despite relaxed VISA laws
By Robert Michael Poole 6 July, 2010
http://www.cnngo.com/tokyo/life/japan-invites-tourists-theres-no-room-inn-338470
Encouraged by the boost to the economy that Chinese tourists have been giving, Japanese Foreign Minister Katsuya Okada announced only last week that VISA restrictions will be eased to allow mid-level income earners from China to make the grade. Previously only wealthy Chinese could make it through immigration, but the necessary income level of VISA applicants is being cut from 250,000 yuan (36,000 U.S. dollars) per year to just 60,000, which the government believes makes a further 16 million Chinese eligible.
The problem though, as highlighted in a column in today's Japan Times, is that Japanese hotels are not only legally entitled to discriminate and bar non-Japanese, but many make false excuses to avoid foriegners [sic] of any sort staying in their premises. "Japanese only" signs appear not just in hotels, but at onsens (hot springs), bars, restaurants and entertainment venues too.
Despite this sometimes leading to (successful) lawsuits, including a famous case against Yunohana onsen in Otaru, Hokkaido by activist David Schofill in 2001, a government survey in 2008 found 27% of hotels did not want any non-Japanese staying with them. Schofield [sic]– better known today by his Japanese name Debito Arudou and renowned for being an outspoken and sometimes controversial activist — found excuses from hotel staff ranging from "In case of an emergency, how can we communicate with non-Japanse [sic] effectively to get them out of a burning building?" to not having western-style beds.
Most curious though, is the Toyoko Inn chain of hotels which has opened a 'Chinese-friendly' branch in Susukino, Sapporo. Perhaps they were encouraged by the news of the largest tour group ever to visit Japan — 10,000 workers and families from Pro-Health, a Beijiing [sic]-based health product company. According to the Japan National Tourism Organization, they'll reach Japan on Ocober [sic] 9th. Probably best to avoid the queues at immigration that day.
///////////////////////////////////////////////////
COMMENT: My name was once Schofill, when I was born and before I was adopted.  The source for my name was Good Ole Wikipedia (see the troubles I've had with them here), increasingly the source for busy journalists, it seems.
Anyway, I posted the following response to the article yesterday:
==================================
I wish the reporter had at least gotten my name right. I haven't been called by my last name Schofill (or the permutation Schofield in the next line) since about 1972, and was (as my blog, www.debito.org, has always indicated) David Aldwinckle.
While I appreciate the attention to the issue, I should think a more thorough attempt at research is more appropriate under the banner of CNN.
PS: The hotel in question is [not "Chinese-friendly"] — it is indeed "Chinese Only". Even the Japanese media has reported it as such, and a call to them revealed that they even refuse Japanese tourists. https://www.debito.org/?p=6864

==================================
The above comment was approved this morning with apologies and corrections to the name (not yet to "foriegner" etc., however).  Here's hoping reporters at CNNGo enable their computers to run a spell check, and avail themselves of enough time to conduct research on controversial subjects that goes deeper than Wikipedia.
But seriously, thanks again for the attention to the issue.  Arudou Debito