mytest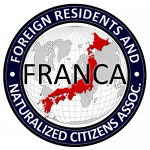 UPDATES ON TWITTER: arudoudebito
DEBITO.ORG PODCASTS on iTunes, subscribe free



JUST BE  CAUSE
Charisma Men, unite against the identity enforcers
The Japan Times March 1, 2011
Courtesy http://search.japantimes.co.jp/cgi-bin/fl20110301ad.html
English teachers in Japan get a bum rap. Not always taken seriously as professionals, and often denied advancement opportunities in the workplace, they are seen as people over here on a lark. They get accused of taking advantage of Japanese society to earn easy money, canoodle with the locals, then go home. They even get blamed (JBC, Sept. 7, 2010) for the low level of English in Japan.
They are also often derided as "losers," as evidenced by the comic strip "Charisma Man."
First featured in a Nagoya newsmagazine and later collated into a book, "Charisma Man" tells the story of a scrawny Caucasian nebbish who escapes his job serving fast food in Canada, comes to Japan, and instantly transforms into a buff, lantern-jawed lothario, able to seduce Japanese women in a single bound.
He can defy all Japanese rules, coming out on top of any situation through charisma alone. His nemesis is Western Woman, who sees through the facade and reduces him back to nebbish status with a single glare.
To be sure, "Charisma Man" is a hilarious series, offering home truths for people frustrated by the lack of professionalism in their colleagues, or by the disparate ways in which men and women are treated in Japanese society.
The problem is, like many comic strips about an employment sector, it stereotypes dangerously: It makes anyone in eikaiwa look like frauds, as if they're "faking it" as unqualified professionals. Unable to get a job "back home" in anything meaningful, they're merely marking time in Japan. I know several professional educators who hate the strip, because their students read it and ignorantly point at them as an example.
But there is one aspect of the "Charisma Man" phenomenon that is little talked about: what I will call "Immigrant vs. Identity Police." Let's take Charisma Man's side in this column, and suggest why he too might have been given a bum rap.
Charisma Man is initially a tragic figure. He's stuck in a dead-end job "back home" and derided for being a dud. His predicament might be his fault (due to a lack of education or motivation) or might not be (due to a lack of economic opportunity in his neighborhood). But either way, he's depicted as a loser.
So he comes to Japan and is again stuck in a dead-end job. But this time he winds up being a "winner" in some respects. He is finally getting something always denied: a modicum of respect. Earned or not, respect can be transformational in a person's development. Charisma Man remakes his identity.
However, then come the Identity Police, be it the reader or the (rather offensive stereotype of) Western Woman. They're trying to force Charisma Man back to the predestination of failure.
That's unfortunate. One of the problems with the world is the lack of social mobility — the lack of opportunity for people to realize their potential, to decide their own fate, to redesign themselves as they please.
Either by bad luck or poor guidance, many people get slotted from an early age into social roles that are disadvantageous, e.g., "geek," "loner," "fat chick," "spaz," "slacker," "weirdo," "psycho" . . .
This leads to broken dreams and embittered souls. Witness the phenomenon of the hikikomori (social dropouts who can't even leave their bedrooms), or the Akihabara knifings of 2008 (where the killer was expressly sick of being part of the make-gumi, or loser class). As some people disparagingly say, these people need to go out and get laid.
Well, that's exactly what Charisma Man did. He got out of his "burger-flipping class" and found himself on the sweeter side of society here.
Point is, why should anyone be stuck somewhere they're not able to make a better life for themselves?
That is the very essence of the immigrant: Someone who was dealt a bad hand in their birthplace emigrates and gets a fresh cut of the cards. If they move and provide a valued, profitable service to their new society, bully for them.
Now, of course, Charisma Man is not a template. He's a humorous stereotype about someone who gets what he really doesn't deserve.
But he must be viewed in the proper perspective — not as an indictment of English teaching or of teachers in general. Charisma Man is a bubble-era social parasite. He will probably not remain in Japan for good, because he has little incentive to learn about the society that is treating him so well.
So what I'm speaking out against here is the Identity Police. Why should they be given carte blanche to force people back into the inferior positions they managed to escape from?
Whenever somebody insinuates "You don't really belong in Japan" or "You're really a loser back home," that person should be told: "Japan is my home and I belong here just fine. I'm not just coasting along on charisma." A decent job and a secure income is sufficient proof of socially acceptable services rendered.
In other words, tell the Identity Police to go police somebody else's identity. All you readers out there being derided as Charisma Men — unite. Be proud that you're making a better way for yourself. Everyone should be so lucky as to have a second chance at life.
Arudou Debito has completed a new novel entitled "In Appropriate," on child abductions in Japan. On sale in March. Twitter arudoudebito. Just Be Cause appears on the first Community Page of the month. Send comments on this issue to community@japantimes.co.jp