Posted by Dr. ARUDOU, Debito on September 23rd, 2012
Books etc. by ARUDOU Debito (click on icon):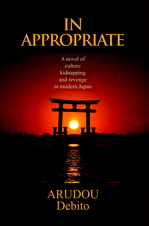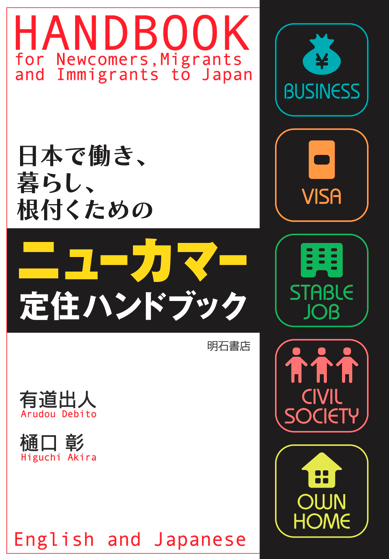 UPDATES ON TWITTER: arudoudebito
DEBITO.ORG PODCASTS on iTunes, subscribe free
Hi Blog.  Been doing some writing and inserting into my research the definition of "gaijin" in Japan in terms of marketing.  You might remember this little tidbit from Debito.org, March 25, 2009:
Well, when I was looking up the maker and sales price on Amazon Japan last night, guess what I discovered.  The product has now been changed, as of August 2012:
Note the stereotypical racialized characteristics for both "dokkiri" party goods include large a large nose, blue eyes, cleft chin, blond hair, "Hollywood smile," and grand gesticulations.  The default language for the "foreigner" (as seen by the harō and ha-i!) is English (if not katakana Japanese for the desu copula).  However, "gaijin" has been adjusted to "gaikokujin" (as if that makes the commodification of racism all better).
Note also that even though this apparently has been a recent change (information was received by Amazon Japan only last month), it's suddenly "currently unavailable" and "can not be shipped outside Japan".  (I wonder if anyone looking at the product with an IP in Japan is also unable to purchase it.)  See screen capture here:
(Screen capture as of September 22, 2012.)
Same thing with the racialized Little Black Sambo dolls I found on Amazon Japan last night (which have been on sale since shortly after unbook Little Black Sambo was resuscitated in Japan, extending racism into the next generation):  It's also "currently unavailable."  And anyway not for sale outside of Japan.  So methinks the producers are well aware that they could get in trouble if marketed to an overseas audience.  But no matter — there's money to be made here — who cares if the product is racialized when the domestic market from childhood thinks racism of this sort is unproblematic? (Moreover believes it only goes one way — given the Perpetual Victim Complex, Japanese are more likely to be the victims of racism than the perpetrators of racism, of course.)
Anyway, I think Debito.org can claim credit for the "gaijin" => "gaikokujin" change.  Who else is covering this issue and archiving it?  I have the feeling that they saw it (as news anchor Kume Hiroshi did back in 2006, when he apologized ten years later for an obnoxious remark he made on national TV about "gaijin" back in 1996) and felt embarrassed enough to make some adjustments.  Not embarrassed enough to take it off the market, of course (as Mandom did their racist product back in 2005).  But we're working on that.
Thanks for your support, everyone.  Arudou Debito
UPDATE Sept 24:  Here are a couple more, courtesy of the same company (thanks Debito.org Readers):  The "Kurohige Gaijin-san" (beard seems to be chiseled to look a bit like Tony "Darling Foreigner" Laszlo's comic character) and the "Hana Megane Gaijin-san."  
http://www.kk-jig.com/products/orderno_6156/
http://www.kk-jig.com/products/orderno_6084/1/
However, the packaging for the Gaijin Beard mask is significantly different if you find it on the store shelves.  The image is less Tony Laszlo, more mullah.  Courtesy of DMG, taken at Tokyu Hands Shibuya, September 23, 2012.
Funny how the mullah glasses even have UV protection…