Posted by Dr. ARUDOU, Debito on February 28th, 2013
Books etc. by ARUDOU Debito (click on icon):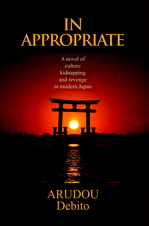 UPDATES ON TWITTER: arudoudebito
DEBITO.ORG PODCASTS on iTunes, subscribe free
"LIKE" US on Facebook at http://www.facebook.com/debitoorg
http://www.facebook.com/handbookimmigrants
Hi Blog. As a followup to the previous blog post talking about racist public notices by the Japanese police forces, here is another type of discriminatory sign that is also worthy of discussion — one that warns the public that NJ are criminals:
=====================================
(in Japanese, Chinese, Portuguese, and English)
警告
外国人による犯罪行為については、警察だけではなく
職場や派遣会社にも「必ず」連絡します。
WARNING
If we find any kinds of criminal acts of foreigners, we SURELY report not only to the police but also to your workplace and your agency.
— GENKY Stores Inc (a drugstore in Kani-shi, Gifu-ken, dated February 28, 2013, taken by HSD, courtesy of shared links on Facebook through SM)
=====================================
We have talked about this on Debito.org for years now:  If you want to call for an end to criminal activity, we suggest drawing attention to the CRIME, not the NATIONALITY.  It's not as if Japanese are innocent of, for example, shoplifting.  In 2009, we had the Tokyo MPD deciding to survey (as opposed to arrest and snitch on their workplace) 2000 shoplifting suspects to find out their crime patterns (how nice and mellow of them; nicer than getting them fired and deported) — especially of the "lonely elderly":
=====================================
Police combat crime by "lonely" elderly
Reuters.com  By Colin Parrott
TOKYO | Thu Aug 27, 2009 12:41pm EDT
http://www.reuters.com/article/2009/08/27/us-japan-elderly-idUSTRE57Q48D20090827
(Reuters) – Tokyo police will try to rein in a wave of shoplifting by lonely elderly people by involving them in community service, a police spokesman said Thursday.
One out of four elderly shoplifters in the capital blamed their crime on loneliness, Japanese media quoted a police survey as saying. Another 8 percent said it was because they had "no reason to live."
More than half the elderly shoplifters said they had no friends and 40 percent of them lived alone, media said.
"Making shoplifters do volunteer work in the community is effective," the Tokyo Shimbun quoted J.F. Oberlin University professor Akihiro Sakai, head of a police research panel set up to tackle shoplifting, as saying.
"Instead of increased punishment, I hope we can rehabilitate shoplifters with special care."
A police spokesman declined to confirm the details of the survey but said it would be released to the public soon.
Elderly shoplifting cases in Tokyo reached all-time highs last year, nearly catching up with the number of cases involving young offenders.
People 65 years or older accounted for 23 percent of the 17,800 known shoplifting cases in 2008, more than doubling in the past five years, media said.
An example cited in the Ministry of Justice's annual report on crime describes a 76-year-old woman who turned to shoplifting several years ago as a way to battle loneliness after her parents died.
Over 20 percent of Japan's population is aged 65 or over, with that figure set to double by 2050.
ENDS
////////////////////////////////////////
And these crimes just keep rising:
////////////////////////////////////////
BBC News, 27 January 2011
Japanese pensioners' shoplifting hits record high
http://www.bbc.co.uk/news/world-asia-pacific-12296077
More than a quarter of shoplifters arrested in Japan in 2010 were over the age of 65, police have said, as the number of pensioners committing the crime hit a record high.
In an annual report, the National Police Agency said 27,362 pensioners were arrested for shoplifting in 2010 – almost equalling teenagers.
Most of them stole food or clothes rather than luxury items, the NPA said.
Japanese society is ageing rapidly and its economy remains stalled.
More than 20% of the population are now over the age of 65 – a figure which is expected to rise to about 40% by 2050.
A police official told the Mainichi newspaper that pensioners were shoplifting not just for financial reasons "but also out of a sense of isolation peculiar to the age".
In recent decades the traditional three-generation household structure has changed – more young people have moved to cities to find employment, leaving elderly parents on their own.
Pensioners who want to work have also found it harder to find jobs because of the economic crunch.
Police say the record high – with pensioners comprising 26.1% of all shoplifters – represents a persistent trend.
When record keeping began in 1986, the number of pensioners arrested stood at 4,918. It has climbed since then, hitting 10,000 in 1999 and 20,000 in 2004.
ENDS
/////////////////////////////////////////////////
COMMENT:  How sweet and understanding our police forces are towards these lonely oldies that need some kid-gloved "rehabilitation".  Although there are some doubts as to how much of an "epidemic" this is (i.e., more old people means more old shoplifters, statistically), the fact remains that Japanese shoplift too (104,827 arrests in 2011 alone; arrests, mind you, not catch and release with a warning 'cos "they're so lonely" (cue South Park music)).
Also, note how signs by the police warning the public against shoplifting do NOT target oldsters as a demographic:

(Courtesy Japan Times Yen For Living Blog)
For even more sweetness, blog authors Philip Brasor and Masako Tsubuku write:
====================================
At least one blogger writes that, statistically speaking, it's to be expected. Masamizu Kibashiri (an obvious pseudonym) points out that the fatalist tone of the reporting on elder shoplifting hides a salient and very apparent fact: The number of old people has risen sharply during the past decade while the number of minors has declined at almost the same rate. In the past 20 years, the over-65 population of Japan has jumped from 15 million to 27 million. Given this increase, the slighter rise in shoplifting arrests could actually be taken as being encouraging: Not as many older people are shoplifting as might be expected.
Kibashiri proposes a different statistical model for gauging the phenomenon: Number of elder arrests per 10,000 population of over-65s. Using that statistical model, he finds that the percentage of elder shoplifters has, in fact, risen significantly, from 2.8 in 1989 to 9.5 in 2009, with the largest jump coming around 2005. Obviously, there is a meaningful increase here, but the media needs to qualify its reporting of an "epidemic."
====================================
Well, good. I'm glad the method behind the statistical analysis gets properly scrutinized if there are Japanese being targeted by it. Now how about the same thing for NJ crime? Nuh-uh. Not so far. Again, signs and notices concerning NJ crime zero in on the criminal, not the crime, making criminality a function of nationality in Japan's public discourse. No intelligent qualification or caveat necessary unless we're dealing with Japanese (because, after all, we have to be gentle).  Again, its not a fair debate.
Returning to the Genky Stores genre of signs, here are a few more examples from Debito.org from as far back as 2002:


http://www.debito.org/TheCommunity/communityissues.html#police


http://www.debito.org/TheCommunity/shizuokakeisatsuhandbook.html
Arudou Debito
================
UPDATE: RM reports the signs at the Genky store in Minokamo have been taken down.
http://japansociology.com/2013/03/06/update-after-protests-genky-store-takes-down-foreigner-crime-sign/
— Great visuals on the YouTubed video. Watch to the end where the local NJ get to crumple up the sign. Bravo.