mytest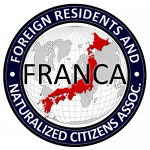 UPDATES ON TWITTER: arudoudebito
DEBITO.ORG PODCASTS now on iTunes, subscribe free
Hi Blog . The Japan Times reported UN Special Rapporteur Bustamante's interim comments during his current-two-week fact-finding mission to Japan, particularly as pertains to the GOJ visa system that deports people even if it means splitting apart families (cf. the Calderon Noriko Case).
Dr Bustamante takes a very dim view of this below. He will also be giving a press conference this Wednesday, March 31. I hope the information we at FRANCA provided him last week will also be factored into his statements and advice. Arudou Debito in Tokyo
///////////////////////////////////////
The Japan Times, Sunday, March 28, 2010
Deportation rule troubles U.N. official (excerpt)
By MASAMI ITO, Staff writer, Courtesy of John in Yokohama
http://search.japantimes.co.jp/cgi-bin/nn20100328a2.html

A recent government decision to deport only the parents of families without residency status, thus separating children from their mothers and fathers, flies in the face of the Universal Declaration of Human Rights, Jorge Bustamante, the United Nations special rapporteur on the human rights of migrants, said Saturday in Tokyo.
Fact-finding: Jorge Bustamante, the United Nations special rapporteur on the human rights of migrants, greets Noriko Calderon, the daughter of a deported Filipino couple, in Tokyo Saturday. Lawyer Shogo Watanabe, who represents her family, also attended the meeting. KYODO PHOTO
Bustamante, who is on his first official fact-finding mission to Japan, is meeting with government officials, nongovernmental organizations, legal experts and foreign residents, and is expected to submit a report on Japan to the U.N. Commission on Human Rights.
On Saturday, he met with residents caught in the deportation dilemma — among them Noriko Calderon, a 14-year-old girl who was born in Japan to an undocumented Filipino couple. Calderon's case drew media attention when her parents were deported last spring.
"It is very difficult to live separated from my parents, and I miss them very much," Calderon said. "But I hope that one day, all three of us can live in Japan together and I plan to do my best" to realize that goal.
Bustamante expressed concern over the separation of families and said he would cite the situation in his report.
"It's going to be made public," Bustamante told the gathering. "And this, of course, might result in an embarrassment for the government of Japan and therefore certain pressure (will be) put on the government of Japan."
Rest of the article at
http://search.japantimes.co.jp/cgi-bin/nn20100328a2.html

ENDS