Posted by Dr. ARUDOU, Debito on April 24th, 2012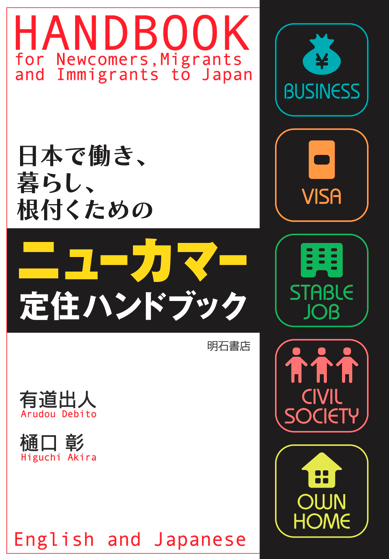 UPDATES ON TWITTER: arudoudebito
DEBITO.ORG PODCASTS on iTunes, subscribe free
Hi Blog. I've sat on this for more than a year. Now that the whole debate on "granting foreigners suffrage will mean the end of Japan" has probably died down a bit, it's time that we look back on what happened then, and on the aftermath wrought by people losing their heads.
After the Democratic Party of Japan came to power in 2009, after decades of mostly unbroken and corrupt Liberal Democratic Party rule, there was hope for some new inclusive paradigms vis-a-vis NJ in Japan, one of their smaller party planks was granting NJ (undecided whether NJ would be Permanent Resident or Zainichi Special Permanent Resident) the right to vote in local elections (like other countries do). This, alas, occasioned much protest and alarmist doomsaying about how Japanese society would be ruined by ever enfranchising potentially disloyal foreigners ("They'd concentrate in parts of Japan and secede to China!", "Kim Jong-Il will now have influence over Japan!"), and suddenly we had regional governments and prefectures passing petitions (seigan) stating that they formally oppose ever giving suffrage to foreigners.
The Tsukuba City Council was no exception, even though Tsukuba in itself is an exceptional city. It has a major international university, a higher-than-average concentration of NJ researchers and academics, a centrally-planned modern showcase living grid with advanced communication networks, and one of Japan's two foreign-born naturalized citizens (Jon Heese; the other city is Inuyama's Anthony Bianchi) elected to its city council. Yet Tsukuba, a city designed to be one of those international communities within Japan, was given in December 2010 a petition of NJ suffrage opposition to consider signing and sending off to the DPJ Cabinet. Here's the draft:
I was sent a copy of this shortly after it came out, and was asked what counterarguments to it, if any, I would present if I could. Here's most of what I said:
//////////////////////////////////////////
December 18, 2010
1) Why is it necessary to express our opposition to this? Is there a petition out there expressing our support of this? No, because calmer heads do not see any alarm in giving NJ the vote. Responding in this way is just alarmism (kiyuu in Japanese, use this word in specific — I've found it makes people shudder in shame at themselves). Why ride the wave of panic and xenophobia being created by the xenophobic right-wing into passing a petition we will regret later? It looks bad for our international city of Tsukuba, with so many educated NJ residents, contributors, and taxpayers, to do so.
2) "Naturalization" is offered as a solution for the right to vote. But as you and I know as naturalized citizens, naturalization is a difficult procedure, with arbitrary rules, judgments, and treatment of candidates differing by nationality. Other countries have allowed their Permanent Residents to vote in local elections and suffered no ill-effects, including New Zealand, Canada, and parts of the United States. Do not think that this is something you can cite in support of this petition.
3) As for the constitutional issue, the Asahi wrote on July 5 in an editorial:
==================================
Some say foreigner suffrage goes "against the Constitution." However, it is only natural to construe from the Supreme Court ruling of February 1995 that the Constitution neither guarantees nor prohibits foreigner suffrage but rather "allows" it.
The decision on foreign suffrage depends on legislative policy.
In an age when people easily cross national borders, what kind of society does Japan wish to become? How do we determine the qualifications and rights of people who comprise our country and communities? To what extent do we want to open our gates to immigrants? How do we control social diversity and turn it into energy?
「憲法違反」との主張もある。しかし、1995年2月の最高裁判決は、憲法は外国人地方選挙権を保障も禁止もしておらず「許容」している、と判断したと読むのが自然だ。付与するかどうかは立法政策に委ねられている。
カネやモノ同様、ヒトも国境を軽々と越えゆく時代。日本はどんな社会をめざすのか。国や地域をかたちづくる構成員の資格や権利をどう定め、どれだけ移民に門戸を開き、多様性をコントロールしつつどう活力に変えるか。
==================================
Sources for the Asahi and more here:
http://www.debito.org/?s=suffrage+constitution
Other related articles of note, for more inspiration:
http://search.japantimes.co.jp/cgi-bin/nn20091201i1.html
http://search.japantimes.co.jp/cgi-bin/fl20100202ad.html
In sum, I suggest people appeal to common sense and level-headedness. Why do we need a negative petition like this at all? This is mere alarmism fomented by right-wing xenophobes who do not even consider naturalized citizens to be "real Japanese" (http://search.japantimes.co.jp/cgi-bin/fl20100202ad.html). Do we want them to tell our city government to join in the beying anti-foreign chorus, when one of the beneficiaries of your open-minded public was your very election? Can we betray them by passing this? Don't give in to fear. We don't need to say something nasty about our foreign residents and taxpayers. We don't need to say anything about this issue at all. Just don't pass this petition. Is what I would argue. ENDS
////////////////////////////////////////////////
Unfortunately, the petition did pass, and Tsukuba City joined the ranks of the alarmists after being scared by the xenophobes; the suffrage proposal had gone down in flames nationally during 2010 anyway, so this was but a capstone.  Sad, really. Despite the opposition to the petition that people like Jon mounted, people fell for the shouting down, and it just demonstrated just how disenfranchised and unable to answer alarmist accusations NJ in Japan are.
Here's hoping Tsukuba City unpasses this petition. (They can, you know, if Tottori Prefecture is any guide.) Arudou Debito