mytest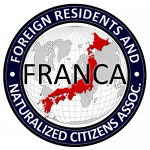 UPDATES ON TWITTER: arudoudebito
Hi Blog. Next in the series on the IC Chip Gaijin Card controversy (the first two were on the politicians' views, the second on the bureaucrats', and why they were both proponents), the Japan Times's Matsutani-san now presents the activists' view from the Left in opposition. The Japan Civil Liberties Union's Hatate explains his viewpoint. Right after the view from the Extreme Right (who are also in opposition because it's not tough enough!). Excerpt follows. Arudou Debito in Sapporo
==========================
The Japan Times, Tuesday, June 30, 2009
CONTROLS ON FOREIGNERS
Activist sees holes in bills to snare illegals
By MINORU MATSUTANI, Staff writer
Third in a series
http://search.japantimes.co.jp/cgi-bin/nn20090630f1.html

Making a stand: Akira Hatate, director at the nongovernment organization Japan Civil Liberties Union, speaks with The Japan Times at a cafe in Chiyoda Ward, Tokyo, on June 23. He is among the key activists opposing legislation to tighten control of foreign residents. MINORU MATSUTANI PHOTO
Activist Akira Hatate opposes the bills to tighten control of foreign residents, arguing they will not serve the government's goal of clarifying who is in the country illegally because transgressors will see little benefit in turning themselves in.
"What (the bills will) achieve is to tighten control of law-abiding foreigners, who have no need to be under tight control," Hatate, director of the nongovernmental organization Japan Civil Liberties Union, told The Japan Times…
"The bills are very unbalanced because the government will not be able to control the intended target: undocumented foreigners," Hatate said. "Instead they will greatly tighten the leash on properly registered foreigners, who do not need monitoring.
"To me, this is the government's reinforcement of infrastructure to control foreigners. Fingerprinting at airports is to control entrants and the bills are to control residents. The government probably thinks it needs to do this because the number of foreigners will inevitably increase," he said.
Full article at http://search.japantimes.co.jp/cgi-bin/nn20090630f1.html

ENDS