mytest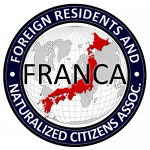 UPDATES ON TWITTER: arudoudebito
Hi Blog.  Here's one way to tip any undesirable downward trend in statistics:  change the paradigms.  In this case, the Internal Ministry considers "Japanese population" not only as births and deaths, but also inflows.  That is, inflows of citizens only.  Once again, inflows (or current residency) of foreigners are not considered part of the "population", even though they pay taxes and contribute to Japanese society like any other living breathing soul.
Know of any other G8 country which refuses to include its foreign population as part of its total population?  The fact is, given that we get plenty more than 45,914 foreigners per year coming in, the main thing keeping Japan's population in the black is immigration.  But again, that's a taboo topic in public.  We can't act as if Japan actually needs foreigners, after all.  Arudou Debito in Sapporo
=======================================
Number of citizens residing in Japan rises for 2nd straight year
Wednesday 12th August, 03:08 AM JST
http://www.japantoday.com/category/national/view/number-of-citizens-residing-in-japan-rises-for-2nd-straight-year
TOKYO —
The number of Japanese citizens residing in the country rose for the second year to over 127 million as of the end of March, partly because more people returned to the country than left after Japanese companies pulled back from overseas operations, the Ministry of Internal Affairs and Communications said Tuesday.

The total number of citizens residing in Japan now stands at 127,076,183, up 10,005 from a year earlier, when calculated based on the number of citizens listed on basic resident registers nationwide, the ministry's data showed. Japan saw more deaths than births, translating into a net drop of 45,914, but the decline was offset by factors including an increase in the number of Japanese people returning from overseas.
ENDS