mytest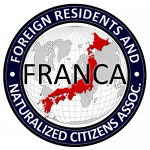 UPDATES ON TWITTER: arudoudebito
Hi Debito.org Readers.  It's getting about time for me to put Debito.org podcasts up on iTunes, and that will mean Debito.org will have avenues to the outside world in a much smaller (and influential) audio pond.  People exercising, commuting, or otherwise exercising their ears as well as their brains will be able to hear about what's going on here like never before.
To that end, friends have advised me to try and make Debito.org look a little more professional to the outside world.  (Well, try, anyway.)
Although Debito.org has been purely a solo effort since 1997 (I've archived and blogged all the many thousands of articles and posts (even those guest-written by outside contributors), read and approved each of the 10,000-plus comments here, and kept all the records alive on Google for free access for all), I've been told that just putting my photo up on iTunes would probably look less appealing (no wonder) than a really smart-looking logo.
This is where you come in.  Those  who have a yen for graphic design, would you please consider making a Blog/RSS image, meaning a square logo that captures, in your opinion, the essence of Debito.org?
The size that is mandatory for iTunes is 300 x 300 pixels (with a second version I have to shrink down to 144 x 144 pixels, which I can do on my iPhoto easily).  So it's pretty small, not much detail.  It can include words or not, graphics or not, as you please.  Please send as a reproduceable graphics file (not pdf, and jpg is best)
But I'd like to open this up to anyone who'd like to submit (debito@debito.org, email subject line "DEBITO.ORG logo submission").  Due date Tuesday November 17, 10PM JST.  Please also include the name you'd like to be called as a submitter.  I'll have the best submissions up here on Debito.org later on.
There's no real money involved in this, sorry (just my gratitude, and if you'd like a plug for your graphics services, I'd be happy to do so gratis on Debito.org).  But if you've liked what you read so far here and have thought about giving a little something back, much obliged!
Thanks for reading and considering!  Arudou Debito in Sapporo