mytest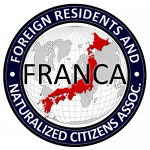 UPDATES ON TWITTER: arudoudebito
DEBITO.ORG PODCASTS now on iTunes, subscribe free
Hi Blog.  What follows is the Table of Contents for an information packet I will be presenting Special Rapporteur for the Human Rights of Migrants Jorge A. Bustamante, who will be visiting Japan and holding hearings on the state of discrimination in Japan.  Presented on behalf of our NGO FRANCA (Sendai and Tokyo meetings on Sun Mar 21 and Sat Mar 27 respectively).
It's a hefty packet of about 500 pages printed off or so, but I will keep a couple of pockets at the back for Debito.org Readers who would like to submit something about discrimination in Japan they think the UN should hear.  It can be anonymous, but better would be people who provide contact details about themselves.
Last call for that.  Two pages A4 front and back, max (play with the fonts and margins if you like).  Please send to debito@debito.org by NOON JST Thursday March 18, so I can print it on my laser printer and slip it in the back.
Here's what I'll be giving as part of an information pack.  I haven't written my 20-minute presentation for March 23 yet, but thanks for all your feedback on that last week, everyone.  Arudou Debito in Sapporo
/////////////////////////////////////////////////////
(FRANCA LETTERHEAD)
To Mr. Jorge Bustamante, Special Rapporteur on the Human Rights of Migrants:
Date: March 23, 2010  Tokyo, Japan
Thank you for coming to Japan and hearing our side of the story.  We have a lot to say and few domestic forums that will listen to us.  –ARUDOU Debito, Chair, FRANCA Japan (debito@debito.org, www.debito.org)
ANNOTATED CONTENTS OF THIS FOLDER:
Referential documents and articles appear in the following order:
I. On Government-sponsored Xenophobia and Official-level Resistance to Immigration
This section will seek to demonstrate that discrimination is not just a societal issue.  It is something promoted by the Japanese government as part of official policy.
OVERVIEW

:  Japan Times article:  "THE MYOPIC STATE WE'RE IN:  Fingerprint scheme exposes xenophobic, short-sighted trend in government" (December 18, 2007).  Point:  How government policy is hard-wiring the Japanese public into fearing and blaming Non-Japanese for Japan's social ills. http://search.japantimes.co.jp/cgi-bin/fl20071218zg.html
Japan Times article, "Beware the Foreigner as Guinea Pig", on how denying rights to one segment of the population (NJ) affects everyone badly, as policies that damage civil liberties, once tested on Non-Japanese residents, eventually get applied to citizens too (July 8, 2008). http://search.japantimes.co.jp/cgi-bin/fl20080708zg.html
Japan Times article:  "THE BLAME GAME:  Convenience, creativity seen in efforts to scapegoat Japan's foreign community" (August 28, 2007), depicting foreigners as criminal invaders, and thwarting their ability to assimilate properly. http://search.japantimes.co.jp/print/fl20070828zg.html
Japan Times article: "VISA VILLAINS: Japan's new Immigration law overdoes enforcement and penalties" (June 29, 2004) http://search.japantimes.co.jp/print/fl20040629zg.html
Japan Times article, "Demography vs. Demagoguery", on how politics has pervaded Japanese demographic science, making "immigration" a taboo for discussion as a possible solution to Japan's aging society. (November 3, 2009) http://search.japantimes.co.jp/cgi-bin/fl20091103ad.html
Japan Times article: "HUMAN RIGHTS SURVEY STINKS:  Government effort riddled with bias, bad science" (October 23, 2007), talking about how official government surveys render human rights "optional" for Non-Japanese, and downplays the discrimination against them. http://search.japantimes.co.jp/cgi-bin/fl20071023zg.html
Japan Times article: "WATCHING THE DETECTIVES: Japan's human rights bureau falls woefully short of meeting its own job specifications" (July 8, 2003), on how the oft-touted Ministry of Justice's "Jinken Yōgobu" is in fact a Potemkin System, doing little to assist those with human rights issues in Japan. http://search.japantimes.co.jp/cgi-bin/fl20030708zg.html
Japan Times article, "Unlike Humans, Swine Flu is Indiscriminate", on the lessons to be learned from Japan's public panic from the Swine Flu Pandemic, and how to avoid discrimination once again from arising (August 4, 2009). http://search.japantimes.co.jp/print/fl20090804ad.html
Japan Times article, "Golden parachutes for Nikkei only mark failure of race-based policy", on the downfall of Japan's labor visa policies, e.g., the "April 2009 repatriation bribe" for the Nikkei Brazilians and Peruvians, sending them "home" with a pittance instead of treating them like laborers who made investments and contributions to Japan's welfare and pension systems. http://search.japantimes.co.jp/cgi-bin/fl20090407ad.html
II. On Abuses of Police Power and Racial Profiling vis-à-vis Non-Japanese
This section will seek to demonstrate that one arm of the government, the National Police Agency, has had a free hand in generating a fictitious "Foreign Crime Wave of the 2000s", by characterizing Non-Japanese in the media as criminals, exaggerating or falsifying foreign crime reportage, bending laws to target them, engaging in flagrant racial profiling of minorities, and otherwise "making Japan the world's safest country again" by portraying the foreign element as unsafe.
III. On Racism and Hate Speech in Japan
This section talks about other activities that are not state-sponsored or encouraged, but tolerated in society as "rational" or "reasonable" discrimination, or natural ascriptive social ordering.  These unfettered acts of discrimination towards minorities, decried by previous Special Rapporteur Doudou Diene as "deep and profound", are examples of why we need a law against racial discrimination and hate speech in Japan.
1. OVERVIEW:  NGO Report Regarding the Rights of Non-Japanese Nationals, Minorities of Foreign Origins, and Refugees in Japan (33 pages).  Prepared for the 76th United Nations Committee on the Elimination of Racial Discrimination in Japan, submitted to UNCERD February 2010.  Compiled by Solidarity with Migrants Japan.  Particularly germane to this information packet is Chapter 2 by Arudou Debito, entitled "Race and Nationality-Based Entrance Refusals at Private and Quasi-Public Establishments" (3 pages). https://www.debito.org/?p=6000
2. Japan Focus paper (14 pages):  "GAIJIN HANZAI MAGAZINE AND HATE SPEECH IN JAPAN:  The newfound power of Japan's international residents" (March 20, 2007).  This academic paper talks about how a "Foreign Crime Magazine" deliberately distorted data (to the point of accusing Non-Japanese of criminal acts that were not actually crimes), and portrayed Chinese and other minorities as having criminality as part of their innate nature. http://www.japanfocus.org/-Arudou-Debito/2386
3. Japan Times article, "NJ Suffrage and the Racist Element" (February 2, 2010), on xenophobic Japan Dietmember Hiranuma's racist statements towards fellow Dietmember Renho (who has Taiwanese roots), and how it lays bare the lie of the xenophobic Rightists demanding people take Japanese citizenship if they want the right to vote in local elections – when it clearly makes no difference to them if they do. http://search.japantimes.co.jp/cgi-bin/fl20100202ad.html
4. Japan Times article, "The Issue that dares not speak its name", on the suppressed debate on racial discrimination in Japan (June 2, 2009), where the term "racial discrimination" itself is not part of the Japanese media's vocabulary to describe even situations adjudged "racial discrimination" by Japanese courts. http://search.japantimes.co.jp/print/fl20090602ad.html
5. Japan Times article:  "HOW TO KILL A BILL:  Tottori's Human Rights Ordinance is a case study in alarmism" (May 2, 2006), on how Japan's first prefectural-level ordinance against discrimination was actually unpassed months later, due to a hue and cry over the apparent dangers of giving foreigners too many rights. http://search.japantimes.co.jp/print/fl20060502zg.html
6. Academic Paper (Linguapax Asia, forthcoming) (14 pages):  "Propaganda in Japan's Media:  Manufacturing Consent for National Goals at the Expense of Non-Japanese Residents", on how government policy, political opportunism, and the Japanese media fomented a fictitious "Foreign Crime Wave" in the 2000s, and how that caused quantifiable social damage to Non-Japanese residents.
7. Japan Focus paper (2 pages): "JAPANESE ONLY:  The Otaru Hotspring Case and Discrimination Against 'Foreigners' in Japan" (November 2005), a very brief summary explaining Japan's first case of racial discrimination that made to the Supreme Court (where it was rejected for consideration), and what it means in terms of Japan's blind-eying of discrimination. http://japanfocus.org/-Arudou-Debito/1743
8. Debito.org Website:  "Tokyo Edogawa-ku Liberal Democratic Party flyer, likens granting Permanent Residents the right to vote in local elections to an alien invasion".  (February 24, 2010)  Seventeen local politicians of the formerly-ruling LDP lend their names against the ruling Democratic Party of Japan's liberalizing policy, illustrated with a UFO targeting the Japanese archipelago. https://www.debito.org/?p=6182
9. Debito.org Website:  "More anti-foreigner scare posters and publications, linking Permanent Resident suffrage bill to foreign crime and Chinese invasion". (March 15, 2010)  Anonymous internet billeters are putting propaganda in home post boxes in Nagoya and Narita, and bookstores are selling books capitalizing on the fear by saying that granting NJ the vote will make Japan "disappear" by turning into a foreign country. https://www.debito.org/?p=6182
10. Debito.org Website:  Anti-foreign suffrage protests in Shibuya Nov 28 2009. The invective in flyers and banners: "Japan is in danger!" (December 4, 2009).  An overview and summary translation of the invective and arguments being put forth by the xenophobic Far-Right in public demonstrations. https://www.debito.org/?p=5353
IV. On the Disenfranchisement of the Non-Japanese communities in Japan
This section touches upon how Non-Japanese minorities are shut out of Japan's debate arenas, public events, even court rooms, making them largely unable to stand up for themselves and assimilate on their own terms.
1. Trans Pacific Radio:  "RUMBLE AT THE MINISTRY OF FOREIGN AFFAIRS – A hearing on human rights is disrupted by right wingers" (September 10, 2007), demonstrating how the government will not stop hate speech from Right-wingers even when it willfully disrupts their official fact-finding meetings. http://www.transpacificradio.com/2007/09/10/debito-rumble-at-moj/
2. Japan Times article, McDonald's Japan's "Mr James" campaign:  Why these stereotyping advertisements should be discontinued. (September 1, 2009), showing how McDonald's, an otherwise racially-tolerant multinational corporation overseas, is able thanks to lax attitudes in Japan to stoop to racial stereotyping to sell product, moreover not engage in constructive public debate about the issues. http://search.japantimes.co.jp/print/fl20090901ad.html
3. Japan Times article: "ABUSE, RACISM, LOST EVIDENCE DENY JUSTICE IN VALENTINE CASE: Nigerian's ordeal shows that different judicial standards apply for foreigners in court" (August 14, 2007), where even foreigners' testimony is overtly dismissed in court expressly because it is foreign. http://search.japantimes.co.jp/print/fl20070814zg.html
4. Japan Times article: "TWISTED LEGAL LOGIC DEALS RIGHTS BLOW TO FOREIGNERS:  McGowan ruling has set a very dangerous precedent" (February 7, 2006), in that a store manager who barred an African-American customer entry, expressly because he dislikes black people, was exonerated in court on a semantic technicality. http://search.japantimes.co.jp/print/fl20060207zg.html
5. Japan Times article: "SCHOOLS SINGLE OUT FOREIGN ROOTS: International kids suffer under archaic rules" (July 17, 2007). An article about the "Hair Police" in Japan's schools, who force Non-Japanese and ethnically-diverse Japanese to dye their natural hair color black. http://search.japantimes.co.jp/cgi-bin/fl20070717zg.html
6. Japan Times article: "A LEVEL PLAYING FIELD?: National Sports Festival bars gaijin, and amateur leagues follow suit" (Sept 30, 2003), on Japan's National Sports Meets (kokutai), and how Japan's amateur sports leagues refuse Non-Japanese residents' participation: http://search.japantimes.co.jp/print/fl20030930zg.html
7. Asahi Shimbun English-language POINT OF VIEW column, "IF CARTOON KIDS HAVE IT, WHY NOT FOREIGNERS?" (Dec 29, 2003).  A translation of my Nov 8 2003 Asahi Watashi no Shiten column, wondering why cartoon characters and wild sealions (see #9 below) are allowed to be registered as "residents" in Japan under the government's jūminhyō Residency Certificate system, but not Non-Japanese. https://www.debito.org/asahi122903.jpg
8. Japan Times article, "FREEDOM OF SPEECH: 'Tainted blood' sees 'foreign' students barred from English contests" (Jan 6, 2004), with several odd, blood-based rules indicating a belief that foreign ancestry gives people an advantage in terms of language ability – even if the foreign ethnicity is not Anglophone! http://search.japantimes.co.jp/print/fl20040106zg.html
9. Japan Times article on "SEALING THE DEAL ON PUBLIC MEETINGS: Outdoor gatherings are wrapped in red tape." (March 4, 2003), on the sealion "Tama-chan" issue and demonstrations over the issue of family registry exclusionism (see #7 above).  Why is it so difficult to raise public awareness about minority issues in Japan?  Because police grant permission to public gatherings. http://search.japantimes.co.jp/print/fl20030304zg.html
V. On What Japan should do to face its multicultural future
This section offers suggestions on what Japan ought to be doing:  Engaging immigration, instead of retreating further into a fortress mentality and defaming those who wish to emigrate here.
1. Japan Focus paper:  "JAPAN'S COMING INTERNATIONALIZATION:  Can Japan assimilate its immigrants?" (January 12, 2006) http://www.japanfocus.org/-Arudou-Debito/2078
2. Japan Times article, "A Level Playing Field for Immigrants" (December 1, 2009), offering policy proposals to the new DPJ ruling party on how to make Japan a more attractive place for immigration. http://search.japantimes.co.jp/print/fl20091201ad.html
3. Japan Focus paper:  "JAPAN'S FUTURE AS AN INTERNATIONAL, MULTICULTURAL SOCIETY: From Migrants to Immigrants" (October 29, 2007) http://www.japanfocus.org/-Arudou-Debito/2559
4. "Medical Care for Non-Japanese Residents of Japan: Let's look at Japanese Society's General 'Bedside Manner' First", Journal of International Health Vol.23, No.1 2008, pgs 19-21. https://www.debito.org/journalintlhealth2008.pdf
VI. Japan and the United Nations
1. Academic paper (forthcoming, draft, 21 pages):  "Racial Discrimination in Japan:  Arguments made by the Japanese government to justify the status quo in defiance of United Nations Treaty".  This paper points out the blind spot in both United Nations and the Japanese government, which continues to overlook the plight of immigrants (viewing them more as temporary migrant workers), and their ethnically-diverse Japanese children, even in their February 2010 UNCERD Review of Japan (please skip to pages 18-19 in the paper).
2. Japan Times article: "PULLING THE WOOL:  Japan's pitch for the UN Human Rights Council was disingenuous at best" (November 7, 2006), talking about the disinformation the government was giving the UN in its successful bid to have a leadership post on the newfound HRC. http://search.japantimes.co.jp/print/fl20061107zg.html
3. Japan Times article: "RIGHTING A WRONG: United Nations representative Doudou Diene's trip to Japan has caused a stir" (June 27, 2006). http://search.japantimes.co.jp/print/fl20060627zg.html
VII. OTHER REPORTS FROM CONCERNED PARTIES (emails)
Topics:  Daycare center teaching "Little Black Sambo" to preschoolers despite requests from international parents to desist, Anonymous statement regarding professional working conditions in Japan for professional and expatriate women (issues of CEDAW), Discriminatory hiring practices at English-language schools (2 cases), Racial profiling at Narita Airport, Harassment of foreign customers by Japanese credit agencies, Hunger strikers at Ibaraki Detention Center, Politician scaremongering regarding a hypothetical  "foreign Arab prince with 50 kids claiming child tax allowance"
ENDS