Posted by Dr. ARUDOU, Debito on September 15th, 2011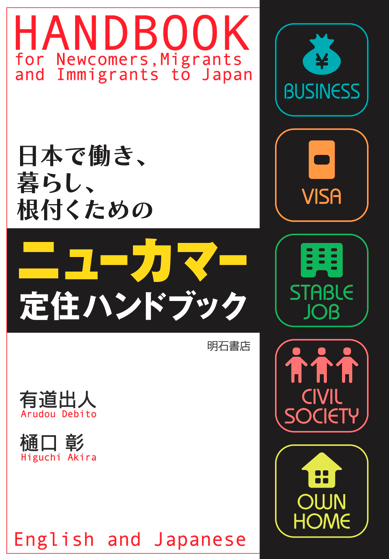 UPDATES ON TWITTER: arudoudebito
DEBITO.ORG PODCASTS on iTunes, subscribe free
Hi Blog.  Last month the FCCJ's No.1 Shimbun invited me to give my opinion about "blind spots" in the Japanese media vis-a-vis Japan's foreign communities.  Here's what I wrote.  After a quarter century observing this, it was nice to put it all together in my mind.  Enjoy.  Arudou Debito
///////////////////////////////////////////////////////////////
Nothing has changed
After 25 years, little change for the better seen in the media's coverage of foreigners
by Arudou Debito
Foreign Correspondents Club of Japan, No.1 Shimbun, September 2011.
Courtesy http://no1.fccj.ne.jp/index.php?option=com_content&view=article&id=481:nothing-has-changed&catid=71:sept-11&Itemid=101
Full September 2011 No.1 Shimbun with all articles at http://no1.fccj.ne.jp/index.php?option=com_content&view=category&layout=blog&id=71&Itemid=101
In the quarter century I have been examining the treatment of foreigners in both the English and vernacular media, I have seen little improvement. In fact, in many ways it's gotten worse. The foreign element has been increasingly portrayed as the subterfuge that will undermine Japanese society. To crib from a famous book title, Japan has become not only the "system that soured," but also the "media that soured."
When I first got here in the mid-1980s, at the start of Japan's bubble era, non-Japanese (NJ) were seen as quirky "misunderstood outsiders," treated with bemusement for their inability to understand "Japan's unique culture." NJ were here to help Japan learn English and internationalize itself into its hard-earned echelon as a rich country in the international community. After all, Japan had just surpassed the per-capita gross domestic product of its mentor – the United States – so the media was preparing the public for Japan's new role as oriental ambassador to the West.
Up in Sapporo, where I have spent most of my time, designs for NJ were a little less heady, but we were then treated like "honored guests" (if not "rare birds" to be sighted with joy). We enjoyed instant comparative-culture ambassador status, complete with token slots in newspapers and talk shows, to offer bright visions of Japan's modern, tolerant, America-ish future (like the guest instructors who were brought over to modernize Japan during the "catch-up" phase of the Meiji Era). The local print and broadcast media offered us polite winces for our error-filled (and perpetually uncorrected – so darn cute!) Japanese, and we tolerated wasabi-laden food in front of the cameras.
However, the tacit understanding behind this century-old ersatz cultural ambassadorship is that ambassadors are temporary. Someday we would go home with the afterglow of pleasant memories, as a former guest of a faraway land with red lanterns and paper walls and all that. But that didn't happen. Over a million NJ, your correspondent included, liked it here so much they stayed on.
Then Japan's bubble economy burst in the 1990s. As economic indicators plateaued then headed south, the media mood subtly shifted. Perennially feel-good broadcasts (I remember one TV show entitled "Sports and News" – yes in that order) shifted to programs dedicated to "turning that frown upside down"; when they ran out of good news to report, they switched more to comedy and food shows.
Fortunately, these NJ media guests were still the "misunderstood outsiders," only this time more as curiosities to be examined under Japan's "pigeonhole everyone in cultural boxes" version of social science (visible in broadcasts such as "Koko Ga Hendayo Nihonjin," a watershed show that pitted 100 motley Japanese-speaking NJ panelists against several even more motley Japanese tarento). This time, however, thanks to new visa regimes importing cheap NJ labor to preserve the competitiveness of Japan's export industries (and keep farms and smaller factories from going bankrupt), NJ were now more culturally and linguistically fluent. They were beginning to speak for themselves, shape their own media image, and even possibly establish themselves as immigrants. But by the turn of the century, Japanese conservatives began to use the media to put the kibosh on.
The next phase, which has essentially continued to the present day, overtly began on April 9, 2000, when recently elected archconservative Tokyo Gov. Shintaro Ishihara made his famous "Sangokujin" speech. He claimed that some NJ were "repeatedly committing heinous crimes," and called for the Self-Defense Forces to round up NJ in the event of a natural disaster as they would (unprecedentedly) riot. Even in light of the Tohoku disasters, where this has been proven as utterly false, there has been no amendment or retraction. But this speech emboldened Japan's reactionaries (particularly its police, fortified by its new internal "Policymaking Committee Against Internationalization") to see rampant NJ bashing as politically viable.
The 2000s saw the "reverse course" of the more liberal 1980s and 1990s. The National Police Agency launched biannual media campaigns against foreign criminals and "illegal overstayers," showing how NJ were somehow committing more crime than Japanese as drug smugglers, gun runners and general disturbers of the peace. The agency offered images of foreigners invading Japan's shores and pillaging its citizens, and established online "snitch sites" for anyone to anonymously rat on NJ suspected to be an "illegal overstayer."
The established media was exceptionally compliant in disseminating this propaganda. They reported NPA crime announcements verbatim as writ, without analysis of the faulty claims and flawed statistics (e.g., reporting NJ crimes separately, however small, and as percentages – not as raw numbers – and without any contextual comparison with crimes committed by Japanese). By the end of the decade, the media was bending over backwards to criminalize NJ. Even when overall NJ crime declined, newspapers pinpointed selective crime rises, headlined crime falls in their English articles while marking it out as a rise in the same Japanese article, or manufactured news on the prospect of NJ crime rises.
In sum, the "blind spot" of Japanese media is that hardly any of it treats NJ as actual residents, with needs, concerns, and a stake in Japan. Local media do give spots on how NJ community events are faring, with the occasional update on social problems facing stricken foreign families. But that generally happens in areas with "high" concentrations of registered NJ residents (around 10% of total local population, achieved in increasingly fewer places as the NJ population drops). Rarely does NJ community news leak into more national arenas (unless, of course, it concerns foreign crime). Hardly anywhere in the Japanese-language media is a constant "voice" or venue granted to NJ regulars to offer an alternative viewpoint of life in Japan. (Please note, and this is not meant as a criticism, but tarento regulars like Dave Spector are first and foremost entertainers, rarely spokespeople for minorities, and foreign tarento have in fact visibly declined in number compared to their bubble era heyday.) Thus, unabashed bashing of NJ in the Japanese media goes unanswered without check or balance.
Have things improved since March 11? I would argue not. In March and April, Japanese media bashed NJ afresh. Despite foreign governments issuing advisories for their citizens to take evasive action during the disasters (which overseas Japanese in the same position would have followed), NJ were blamed for cravenly running away, deserting their posts (remember the "flyjin," rendered in Japanese as nihon o saru gaikokujin?) and looting. Once again, there was no comparison with AWOL Japanese, and no questioning of Ishihara's 2000 prediction that foreigners would run amok. Predictably, that frenzy has died down, and some media outlets have reported on the volunteerism and generosity of NJ in relief efforts. But in the end, I believe that NJ will get at most a token expression of gratitude (as I did from the Kobe Government – a "thanks" sticker that I treasure – for going down and helping out during the 1995 quake), but not what they really need – a consistent, national-level public recognition of their longstanding contributions to Japanese society.
The Japanese media is hard-wired against seeing Japan as anything but the "realm of the Japanese people," with outsiders not allowed to "join the club" and express their views over time as insiders. Moreover, Japan's reflexive media bashing of the outsider will continue to isolate it from the outside world. As both the Japanese and foreign populations continue to dwindle, along with the dimming of Japan's future prospects, I don't see that changing anytime soon. ❶
ENDS