Posted by Dr. ARUDOU, Debito on February 25th, 2013
Books etc. by ARUDOU Debito (click on icon):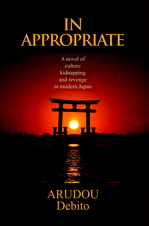 UPDATES ON TWITTER: arudoudebito
DEBITO.ORG PODCASTS on iTunes, subscribe free
"LIKE" US on Facebook at http://www.facebook.com/debitoorg
http://www.facebook.com/handbookimmigrants
Hi Blog.  The Japanese police are back up to their old tricks. Check this poster out from the Osaka Prefectural Government Minami Police Station Safe Livelhoods Section (courtesy of @feitclub and Tom, photo taken February 13, 2013, by SMBC in Namba Nankai Station), warning the public about "foreign gang crimes" including for no clear reason a gratuitous illustration of some "darkies"…
Translating:
================================
BEWARE OF THEFTS BY FOREIGN GROUPS TARGETING PEOPLE RETURNING HOME FROM BANKS AND POST OFFICES!
— Overview of the incident —
When the victim was walking back to his/her office after withdrawing cash from a bank teller, he/she was called out to by a group of three foreigners, who stopped him/her with a "You've got something stuck to the back of your coat." When the victim stopped on the spot to check his/her back, that foreigner group snatched his/her bag that he/she had placed at his/her feet.
About the perps…
They are aiming for people who have withdrawn large amounts of cash from a financial institution.
They are shooting for times when the victim is distracted, using means such as "dropping small change all around", "staining clothes with paint", "saying you've got a puncture [to your bike tyre]"
Report these incidents to the police by dialing 110…
When you see someone in a store with no clear business who is hanging around there for a long time.
When you see a suspicious-looking car stopped around a store area.
If you are carrying a large amount of cash…
There are incidents of theft involving foreign groups.
Beware of being targeted for theft when heading back from your financial institution.
et cetera. Please contact us. OSAKA PREFECTURAL POLICE
////////////////////////////////////////////
Nice notice. I can't quite tell why there is a need to include racist caricatures of black people in this clarion call for vigilance against "foreign gangs" (after all, Japanese gangs never steal, so we have to target foreigners, right?). And it's not the first time we've had these sorts of racist caricatures, either, recorded on Debito.org for posterity:
Just a few for your reference:
Ueno Police racist caricatures in 2002 flyer
More information on the above here.
More information on the above here.
More information on the above here.
One day I would love to have leaked to Debito.org NPA training manuals that talk about how NJ suspects are supposed to be treated in public and in custody.  We already have a former public prosecutor acknowledging in 2011 that he was trained to believe that "foreigners have no human rights" in Japan.  If I could get some sections of those training manuals scanned, we would have proof positive and undeniable that Japan's police forces are not only innately racist, but also systematically racist.  Anyone out there with connections?  Would appreciate it.  Arudou Debito
=============================
UPDATE FEBRUARY 27:  Debito.org Reader AS sends this:
Hi Debito, I thought I'd share this quick parody of the NPA's page on "furikome sagi"… http://www.keishicho.metro.tokyo.jp/seian/koreisagi/koreisagi.htm
Sauce for the goose…
ORIGINAL: