Posted by Dr. ARUDOU, Debito on April 21st, 2013
eBooks, Books, and more from ARUDOU Debito (click on icon):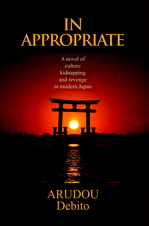 UPDATES ON TWITTER: arudoudebito
DEBITO.ORG PODCASTS on iTunes, subscribe free
"LIKE" US on Facebook at http://www.facebook.com/debitoorg
http://www.facebook.com/handbookimmigrants
https://www.facebook.com/JapaneseOnlyTheBook
https://www.facebook.com/BookInAppropriate
Hi Blog.  Here's something interesting.  It will come to naught, of course, but it shows how local governments are much more responsive to the needs of NJ than the central government (which is dominated by the control-the-borders-and-police-foreigners-only mindset of the Ministry of Justice).  Although the central government occasionally deigns to listen to the locals (especially when they band together and say, "Our NJ residents need this!" as per the Hamamatsu Sengen of 2001), ultimately the regular blind spots prevail, and I think they will in this case too (as awarding Permanent Residency is the job of the MOJ, not local governments).  Arudou Debito
//////////////////////////////////////////////
Japanese Permanent Resident Status to be Awarded to Overseas Students? A New Appeal by the [Governor] of Kyoto
RocketNews24, April 15, 2013 by Andrew Miller, courtesy of JK and others
http://en.rocketnews24.com/2013/04/15/japanese-permanent-resident-status-to-be-awarded-to-overseas-students-a-new-appeal-by-the-mayor-of-kyoto/
On April 10, the [Governor] of Kyoto Keiji Yamada made public his intentions to appeal to the government to award overseas students who graduate from Kyoto [universities] with the right to permanent residence. It is a proposal entitled 'Kyoto University Special Ward' and also incorporates other supportive measures for foreign students. With a decrease in student intake within Japan in recent years, it is hoped that by providing incentives for academically skilled overseas students, Kyoto will not only be able to compete with other cities like Tokyo but will also be able to add a new lease of life to its cultural city.
The plan to introduce incentives for overseas students came to light after The Japanese Business Federation and Kyoto's prefecture office held a panel discussion on how to revive the town. The same prefecture estimated that due to decrease in birth rates, the number of students enrolling in university was also likely to see a significant decrease in years to come. Looking at the birth rate statistics from 2011, it is predicted that the 160,000 students currently residing in Kyoto will see a 25,000 student decrease in the future.
On the other hand, the number of overseas students currently residing in Kyoto is 6,000. According to research carried out by Kyoto Prefecture, several universities in Singapore have over a 60 percent foreign student uptake. What's more, the same students are awarded the right to permanent residence upon graduating. Singapore is no doubt leading the way in attracting, and fostering, talent from abroad.
At the same panel discussion, Kyoto's [Governor] was enthusiastic about providing an environment like Singapore in which to support foreign students with finding employment after graduation, and nurturing talent through education.
With air of conviction, Kyoto's [Governor] put his proposition to the panel:
"What I'd like to ask you to consider is whether overseas students who graduate from Kyoto [universities] and take part in the city's job training program can be given permanent resident status. I'd like to work with everyone in producing an effective policy."
It is reported that at the end of the discussion all the parties were keen to provide a fertile ground in which to foster a "University utopia" and backed the mayor's proposal. Kyoto Prefecture is set to cooperate with the parties concerned and appeal to the government to put this measure in place during the year.
ENDS
Original article linked from RocketNews:
京の留学生に永住権を 府が「大学生特区」提案へ
京都新聞 4月10日(水)
http://headlines.yahoo.co.jp/hl?a=20130410-00000024-kyt-l26
京都府の山田啓二知事は10日、京都の大学を卒業した留学生に対し、永住権が申請できる資格を付与するなどの支援策を盛り込んだ「京都大学生特区」を国に提案する方針を明らかにした。国内の学生が減るなか、世界から優秀な学生を取り込んで都市間競争に勝ち残り、地域の活性化を図りたい考え。
京都経済同友会と府庁(京都市上京区)で行った「大学のまち・京都」を考える懇談会で明らかにした。
府によると、2011年生まれの人の大学入学推計は、出生数の減少で、11年に入学した人に比べ17・2%減になる見込みで、京都でも現在約16万人いる学生数が約2万5千人減る計算になるという。一方、京都の大学の留学生は現在、約6千人。府の調査では、シンガポールには学生の3分の2を留学生が占める大学があり、卒業後には永住権が与えられる。留学生の獲得で先行しているという。
山田知事は同友会から、オール京都体制での人材育成策や留学生の生活・就職支援を求めた提言書を受け取り、「京都の大学を卒業して、オール京都でやった職業訓練コースを受けた人には永住権の申請ができるぐらいの便宜を(留学生に対し)はかってもらえないか。(経済団体の)みなさんとともに、思い切った施策を打っていきたい」と話した。
府や京都市、京都大、経済団体などのトップでつくる「京都の未来を考える懇話会」は、税制優遇や研究・起業支援などが柱の「大学ユートピア特区」を提唱しており、府は今後、関係団体と連携して本年度中にも国に特区申請を行う予定。
ENDS