mytest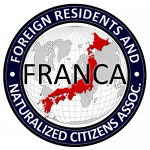 UPDATES ON TWITTER: arudoudebito
DEBITO.ORG PODCASTS now on iTunes, subscribe free
DEBITO.ORG NEWSLETTER JANUARY 16, 2010
Table of Contents:
/////////////////////////////////////////////////
DISCUSSIONS
1) Query: What to do about J children being rude towards NJ adults? (also Debito.org Poll on the subject)
2) Discussion: KFC Australia's "racist" CM vs McD Japan's "Mr James"
3) NZ publisher prints "Tales of Gaijin"; I have to withdraw submission due to rubric I cannot accept
UPDATES
4) Fukushima Prefectural Tourist Information website advertises that now 318 of its hotels refuse NJ clients
5) GAIJIN HANZAI Magazine becomes a "Taboo" topic in a 2007 magazine, victimizing J publisher
6) A Debito.org Reader updates on Toyoko Inn's discriminatory treatment of NJ clients
7) Asahi Shinbun Jan 8 "Japan edges closer to signing Hague Convention" on Child Abductions issue, still mentions NJ "DV concerns"
8 ) Mainichi: New real estate guarantor service set up for NJ residents
WEIRD STUFF
9) Getchan on Japan Post's recent anti-terrorism half-measures regarding parcels
10) DNA checks of "hakujin" at my university (?!?)
… and finally …
11) Japan Times JUST BE CAUSE column Jan 5 with my top ten NJ human rights issues for 2009
read aloud in
DEBITO.ORG PODCAST JANUARY 10, 2010
/////////////////////////////////////////////////
By Arudou Debito, Sapporo, Japan (debito@debito.org)
Daily blog updates and RSS at www.debito.org, Podcasts at iTunes
Freely Forwardable
/////////////////////////////////////////////////
DISCUSSIONS
1) Query: What to do about J children being rude towards NJ adults? (also Debito.org Poll on the subject)
Got a question from Debito.org Reader Kimberly who wrote this to The Community yahoogroups list yesterday. About kids in Japan who are rude (if not unwittingly racist) towards NJ adults, and they are not cautioned or taught not to be so by surrounding J adults? What do other Readers think or do?
Kimberly: Hello everyone, I've been meaning to ask for some advice on this for awhile — how do you deal with it when you get asked something inappropriate or hear a discriminatory comment from a child too young to have any real malicious intent? As my own kids get older I'm finding more and more situations where a child just has to give a smart-alecky HARO! or ask if we're going to commute to yochien by airplane — and I'm torn between not wanting to hurt the kid's feelings when I KNOW a four year old probably isn't trying to be mean, and wanting to teach them something because I may be the only one who ever tries. If they just imitate what their parents or TV tells them to do, the next generation won't be any more open-minded than this one.
https://www.debito.org/?p=5738
(Blog poll on the subject in the right-hand column of any Debito.org blog page)
/////////////////////////////////////////////////
2) Discussion: KFC Australia's "racist" CM vs McD Japan's "Mr James"
Funny thing, this. We get KFC Australia doing a hasty retreat from its controversial commercial days after it goes viral on YouTube, and pulling it pretty quickly.
Now contrast with the ad campaign by another American-origin fast-food multinational, McDonalds. For those who don't know, between August and November of last year McDonalds Japan had that White gaijin stereotype "Mr James" speaking katakana and portraying NJ as touristy outsiders who never fit in. More on what I found wrong with that ad campaign here.
Yet the "Mr James" ad campaign never got pulled. In fact, the reaction of some Asians in the US was, "Karma's a bitch", as in White people in Japan deserve this sort of treatment because of all the bad treatment they've foisted on Asians overseas in the past. Still others argue that we can't expect Japan to understand the history of other countries, or how they feel about certain sentiments found overseas, and one shouldn't foist their cultural values onto other cultures (this argument usually pops up when one sees minstrel blackface shows etc in Japan). This argument was also made in comments to this blog as well.
But KFC pulls the ad, in contrast to "Mr James", where people rushed to defend it in the name of cultural relativism. Why the difference?
I'm not saying I have the answer to this question. So I bring it up for discussion here on Debito.org. What do readers think?
https://www.debito.org/?p=5689
/////////////////////////////////////////////////
3) NZ publisher prints "Tales of Gaijin"; I have to withdraw submission due to rubric I cannot accept
I was invited a little over a year ago to submit two stories to a NZ publisher, a new place called Fine Line Press, run by a jolly decent fellow I know (former head of the Tokyo Chapter of JALT) named Graham Bathgate. One story was on the Otaru Onsens Case, the other on the Top Five Things I Like About Japan. I knew the person, was happy to oblige, and we exchanged some story drafts until satisfaction about the submissions were reached on both sides.
However, in August I heard that the book would be published under the rubric of "Foreign Tales from Japan" (actually, they were originally punning on the "Tales of Genji" to make "Tales of Gaijin". Ick). Alas, I am not a foreigner in Japan, and I said I did not want my stories to be included either under this rubric or within this concept. I have, naturally, very strong feelings about being treated as a foreigner in Japan, and I do not like publishers (and former long-termers in Japan, such as Graham) exporting the binary "Japanese vs. Gaijin" mindset to media overseas. We have enough trouble dealing with it over here without it being propagated in more liberal societies (such as NZ). Graham, IMHO, should know better, and should publish better.
So I protested and asked the rubric to be changed or my writing withdrawn. After several months of silence, I got the final word: The rubric would stand. Okay. Sad to see.
But I'm not one to let things like this go. I feel the publisher wound up pigeonholing me through imported racist paradigms. Should be known about. Here's the main correspondence we had, for the record.
https://www.debito.org/?p=5725
/////////////////////////////////////////////////
UPDATES
4) Fukushima Prefectural Tourist Information website advertises that now 318 of its hotels refuse NJ clients
While doing research over the new year, I got quite a shock when I was doing some followup on a case of exclusionary practices. I reported on Debito.org in September 2007 that Fukushima Prefecture's Tourist Information website was advertising 35 hotels that refused NJ clients. This is one of the few business sectors that actually has explicit laws preventing refusals of customers based upon nationality alone (thanks to the Hotel Management Law), so when a government agency is even promoting "Japanese Only" hotels, you know something is rum indeed.
What's even more rum is that even after I advised the Tourist Information Agency that what they were doing is unlawful, and they promised in writing to stop doing it, now two years later the same website is now promoting 318 (!!) hotels that refuse NJ clients. You can't help but get the feeling that you have been lied to, and by government bureaucrats.
A brief write up, with links to sources, follows. At the very bottom are screen captures of the FTIA website evidencing the exclusionary practices.
https://www.debito.org/?p=5619
/////////////////////////////////////////////////
5) GAIJIN HANZAI Magazine becomes a "Taboo" topic in a 2007 magazine, victimizing J publisher
A magazine on "Taboos", sent to me more than two years ago, tells the story of the reactionary gaijin who took the "Gaijin Hanzai Ura File" mook to task for the lies and hate speech it was spreading on convenience store newsstands nationwide (substantiation of that all here). And portrays that pitifully misunderstod publisher, Eichi Shuppan Inc., which went bankrupt within two months of releasing that mook, as victim.
It has quotes from me (even of me laughing) that it never garnered through any interviews (they apparently talked to Eichi, but I received no communication from this publication), and shows me as some sort of fearsome activist (thanks, I guess). It of course offers no counterarguments to Eichi's spurious published assertions, for example about the rise of NJ crime (I would have given those counterarguments if they'd only asked), accepting their assertions at face value. And of course we have no real debate on whether or not the book was actually telling the truth or not (obviously, as I argued in many venues, it wasn't). For all the research they did pulling my written quotes out of context, they didn't cite my questions of the veracity of the portrayals that assiduously at all.
In other words, it's a debate that once again favors and victimizes Team Japan. Those poor victimized convenience stores responding to public pressure (yeah, like that worked for "Mr James"; McDonald's basically ignored us). It couldn't just be that the stores carrying the mook were convinced by our arguments about its exaggerated and errant claims and hateful tone now, could it? Naw, Japanese lost to the foreigners, therefore the foreigners didn't fight fair. And now because of that, we have yet another "taboo" that hurts We Japaneses' Freedom of Speech. Hardly a "taboo" here. You overdid it, and lost the debate. That's all.
/////////////////////////////////////////////////
6) A Debito.org Reader updates on Toyoko Inn's discriminatory treatment of NJ clients
I've reported on nationwide bargain business hotel chain Toyoko Inn before, regarding their lousy treatment of me at check-in back in 2007 (when they decided to gaijinize me, and quite nastily too; my letter of complaint to HQ went unanswered), and for refusing reservations for other NJ if they don't produce Gaijin Cards (something they are not entitled to do under laws governing Immigration or hotels). Not to mention their lousy treatment of handicapped guests (receiving GOJ subsidies earmarked for barrier-free facilities and spending it on other things). It's a place I'll never stay at again.
Now for an update. Over the past couple of days, a Debito.org Reader who calls himself The Shark has been sending us good reports on Toyoko Inn as comments that deserve a blog entry of their own. We aim to please. Other people with experiences (Doug also commented, and I'll repost that too) at Toyoko, feel free.
https://www.debito.org/?p=5716
/////////////////////////////////////////////////
7) Asahi Shinbun Jan 8 "Japan edges closer to signing Hague Convention" on Child Abductions issue, still mentions NJ "DV concerns"
New article in the Asahi re the GOJ and the Child Abductions Issue re signing the Hague Convention. As submitter PT comments:
"Note the Red Herring of Domestic Violence thrown out by Justice Minister Chiba in the last sentence. Interesting how the Japanese Government refuses to involve their justice ministry in talks with the US, yet they are quick to put forward a quote from the Justice Minister when pushing back on reasons against signing the Hague." Article follows.
https://www.debito.org/?p=5696
/////////////////////////////////////////////////
8 ) Mainichi: New real estate guarantor service set up for NJ residents
Mainichi: A Tokyo non-profit organization has set up a new real estate guarantor service for foreign residents negotiating Japan's notoriously discriminative housing system.
The service, the first of its kind, is set up by the Information Center for Foreigners in Japan and will start offering guarantor services in Tokyo and surrounding prefectures in South Korean and Chinese later this month. The services will later be expanded to cover people from English-speaking countries.
The service was set up after a 2006 questionnaire showed that foreign residents in Tokyo were visiting an average of 15 real estate agents [!!!} before finding a landlord willing to lease a home to them. Common excuses given were language problems, different lifestyle habits and fears over non-payment of rent…
https://www.debito.org/?p=5703
/////////////////////////////////////////////////
WEIRD STUFF
9) Getchan on Japan Post's recent anti-terrorism half-measures regarding parcels
Getchan reports on his latest tribulations at the Japan Post Office, where he talks about recent measures they've taken to foil terrorism that are not all that well-thought-through. Not an issue that's necessarily "NJ-related", but for those who use the posts, here you go.
Excerpt: Next day, I found a form letter in my P.O.Box, informing me that both items had been sent surface and would thus be delayed by a day or two.
I went to see the postmaster to tell him, that this was totally useless, as — except for imminent, clear and present danger — Japan Post employees are not authorized to open and check the mail for contents.
Postmaster: "These are the new rules, airlines won't accept parcels and flat rate envelopes for air transport, if the contents are not noted on the outside"
Me: "But they get X-rayed anyway"
Postmaster: "NO, they DON'T!" (now, was he supposed to tell me that???)
My conclusion — potential and active terrorists in Japan can be trusted in this country. If they wanted to mail a bomb and blow up a plane that way, they would have to mark "bomb" on the parcel, and that would thwart their efforts, would it not? Japanese authorities have everything under control and would be able to sort out any flat rate envelope marked "Bomb", while the CIA lets known suspects slip thru…
https://www.debito.org/?p=5638
/////////////////////////////////////////////////
10) DNA checks of "hakujin" at my university (?!?)
It's currently exam time (I did more than 110 individual 20-minute oral interviews over the two weeks). And right in the middle of them we have this singular event:
One of my co-workers is this medical researcher who fancies himself internationalized, cos he says "hello" to me as we pass in the corridors (I answer back konnichiwa, of course). Well, yesterday, right in between two interviews, he pops in my office with a student saying he has a favor to ask (and sidles up to me as if it's a given that I will oblige — his students had several vials in his hand all ready for my obliging).
Sez he (in Japanese): "We need a strand of your hair please…"
https://www.debito.org/?p=5742
/////////////////////////////////////////////////
… and finally …
11) Japan Times JUST BE CAUSE column Jan 5 with my top ten NJ human rights issues for 2009
read aloud in
DEBITO.ORG PODCAST JANUARY 10, 2010
https://www.debito.org/?p=5561
Human rights in Japan: a top 10 for '09
JUST BE CAUSE Column 24/ZEIT GIST Column 53 for the Japan Times Community Page
The Japan Times January 5, 2010
http://search.japantimes.co.jp/print/fl20100105ad.html
Also online at https://www.debito.org/?p=5660
/////////////////////////////////////////////////
That's all for this month! Thanks for reading!
Arudou Debito in Sapporo, Japan
debito@debito.org, www.debito.org
DEBITO.ORG NEWSLETTER JANUARY 16, 2010 ENDS